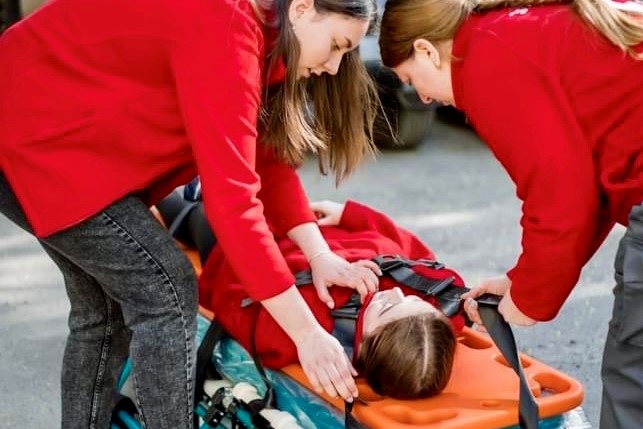 Ternopil, Blsd training for Ukrainian Red Cross volunteers
Training for volunteers of the Ukrainian Red Cross Society's Rapid Response Detachment took place in Ternopil
Ternopil, training of volunteers is an important part of Ukrainian Red Cross activity
After all, volunteers are among the first on the scene of emergencies and many lives may depend on their skills and knowledge.
Recently, volunteers from the Ternopil Rapid Response Unit of the Ternopil Regional Organisation of the Ukrainian Red Cross Society were trained.
The volunteers improved their knowledge in transporting victims by ambulance.
The skills they acquired were the subject of exercises with simulation dummies, including the provision of first aid in combat.
It goes without saying that the situation in the country, overrun by the Russian army, makes the preparation of rescuers more important than ever.
Read Also:
Emergency Live Even More…Live: Download The New Free App Of Your Newspaper For IOS And Android
Ukraine, Chernihiv Rescuers Receive Vehicles And Equipment From European Donors
War In Ukraine: In Lutsk, Rescuers Taught First Aid To Volunteers

War In Ukraine, The World Of Emergency In Support Of Healers: MSD Launches Ukrainian Language Site
Ukraine Receives Second Batch Of Equipment For Firefighters And Rescuers From France
Ukraine Emergency: Vinnytsia Children's Hospital Receives Ambulance And Medicines From Its Polish Colleagues
Ukraine, Red Cross Humanitarian Convoy Returns From Lviv With 73 People, Including 13 Unaccompanied Minors
Invasion Of Ukraine, From Today The Italian Red Cross Humanitarian Aid Hub In Romania Is Operative
War In Ukraine, Ambulance Fitters On The Front Line: Validus Sends Emergency Vehicles To Kiev, Cherkasy And Dnieper
Ukraine, Rivne Receives Ambulance, Van And Medical Equipment From France And Germany
War In Ukraine, Since 24 February The Red Cross Has Already Trained More Than 45,600 People In First Aid
Ukraine, WHO Delivers 20 Ambulances That Can Operate Even In The Most Inaccessible Areas
Source: