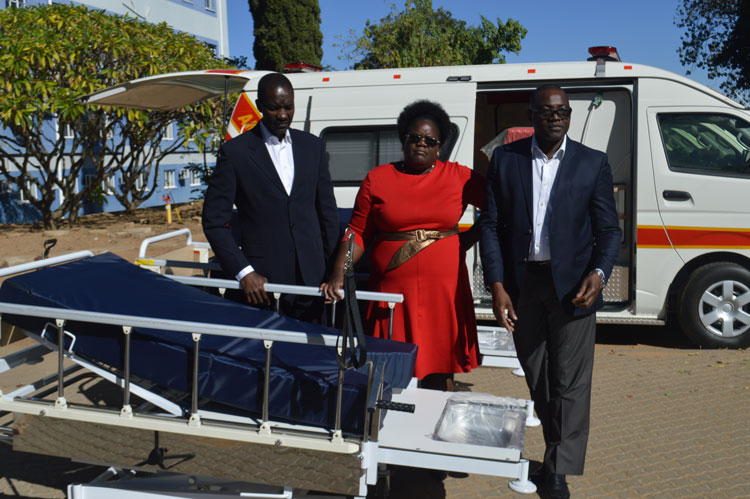 EMS Namibia - Discover the public ambulance service with the Ministry of Health and Social Services
Let us discover the public ambulance service in Namibia, provided by the MOHSS of the nation. On this occasion, we will analyze different aspects of the service. The organization of support, the strategies of response and many other topics.
Sixth chapter for our "EMS in Africa" section. Our column on emergency and medical care services in Africa is about to increase. This time we focused again on Namibia, in particular on the Ministry of Health and Social Services. With the precious help of Dr Andreas Mwoombola, Permanent Secretary, we can better understand how the public ambulance service works in Namibia.
What kind of ambulance service support do you provide and how is it organized in Namibia?
"The MOHSS runs the public ambulance service which provides pre-hospital care, inter-hospital and antra-hospital care from basic to advanced level. The Head Office at National level provides technical and supervisory support and facilitates training of staff members.
EMS in Namibia is run by both public, private and parastatal sectors. Each sector has its own call center which dispatches its own ambulances/crew. Crew members per ambulance can include basic & intermediate or basic, intermediate and advanced staff members depending on the nature of the call. some service providers have response vehicles for their advance life support staff. Our emergency operators provide both BLS, as well as PHTLS."
Which technique do your operators use to rescue patients? The 'scoop & run' or the 'stay & play' strategy?
"During the 'scoop & run' strategy, minimum care is delivered at the roadside. Whereas, a strategy of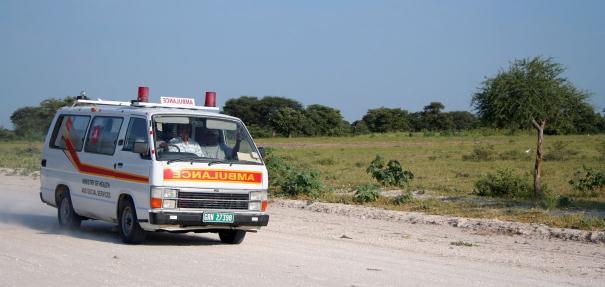 'field stabilization' or 'stay & play may involve endotracheal intubation (if necessary; aided by anaesthetic drugs), and intravenous access performed at the roadside in the attempt to stabilize the patient before departing for hospital. In the Namibian emergency setting, these techniques are used interchangeably depending on the patient's condition or status and the qualification of the emergency care practitioner."
What about the air ambulance service, do you manage one?
"The public sector has no air ambulance services, at the moment. however private companies do have air ambulance services which the Ministry make use of when the need arises."
Which percentage of the territory is covered by your service, and what about the remote areas?
"Our EMS support caters for the whole country. There are ambulance services available in 14 regions and in some remote clinics. Generally, the ambulance that is available at the district hospitals is the ones that cater for the remote areas if the need arises."
Ambulance service in Namibia: which are the most used devices on your ambulances?
"Devices commonly used include patient monitors, an electrocardiograph (ECG), an oxygen saturation monitor, and maternity packs containing medical equipment to be used during active labour. Other equipment commonly used include stretchers, splints and consumables (e.g. oxygen masks, oxygen bandage, pain and asthma medication, etc.)."
Are there projects to improve ambulance service in Namibia?
"There is currently a project of the Motor Vehicle Accident (MVA) Fund in Namibia, in conjunction with the MOHSS and National Road Safety Council (NRSC) aimed at improving human resources and response to road accidents as well as patient care. The MVA Fund also grant bursaries to students studying Emergency Medical Care at the Namibia University of Science and Technology. Also, the EMS field in Namibia has realized the need for a national call center, therefore there are currently discussions in place to make that a reality. Other projects under discussion are; establishment of Emergency Rooms and airlifting facilities and services at different hospitals.
Additional support is given via training of doctors and nurses in trauma courses e.g. International Trauma Life Support, etc. as well as aeromedical care staff members."
What kind of future do you foresee for ambulance service in Namibia?
"The future of EMS in Namibia has the potential to grow, and with sufficient funding, intend to develop more infrastructure and trained personnel in order to improve service delivery. A revised and improved staff structure for the public sector is under consideration as well as the introduction of a training course on sea rescue."
READ THE COLUMN ARTICLES:
REFERENCE