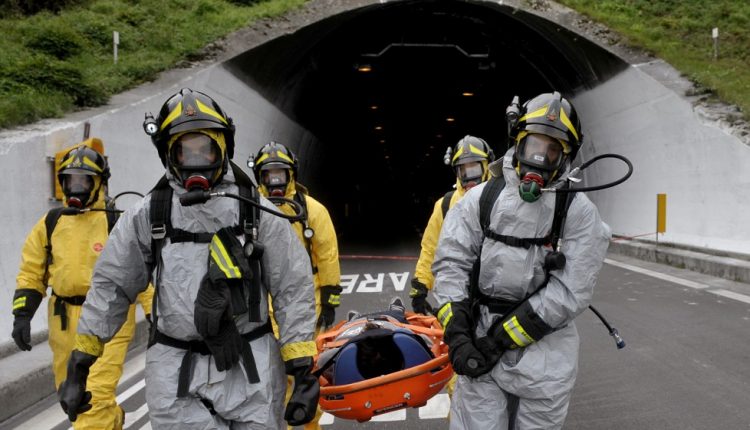 How to respond to CBRNE incidents?
What does it mean as CBRNE incidents? They are not so common, but in case, they can turn out in mass casualties and a total disaster. That is why all the EMS responders must be well prepared to respond.
During Arab Health 2020, from 27 to 30 January, one important topic that will be discussed is the response to CBRNE incidents and how they can impact on communities.
Ahmed Al Hajeri, CEO of National Ambulance, shared his opinion in regards to CBRNE incidents. Concerning this, we interviewed Saad AlQahtani, who works in Clinical Research and Development (R&D) of National Ambulance UAE.
About CBRNE incidents: What is their impact?
"CBRNE is an acronym for Chemical, Biological, Radiological, Nuclear and Explosive incidents. It is started to become a global concern to increase the understanding of these type of events and making proper management systems in both national and international levels.
CBRNE is more intense when comparing with HazMat (Hazardous materials), as it was found there are differences in terms, intent, methods, risks assessments, the scope of prioritizing, responding and management. In the past, any of these incidents were identified and managed as disasters, but nowadays, it is not easy to call it a disaster. Therefore, it is called CBRNE incidents, but if not managed, can lead to a disaster.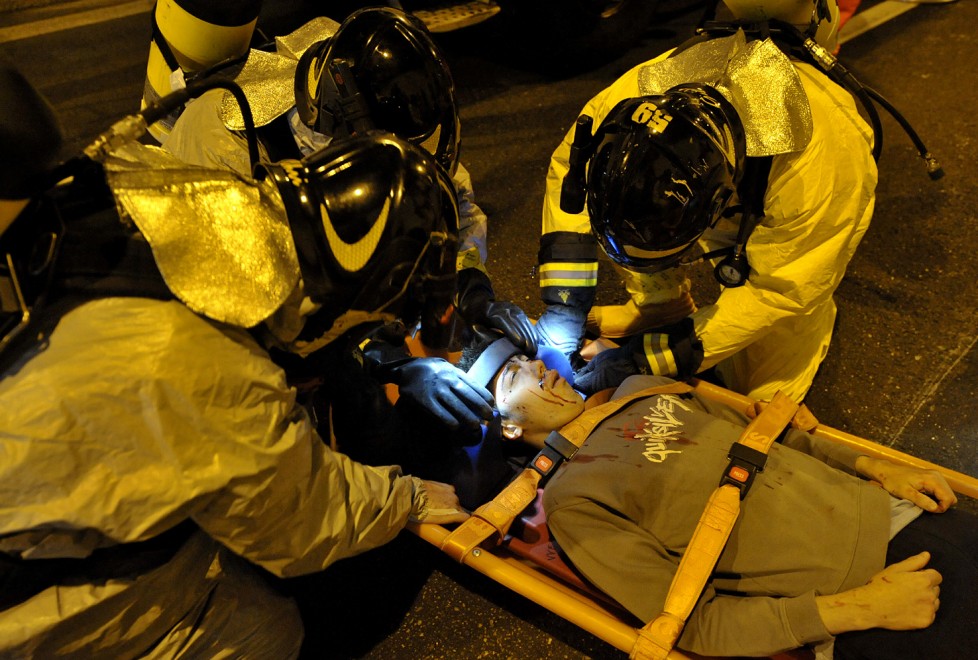 CBRNE incidents can be caused by terrorist acts or by accidents or both. The CBRNE incident refers to uncontrolled release into the environment or human or animals that cause widespread. Through history, we can see the impacts of CBRNE incidents and examples of these incidents are chemicals agents such as organophosphates, sarin, soman & VX.
Biological agents which can cause infection and epidemic such as ebola, anthrax and ricin. Radioactive contamination and nuclear weapons or materials like what happened in previous years in Fukushima in japan 2011, Marcoule in France 2011 and Chernobyl nuclear disaster in 1986. Explosives either by terrorist activities or by accidents.
Rapid progress toward development in both developed and developing countries also require improving CBRNE responding system. Globally, when any of these incidents happened, EMTs and Paramedics are the first, with firefighters and police to respond, assess and evaluate the situation. Then, also hospitals, governmental agents, organizations and stakeholders are involved. They come together to solve the situations and do their best to save people and preserve communities from further damages and losses.
Unfortunately, there are gaps in knowledge about CBRNE as there are not enough researches been conducted in this area globally. Furthermore: there is no enough education and training regarding the types of incidents.
As a National Ambulance, we took in our consideration since the beginning of our operation to increase the development of response to CBRNE incidents, and during Arab Health 2020 we will share our knowledge, expertise and speak about how to build proper responding teams for CBRNE, measuring your surge capacity and how to build a benchmark with other countries. The importance is to establish what can happen: evaluation of damages, foresee how many people would be involved, which could be the consequences and so on".
In case of incidents like these, which are the procedures that the National Ambulance activates?
"National Ambulance is the pre-hospital emergency care provider in Northern Emirates (Sharjah, Ajman, umm al Quwain, Fujairah and Ras Al Khaimah) also providing the service to contractors in Abu Dhabi. We have our standards, policies, guidelines and local authorities and we have prepared our system to respond to all type of medical emergencies in collaborations with the various organizations, hospitals in the country as a chain according to their specialities.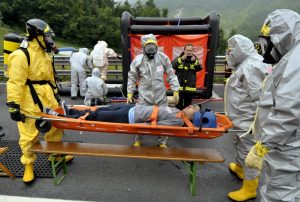 Our major concerns for responding to CBRNE depends on the scale of the incidents, affected area and population, responder and ambulance crew protection and equipment and resources. We respond with our operational capabilities and medical experts in compliance with our roles and delivering the right pre-hospital care (triaging, treatment, management and transportation).
We always have in our consideration to respond without exposing ourselves or patients to harm, identifying and minimizing risks. There are challenges among EMS globally in responding to these different types of incidents: how to triage, isolate, treat and transport to the hospitals that have the ability and capability in responding to these type of incidents".
How do you train first responders to CBRNE incidents?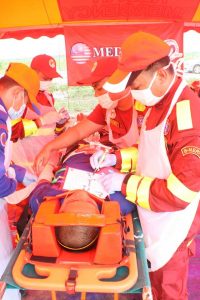 "There are different types of training. Major incident medical management and support (MIMMS), Airway management, infection control etc. The goal of our training is: how to work in a disaster, how to protect people and ourselves and how to identify the possible risks. In addition, it is important to increase more training in CBRNE incidents, sharing knowledge and experiences with other countries".
Which are the equipment you need inside an ambulance in case of CBRNE incident?
"Preparedness for CBRNE incidents is still under development globally, and regarding the equipment and devices can use in CBRNE still needs a lot of researches to know the reliability and the value of these devices to be in the ambulances.
As paramedics and EMTs are the first responders to the scene, either for MCI, fires, explosions etc, it is important to trained them and make them familiar with detection equipment and devices that used to detect CBRN to ensure that the first responders can use these devices and equipment to identify CBRNE incidents when responding to emergencies.
There are always PPEs in the ambulance which protect responders on board an ambulance, but nowadays it is essential to know what kind of possible CBRNE risks in your region and what kind of equipment you need such as protective suits A, B & C, Air-purifying respiratory (APR), powered Air-purifying respiratory (PAPR), self-contained breathing (SCBA).
Also, can be placed In addition, there are Ambulances prepared as mobile decontamination kits to respond to CBRNE incidents with ventilation devices, negative pressure, and we need ambulances that can be build up specifically to face CBRNE incidents. That is to say, they must follow precise specifications. We need to start a clear identifying of the possible risks, we need a new national and international scoop of practice. We are now preparing for CBRNE even if it might never happen. But in case, we must be able to respond in the right way. What we need to know is how to behave in a very rare situation, but if it happens, it may be a real disaster".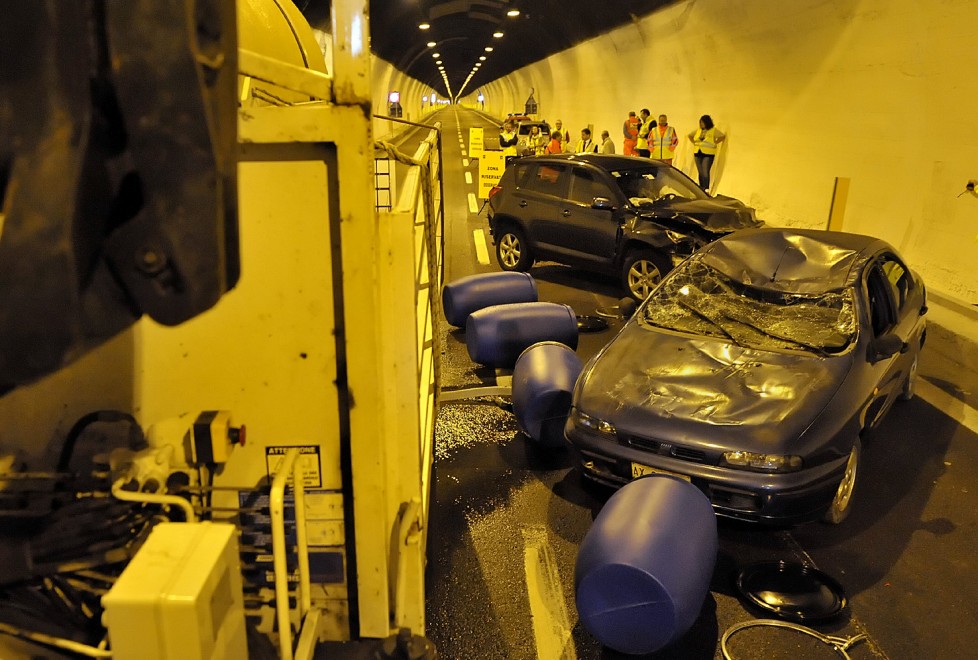 How possible is preventing CBRNE incidents?
"In prevention, it is required from EMS organizations to conduct their researches to identify the gaps, potential and essential risks in the community that they provide the service in. Systematic CBRNE response map by identifying your organization and other involved agents and hospitals surge capacity and capability.
CBRNE training is very important and not to be limited for Ambulance crew, it can involve people who work in industries or any other places that can be impacted by CBRNE (For examples, labs). Call centre in EMS organizations require to have a proper map of their region and activities to prepare for any type of these emergencies with proper facilities and assist in early activations of the other resources and organizations needs to be involved.
In CBRNE incidents it is important to implement the four faces:
Preparedness: which require long preparation and national and international collaborations such as researches, training, drills etc.
Response: when the incident happens the main focus will be on saving lives, property and environment, then EMS organizations need to know prior to the incident what kind of response to provide? Which capacity do we have? Other organizations involved? What is their role? Documentation and information gathering system.
Recovery: returning to normal which can take time depends on the type of the incidents (Hours to days – days to months – months to years).
Mitigation: it the most important face after the recovery as the data and the information gathered from the above, will help the country and other countries to build up CBRNE prevention systems".
________________________________________________________________________________
About Arab Health
Arab Health is the largest healthcare event in the Middle East and is organised by Informa Markets. Established 45 years ago, Arab Health provides a platform for the world's leading manufacturers, wholesalers and distributors to meet the medical and scientific community in the Middle East and subcontinent. The 2020 edition of the event is expected to welcome more than 4,250 exhibiting companies and 55,000 attendees from 160+ countries.
Arab Health Congress is reputed for delivering the highest quality Continuing Medical Education (CME) Conferences to medical professionals in the region. Attended by more than 5,000 delegates from around the globe, 14 conferences and 1 educational forum will bring a global appeal with international speakers covering a broad spectrum of medical specialities and disciplines.
Arab Health 2020 will take place from 27-30 January 2020, at the Dubai World Trade Centre and Conrad Dubai Hotel, Dubai, United Arab Emirates.

Come discover Arab Health 2020!