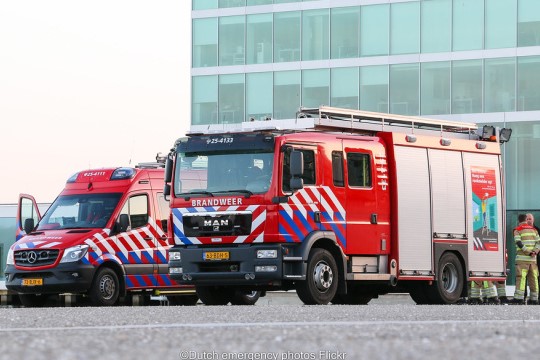 War in Ukraine: the Netherlands handed over seven fire trucks to Ukrainian rescuers
From the Netherlands seven fire trucks for Ukraine: Ukrinform said this with reference to NOS
From the Netherlands to Ukraine: 'Dutch fire trucks have been delivered to Ukraine. Seven cars arrived in Uzhhorod. The cars were handed over to the local fire brigade "
This donation was an initiative of the Eisselmeiden fire brigade, which has been in contact with the fire brigade in Ukraine for many years.
The Dutch also received a letter of thanks from the Ukrainians expressing their gratitude for their humanitarian aid.
As reported by Ukrinform, in April the Netherlands, thanks to the cooperation of several organisations, managed to send three trucks of valuable firefighting equipment (32 tonnes) to the SES of Ukraine in Kiev
This was due to donations from Firefighters without Borders Foundation and Firefighters United NL, as well as the support and organisation of the shipment by Twente voor Oekraine and the assistance of the Embassy of Ukraine in the Netherlands.
Firefighters United NL has been working closely with the SES of Ukraine for a long time
In particular, they help Ukraine with firefighting materials and equipment, as well as conducting training courses and sharing experiences.
Over the years, they have established good relations between firefighters in the Netherlands and Ukraine.
Donations from organisations in the Netherlands are used in large parts of Ukraine
The Twente voor Oekraine Foundation was founded by volunteers in Enschede and supports the Ukrainian people both in Ukraine and in the Twente region.
Since the beginning of the large-scale invasion of Ukraine by Russia, the Twente voor Oekraine Foundation has sent 32 truckloads of humanitarian aid to Ukraine: food, clothing, footwear, medicines, hygiene products, children's items, household appliances, bed linen and more.
The Twente voor Oekraine Foundation is financed by donations from ordinary people and companies, as well as the voluntary movement in Enschede and the Twente region.
The volunteers ask all interested parties to continue supporting the Ukraine.
Twente voor Oekraine asks everyone to join the organisation's donations.

Read Also:
Emergency Live Even More…Live: Download The New Free App Of Your Newspaper For IOS And Android
Ukraine, Chernihiv Rescuers Receive Vehicles And Equipment From European Donors
War In Ukraine: In Lutsk, Rescuers Taught First Aid To Volunteers
War In Ukraine, The World Of Emergency In Support Of Healers: MSD Launches Ukrainian Language Site
Ukraine Receives Second Batch Of Equipment For Firefighters And Rescuers From France
Ukraine Emergency: Vinnytsia Children's Hospital Receives Ambulance And Medicines From Its Polish Colleagues
Ukraine, Red Cross Humanitarian Convoy Returns From Lviv With 73 People, Including 13 Unaccompanied Minors
Invasion Of Ukraine, From Today The Italian Red Cross Humanitarian Aid Hub In Romania Is Operative
War In Ukraine, Ambulance Fitters On The Front Line: Validus Sends Emergency Vehicles To Kiev, Cherkasy And Dnieper
Ukraine, Rivne Receives Ambulance, Van And Medical Equipment From France And Germany
War In Ukraine, Since 24 February The Red Cross Has Already Trained More Than 45,600 People In First Aid
Ukraine, WHO Delivers 20 Ambulances That Can Operate Even In The Most Inaccessible Areas
Source: