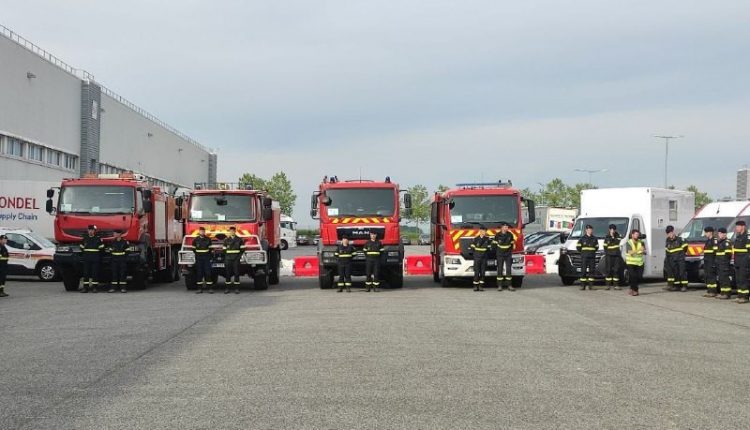 Ukraine emergency: 13 fire trucks and ambulances from France
Ukraine emergency: 13 fire trucks and ambulances with 120 tonnes of humanitarian aid left France for the country attacked by Russia
The total cost of the equipment transferred from France to Ukraine is €2.7 million
Today, 10 May, the third convoy of 13 fire trucks and ambulances with 120 tonnes of humanitarian cargo left France.

This was reported by the Embassy of Ukraine in France
This took place in the presence of French Prime Minister Jean Castex, French Minister of Foreign Affairs Jean-Yves Le Drian, Ambassador of France to Ukraine Etienne de Poncins and Ambassador of Ukraine to France Vadym Omelchenko.
The cargo includes first aid kits, dry solder, radiological equipment, search and rescue equipment, mask filters, CBRN personal protective equipment, fire hoses, foaming agent and gun barrels.
The total cost of the transferred equipment, as mentioned, is EUR 2.7 million.
In the past two months, the French government has donated 85 ambulances, fire brigade and rescue vehicles and almost 1,000 tonnes of humanitarian aid for a total of EUR 20.3 million.
It will be recalled that French President Emmanuel Macron declared at an international donor conference that the country will increase its financial assistance to Ukraine to USD 2 billion.
Read Also:
Emergency Live Even More…Live: Download The New Free App Of Your Newspaper For IOS And Android
Ukraine, Chernihiv Rescuers Receive Vehicles And Equipment From European Donors

War In Ukraine: In Lutsk, Rescuers Taught First Aid To Volunteers
War In Ukraine, The World Of Emergency In Support Of Healers: MSD Launches Ukrainian Language Site
Ukraine Receives Second Batch Of Equipment For Firefighters And Rescuers From France
Ukraine Emergency: Vinnytsia Children's Hospital Receives Ambulance And Medicines From Its Polish Colleagues
Ukraine, Red Cross Humanitarian Convoy Returns From Lviv With 73 People, Including 13 Unaccompanied Minors
Invasion Of Ukraine, From Today The Italian Red Cross Humanitarian Aid Hub In Romania Is Operative
War In Ukraine, Ambulance Fitters On The Front Line: Validus Sends Emergency Vehicles To Kiev, Cherkasy And Dnieper
Ukraine, Rivne Receives Ambulance, Van And Medical Equipment From France And Germany
War In Ukraine, Since 24 February The Red Cross Has Already Trained More Than 45,600 People In First Aid
Ukraine, WHO Delivers 20 Ambulances That Can Operate Even In The Most Inaccessible Areas
War In Ukraine: The Netherlands Handed Over Seven Fire Trucks To Ukrainian Rescuers
Source: