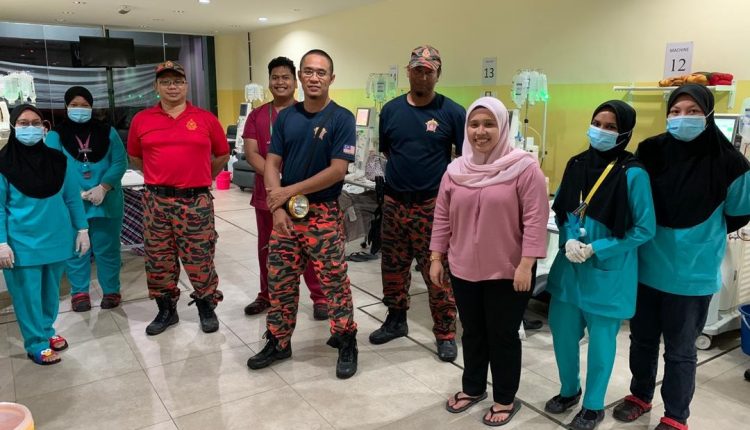 Water disruption in Malaysia: dialysis center needs water and seek firefighters for help
Dialysis center runs out water but did not received emergency water tanks in time since the water disruption in Selangor (Malaysia) occurred last week. So nurses asked firefighters for help.
The "water disruption saga" in Malaysia never ends. We already spoke about it before. Unfortunately, also last week water has been cut off in Selangor. In particular, a dialysis center run out of water and without it, they cannot wash machines. That is to say that they cannot provide care to patients. But PBSSU firefighters responded to the help call of the facility.
Firefighters supply water tanks to a dialysis center during the water disruption
According to a patient, Mohd Danial Sabudin (Bob Danial on Facebook), he had to have a treatment to the dialysis center in Saujana Utama, Sungai Buloh at 7am on Friday. However, he ended up having his session at 10 pm and that was after the water tank was filled up by the Pasukan Bomba Sukarelawan Saujana Utama (PBSSU) firefighters.
It seems that, after the water disruption that affected Malaysia last week, Air Selangor was unable to help the center out until Saturday evening. An initial fill by Air Selangor on Thursday evening was insufficient as the water was used in large quantities to backwash the machines.
Patients waited until 8 am and the center nurses told us to go back first and they will reschedule the sessions, however, not all of them could wait much time for their own treatment. Fortunately, later on, Friday evening, the dialysis center managed to contact Pasukan Bomba Sukarelawan Saujana Utama (PBSSU) firefighters to help them out.
Water disruption and the help of firefighters in Selangor: the anger of patients and healthcare workers
"Air Selangor water tankers never came to the Dialysis Center despite persistent pesterings from our Staff Nurses. We were saved by heroes from the Pasukan Bomba Sukarela Saujana Utama who managed to provide the much-needed water supply." This is exactly what Bob Danial reported on his Facebook page. 
Our session which was at 7am could only start at 10pm and finished close to 2am the next day because Air Selangor water…

Geplaatst door Bob Danial op Vrijdag 4 september 2020
However, it seems that Air Selangor did arrive at the dialysis center, but much in late. The PBSSU station chief Azman Razak allegedly said that it received a call from a patient from the Bahiyah Dialysis Center on Friday. He dispatched with three firemen to help with the refilling. It took them about three hours to finish refilling the water tanks.
Prior to that, Azman allegedly said that he had received a WhatsApp message from Air Selangor prohibiting the use of fire hydrants for public use but they took the risk anyway.
"We just went on with it. Because people's lives are involved in this and if we're going to get scolded for that, so be it." As reported by the MalayMail, the water disruption lasted the weekend and the Bahiyah Dialysis Center has resumed operations since Monday.