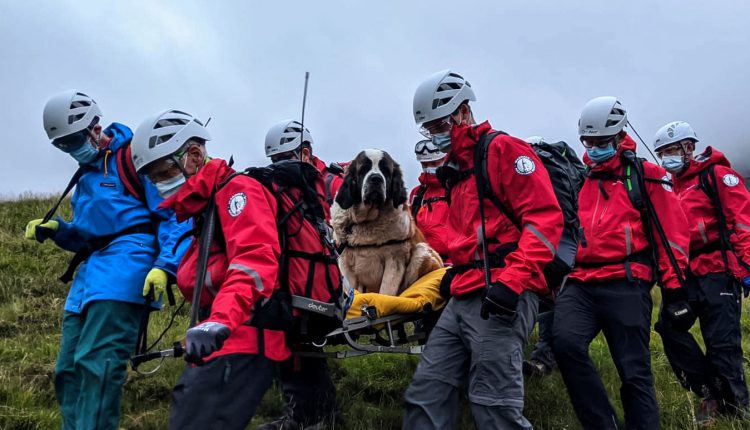 A stretcher for Daisy: Mountain Rescue team rescued and evacuated a St Bernard on Scafell Pike
Mountain Rescue teams intervene in dangerous places and often to save human beings. However, this time, in the UK, SAR teams turned out to rescue a St Bernard dog in difficulty.
It seems a joke, while St Bernard dogs generally have been deployed and trained to be rescue dogs. Daisy, the St Bernard's name, turned out to be rescued herself and evacuated with a special stretcher by a Mountain Rescue team.
Mountain Rescue, a stretcher to save Daisy
Sixteen volunteers from the Wasdale Mountain Rescue Service did their best to transport Daisy, a 55 kg St Bernard dog from the highest peak in England, the Scafell Pike.
Daisy, unfortunately, had pains in her lower limbs and mountain rescuers loaded her onto a stretcher and transported her for specific treatment.
The mountain rescue operations to save Daisy 
On their Facebook page, the Wasdale Mountain Rescue Service reported that the Cumbria police contacted us about a St. Bernard dog that had collapsed while descending from the top of Scafell Pike and was unable to move forward.
The team members didn't think twice and they organized the evacuation for Daisy. The pain in her hind legs impeded her from moving. Daisy's owners were able to keep her hydrated and fed until team members were able to reach them on a stretcher.
It was necessary to move quickly because the weather was expected to get worse in the evening.
A complexed mountain rescue operation. Daisy did not like her stretcher
Before leaving for the rescue mission, the members of the mountain rescue team sought and obtained advice from several local veterinarians regarding pain. It was possible they had problems to force the dog staying on the stretcher. So they gave the rescuers some advice on how to manage the dog in stressful situations.
Upon reaching St. Bernard's, the members of the team presented themselves gently to Daisy so as not to cause further distress, and then first assessed her condition and gave her pain medication.
Given Daisy's size, it was soon clear that her collaboration would be essential, as she wanted to make progress. It took time, persuasion and a lot of 'prizes' to get Daisy to get on the stretcher. But, in the end, she settled on it.
From then on, the transport was not too different from any other emergency evacuation. Wasdale Mountain Rescue Team would like to thank both West Lakeland Veterinary Group and Galemire Veterinary Hospital, who got in touch and gave invaluable advice and support.
Finally a huge thank you to St. Bernard Daisy, who behaved well throughout the rescue: the perfect patient, one might say".
READ THE ITALIAN ARTICLE
READ MORE
EXPLORE