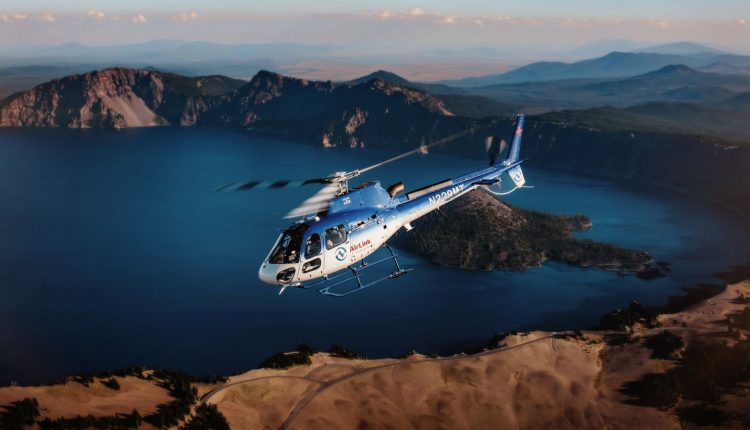 AirLink of Klamath Falls: first-level medical care in a remote community
AirLink's H125 helicopter provides inter-facility transfers and emergency assistance in a hard-to-reach area
In the picturesque eastern Oregon town of Klamath Falls, small community life meets advanced health care thanks to AirLink, an air ambulance service that connects the quiet small-town lifestyle with large-scale medical care.
Surrounded by the majestic Cascade Mountain Chains, forests and vast agricultural expanses, Klamath Falls enjoys an outdoor, friendly lifestyle and a landscape that creates strong bonds among its residents.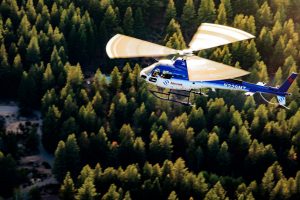 Jason Askins, Regional Aviation Manager for AirLink Region 11, highlights this sense of community: "We go camping together, we attend each other's birthday parties. There's that sense of community at work as well."
Klamath Falls, an enchanting yet challenging place, experiences pleasant temperatures in summer (around 30°C) but remains snow-covered until April. The city is connected by a scenic highway to Bend, the nearest larger city to the north, where AirLink has a second base. However, some essential infrastructure such as a fire reporting station and a Jet-A fuel depot is missing between the two cities, features that underscore the valuable isolation of this area.
However, this isolation comes at a cost in terms of health care. Sky Lake Medical Center treats most but not all medical cases. Some patients must be transferred to larger facilities either by land or, depending on circumstances, by air. This is where AirLink, operated by MedTrans (a subsidiary of GMR), plays a vital role by providing inter-facility transfers (IFT) and responding to emergency calls with an H125 helicopter and a Pilatus PC-12. The Klamath Falls team consists of 25 pilots, nurses, respiratory therapists and mechanics. AirLink's H125s can transport patients in situations ranging from high-risk obstetric cases to emergencies such as agricultural accidents, drownings or ski accidents.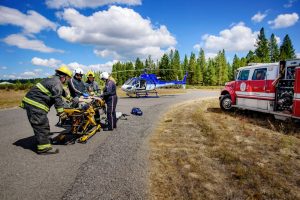 Most of AirLink's flights involve IFT cases, many of which involve patients with heart problems or strokes. The scarcity of nearby medical facilities is another reason for the transfers. "Locations to the east are limited in what they can do for a patient," explains Todd Lemaire, AirLink's flight respiratory therapist. "For particularly complex cases, they have to transfer patients to a higher level of care."
In addition to IFT cases, 30 percent of AirLink's flights involve emergency calls, often related to motor vehicle accidents. Icy winter conditions, speed and fatigue are common factors. Often, crews face challenges beyond simple timing, such as avoiding thick smoke during fire season or diverting to refuel at night. Kyle Alford, Base Aviation Manager and H125 pilot, along with his AirLink colleagues, puts safety first in his operations.

AirLink's H125 is licensed as an ambulance by the state of Oregon, and it comes as no surprise to anyone looking at it from the inside. To the left of the pilot is the patient with his boss next to the medical assistant. The back seat has heart and blood pressure monitors, a mechanical ventilator, and suction equipment. An IFT bag contains IV pumps, a glucometer, and a blood transfusion kit. They also fly with an IStat Point of Care to perform critically needed blood values such as Chem 8 panel and ABGs.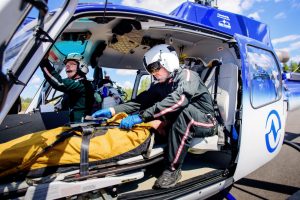 "The internal layout of the H125 allows easy access to the patient; I can get up to his waist and even to his knees because of the way the LifePort system is designed," says Todd Lemaire. "It's easy to load, I can see through the front windshield, and it's wide enough to provide some space."
Patient comfort and transport time are definitely another benefit of traveling with the H125. Kyle Alford compares the driving time of one to two hours to get to hospitals (Medford is an hour and a half away and Bend is closer at three hours) with the time it takes to fly: 30 minutes to tiny Christmas Valley, an hour flight to St. Charles Hospital in Bend.
The helicopter's performance at high altitudes and high temperatures has been a major reason for its presence in AirLink's fleet, especially when flights take them over Crater Lake. Kyle Alford recalls landing at 2,225 meters in a tight spot. "With the way the engine and tail rotor behaved, it felt like you weren't even testing it," he says. "On takeoff, we had to pass 100-foot-tall trees. It didn't even struggle".
At night, the crew wears night vision goggles, an advantage in a dark sky. Daytime flights are conducted in visual flight (VFR), although there is occasional fog, rain or light snowfall. In these situations, the 2-axis autopilot relieves some of the pressure. "We are fortunate to have the autopilot. I can make 180-degree turns easier. It maintains altitude. I can manage my heading," Alford says.
Wild life has its charms and dangers, but at Klamath Falls, medical care fortunately falls among the first. Thanks to AirLink and its reliable H125 helicopter, people in the community can rely on quick and efficient rescue service, even in the most delicate conditions.
Source