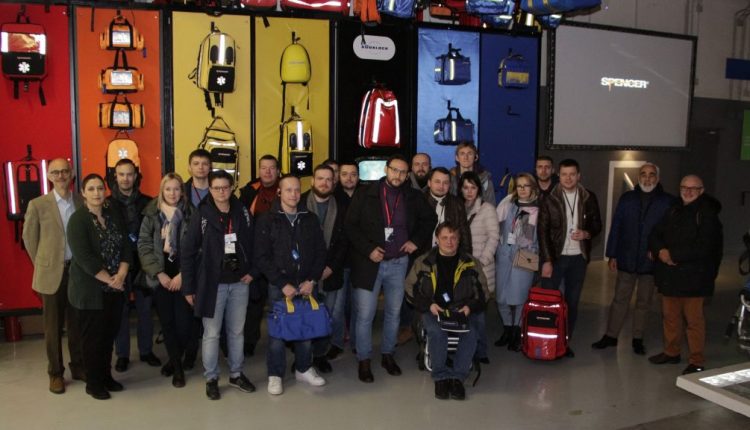 Parma as centre of emergency care: Paramedics from Russia to discover leading ambulance equipment
PARMA (ITALY) – Thanks to international cooperation launched by Ospedale Maggiore of Parma, a delegation of paramedics, nurses and medics from Moscow has visited the leading manufacturers of ambulance equipment throughout the territory of Emilia Romagna.
Russian paramedics check out the EMS system of Parma
Prev
1 of 9
Next
Comparison helps to grow together. This is the reason why, for some years, Ospedale Maggiore of Parma is involved in many professional exchanges, getting in touch with the main organizations of emergency medicine of the world.
Year by year, medics and nurses from Canada, the United States, and other big European cities came to visit the city of Parma to know more about its system of pre-hospital and EM management.
Parma has been able to create strong relationships with many hospitals all over the world, to create essential opportunities for exchange, discussion, and evaluation of different emergency medical models and protocols. These meetings can surely turn out to the growth of a better response to any patient.
This year is the turn of emergency medical professionals from Moscow (Russia). They have visited the leading factories and facilities which compose the EMS system of Emilia Romagna. Here, Russian professionals could appreciate how Parma's hospital works and communicates with the pre-hospital organizations on the territory, to carry out a quick and efficient response within 7 minutes in the urban areas of the city.
In addition to this, Russian paramedics, nurses and medics could analyze the essential ambulance equipment deeply, like ambulance stretchers, immobilization systems and advanced rescue kits manufactured by factories headquartered on the territory of Parma, like Spencer Italia.
In Sala Baganza (Parma), where Spencer Italia factory is located, Russian professionals discovered the most interesting and advanced equipments that can be installed onboard an ambulance, both for BLS and advanced life-saving rescue missions.
The exchange of views took the entire morning of 13th December, and it has been useful to compare different experiences and put together new ideas. But, most of all, it permitted to see how some made-in-Italy solutions have become top products in the EMS around the world.