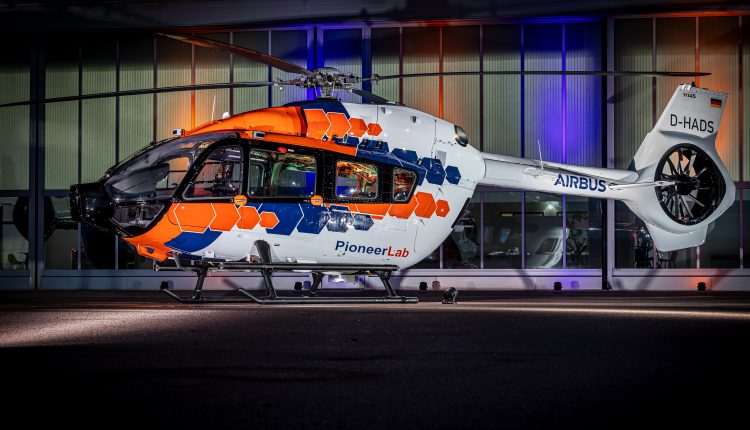 PioneerLab: New Airbus Helicopters Laboratory
The lab will test technologies to reduce emissions, improve autonomy and integrate eco-friendly materials
Airbus Helicopters, a global leader in aviation innovation, proudly announced the unveiling of its latest breakthrough, the PioneerLab, during the German National Aviation Conference in Hamburg. PioneerLab, a technology demonstrator built upon the H145 platform, reinforces Airbus' commitment to pioneering advancements in aviation technology. This innovative flying laboratory will play a pivotal role in testing and refining technologies aimed at reducing helicopter emissions, enhancing autonomy, and integrating eco-friendly, bio-based materials.
Tomasz Krysinski, Head of Research and Innovation Programmes at Airbus Helicopters, expressed his enthusiasm, stating, "With PioneerLab, we continue our ambitious strategy to test and mature new technologies on board our helicopter demonstrators. PioneerLab, located in Germany at our Donauwörth site, will be our platform to test technologies specifically dedicated to twin-engine helicopters."
The PioneerLab is set to showcase a remarkable fuel reduction of up to 30% compared to a conventional H145. This achievement is made possible through the integration of a cutting-edge hybrid electric propulsion system and various aerodynamic enhancements. Additionally, Airbus Helicopters will employ PioneerLab to conduct flight tests of structural components constructed from bio-based and recycled materials, thereby significantly reducing the environmental impact throughout the aircraft's lifecycle. Airbus Helicopters is committed to employing processes that minimize material and energy consumption while improving recyclability. The research agenda for PioneerLab will also involve integrating the latest digital technologies into the aircraft's flight control system and associated sensors, further enhancing autonomy and safety during critical flight phases like take-off and landing.

Funding for PioneerLab is made possible in part by the BMWK, the Federal German Ministry for Economic Affairs and Climate Action, through its national research program LuFo. Airbus Helicopters' FlightLabs are instrumental in providing agile and efficient test beds for swiftly assessing emerging technologies. These initiatives align with Airbus' overarching strategy to continually innovate, enhancing current products and maturing technology for future platforms.
The PioneerLab's flight campaign has already commenced at Airbus Helicopters' largest German facility in Donauwörth, with the rotor strike alerting system being the first technological milestone tested on board the demonstrator. The next phase of testing will involve evaluating an automated take-off and landing system.
Source