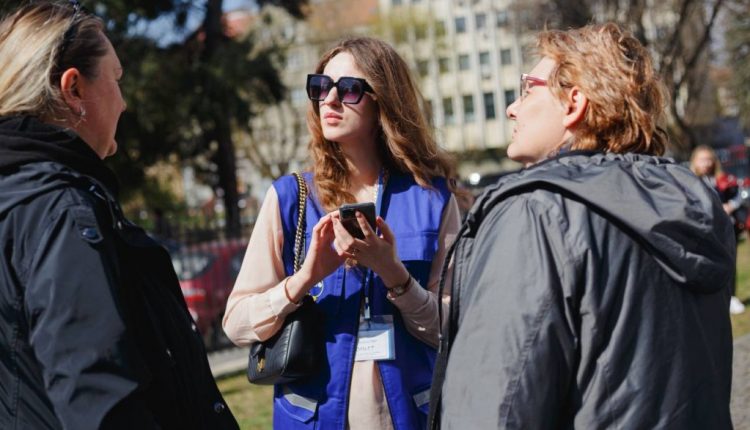 Non-medical emergency relief: Unicef's multidisciplinary mobile teams have already helped more than 80,000 Ukrainians
Ukraine, the United Nations Children's Fund (UNICEF) together with the IBF "Ukrainian Public Health Foundation" set up multidisciplinary mobile teams providing comprehensive support to families with war-affected children
A total of 50 UNICEF mobile teams are working within the project in 11 regions of central and western Ukraine – in 3.5 months of work, they have already helped more than 80,000 clients
The task of the mobile teams is to quickly provide vulnerable families with the necessary social and psychological assistance and to be where this assistance is needed.
Each team consists of a psychologist, a social worker, a lawyer, a doctor and a driver.
The team has its own car and can travel to the most remote corners of the region, where there are no other opportunities to obtain the necessary services.
In addition, the teams work in support centres for displaced persons and consult families remotely, by telephone or video link.
"The war in Ukraine has caused a large-scale humanitarian crisis.
Millions of families have been forced to seek safer places for their children, leaving behind their usual lives and losing access to basic goods and services.
It is important to provide these families with emergency help and support to regain confidence and control over their lives.
Mobile teams are comprehensive assistance, whose main task is to respond quickly to the family's acute needs and, if necessary, to redirect them to more specialised assistance," commented Vitaliy Starikov, coordinator of the United Nations Children's Fund (UNICEF) child protection projects in Ukraine.
UNICEF's synergy with Ukrainian civil society
"Together with the United Nations Children's Fund (UNICEF) in Ukraine, we have developed a unique aid format, whereby a team of specialists can simultaneously provide social, psychological, legal, basic medical and humanitarian assistance to victims of military operations, " says Executive Director of the Ukrainian Public Health Foundation" Galina Skipalska.
"In addition, it was important to make these teams mobile, i.e. capable of responding to emergencies and visiting people in need of support, even in remote corners of the region."
Ukraine, the main services of the Unicef mobile teams include:
psychological first aid and psychological support
legal counselling;
social support and
aid;
provision of humanitarian kits and information materials.
The focus of the mobile teams' work is on the most vulnerable groups: pregnant women, families with children.
In particular, the overall help of specialists is aimed at preserving families and supporting parents in organising an adequate standard of living and bringing up their children.
"With the beginning of a large-scale war, the demand for social assistance increased rapidly, so the multidisciplinary mobile teams acted as a necessary reinforcement of our specialists.
Each displaced person with their own complex fate and history needs an individual approach – and our task was to make sure that these people did not spend their last strength looking for help, but that psychosocial services found them on their own", – shares Yaroslav Bordiyan, head of the Lviv Regional Centre of Social Services.
In three and a half months of work, multidisciplinary mobile teams provided more than 240,000 services to more than 80,000 Ukrainians.

Most often, war victims seek social (43,000), psychological (35,000) and socio-psychological (37,000) assistance, as well as information services (40,000). In addition, more than 10,000 victims of violence requested support from mobile teams.
Ukraine: 50 Unicef multidisciplinary mobile teams are working in the regions of Lviv, Zakarpattia, Rivne, Vinnytsia, Dnipropetrovsk, Chernivtsi, Volyn, Zhytomyr, Khmelnytskyi, Ternopil and Ivano-Frankivsk
The 'Integrated Support through Interdisciplinary Mobile Teams' project is implemented by the Ukrainian Public Health Foundation in cooperation with the United Nations Children's Fund (UNICEF) as part of TOGETHER, a United Nations Children's Fund (UNICEF) crisis programme designed to join forces with government, local authorities, the public sector and business partners to provide multi-sectoral assistance to families with war-affected children.
Do you or your loved ones need help?
Contact the mobile multidisciplinary teams at: https://www.unicef.org/ukraine/mobile-teams
Read Also:
Emergency Live Even More…Live: Download The New Free App Of Your Newspaper For IOS And Android
UNICEF Transfers Ambulances To Eight Regions In Ukraine: 5 Are In Children's Hospitals In Lviv
Ukraine, Chernihiv Rescuers Receive Vehicles And Equipment From European Donors
Ukraine, Head Of State Volodymyr Zelenskyy Visited Ambulance Hospital In Mykolaiv
War In Ukraine, Ambulance Fitters On The Front Line: Validus Sends Emergency Vehicles To Kiev, Cherkasy And Dnieper
Ukraine, Rivne Receives Ambulance, Van And Medical Equipment From France And Germany
War In Ukraine, Since 24 February The Red Cross Has Already Trained More Than 45,600 People In First Aid
Ukraine, WHO Delivers 20 Ambulances That Can Operate Even In The Most Inaccessible Areas
Ukraine, Government Announcement: '60 Ambulances From The UK To Replace Those Destroyed By Russian Troops'
International Council Of Nurses (ICN) And Romanian Order Of Nurses Support Ukrainian Refugees
Ukraine, UNICEF Today Donated Four Tonnes Of Essential Supplies For Refugees With Children
Ukraine, Emergency Doctors Will Receive GoodSAM, An App Developed In The UK
Ukraine, Austria Delivered Ten Ambulances Thanks To The Red Cross
Source: