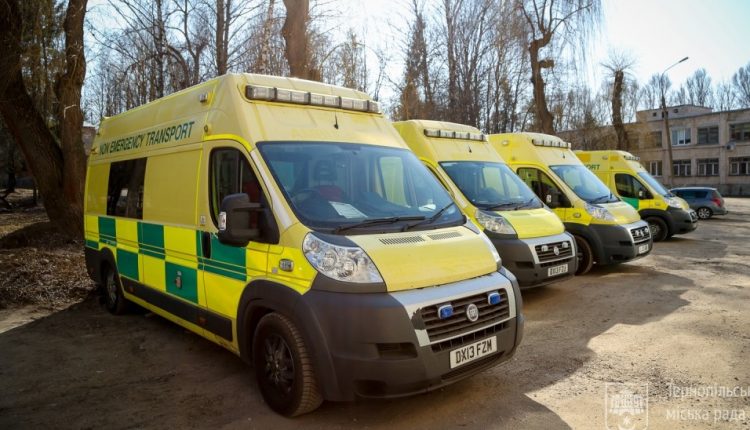 War in Ukraine: Ternopil receives four ambulances from UK's Ukrainian Dispatch
On 24 March, Ternopil received four ambulances from the Ukrainian Dispatch of the United Kingdom. Six volunteers jointly delivered the vehicles, which will be handed over to forward positions in the coming days for the repatriation of troops and civilians
From UK to Ukraine, the gift of ambulances to Ternopil in the words of the mayor
"Today we received four ambulances delivered by volunteers from the UK.
They are equipped with everything necessary to evacuate the sick and wounded.
It has been decided that the vehicles will be sent to the war zone, towns and military units that most need such assistance," said Serhiy Nadal.
"The ambulances are equipped with warning lights and are fully ready for departure.
Many thanks to the international community for their support and assistance.
Today, the entire community has united in the fight against the Russian aggressor. We are confident of victory every day".

The role of Ukrainians living in the UK in the donation to Ternopil
Oleksandr Salii, a volunteer from Ternopil who now lives in England, says that along with the transport the volunteers also donated the necessary medicines and generators.
The food delivered to Ternopil was distributed to the resettlement centres in the city.


Read Also:
Emergency Live Even More…Live: Download The New Free App Of Your Newspaper For IOS And Android
Israel Delivers Armoured Ambulances To Ukraine: Video
Ukrainian Crisis: Kharkiv, Rescue Driver Saves Two People From The Rubble Of A House
Ukrainian Crisis: Falck Donates 30 Ambulances To Support In Ukraine, Moldova, And Poland
Odessa, Twin City Marseille Sends Two More Ambulances To Bombed-Out Ukraine
War In Ukraine, Ambulance Fitters On The Front Line: Validus Sends Emergency Vehicles To Kiev, Cherkasy And Dnieper
War In Ukraine: 15 More Ambulances Arrive In Bukovina From Italy
Conflict In Ukraine, French Rescuers And Volunteers Provide An Ambulance And Humanitarian Aid For Vinnytsia
Bombs Over Mariupol, The Dramatic Testimony Of Sasha (MSF) / VIDEO
Ukraine: Food And Relief Items Reach Kharkiv As ICRC Scales Up Assistance
Ukraine: Pope Francis' Ambulance For Lviv To Be Delivered By Cardinal Krajewski
Source: