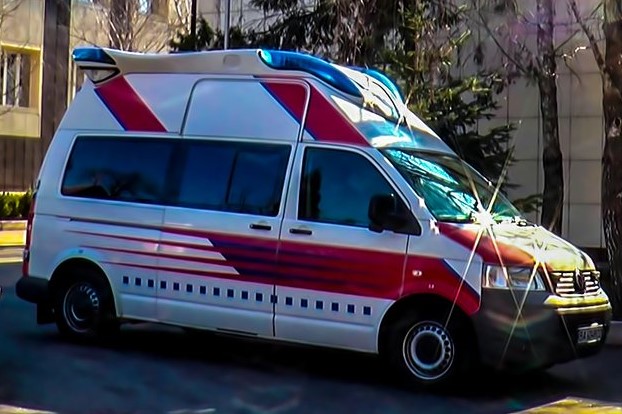 War in Ukraine: the Kropyvnytskyi children's hospital received an ambulance from a German clinic / VIDEO
Ukraine: ambulance from German clinic delivered to Kropyvnytskyi regional children's hospital
Before that, there was no ambulance in the budget of the Kropyvnytskyi hospital, said its head Vasyl Khoroshchak
Volodymyr Hlukhy, the head of the Peresvit Regional Charitable Foundation, brought the ambulance to Kropyvnytskyi.
The rescue vehicle travelled 1,500 kilometres and arrived at its destination: "This is the help of our German partners, the largest Charité clinic in Europe.
From Berlin the car was driven to the Polish border.
And from there we took it to its destination".
The ambulance is equipped with a removable stretcher and a sliding seat for transporting the patient, consumables, tonometers, laryngoscopes, intubation tubes, syringes, etc." said the head of the Department of Anaesthesiology with intensive care beds Andriy Gutarev.
"It is important for the anaesthetists that the child receives continuous therapy, even during transport".
According to the head of the Kropyvnytskyi hospital, they did not have a single ambulance in the budget:
"Previously, we had a centralised health department garage, where all the vehicles were located.
This ambulance is ours, the documents are with us, it is registered at the regional children's hospital".
Since 4 April, the ambulance has been working 24 hours a day.
The Peresvit Regional Charitable Foundation was founded 20 years ago.
As the head of the foundation Volodymyr Hlukhy told the audience, before the war with Russia it took care of children with disabilities and orphans.

After 24 February, the foundation is engaged in humanitarian aid to migrants from the regions of Ukraine where hostilities continue.
Kropyvnytskyi Hospital, watch the video about the arrival of the ambulance:
Read Also:
Emergency Live Even More…Live: Download The New Free App Of Your Newspaper For IOS And Android
Saving Lives Despite The War: How The Ambulance System Works In Kiev (VIDEO)
Ukraine: UN And Partners Deliver Aid To The Encircled City Of Sumy
Ukraine Emergency, The Italian Red Cross Returns To Lviv
War In Ukraine, Lviv Region Received Ambulances From Lithuanian Seimas
US Sends 150 Tonnes Of Medicines, Equipment And An Ambulance To Ukraine
Ukraine, Ukrainians From Reggio Emilia And Parma Donate Two Ambulances To The Kamyanets-Podilsky Community
Lviv, A Tonne Of Humanitarian Aid And Ambulances From Spain For Ukraine
Source: