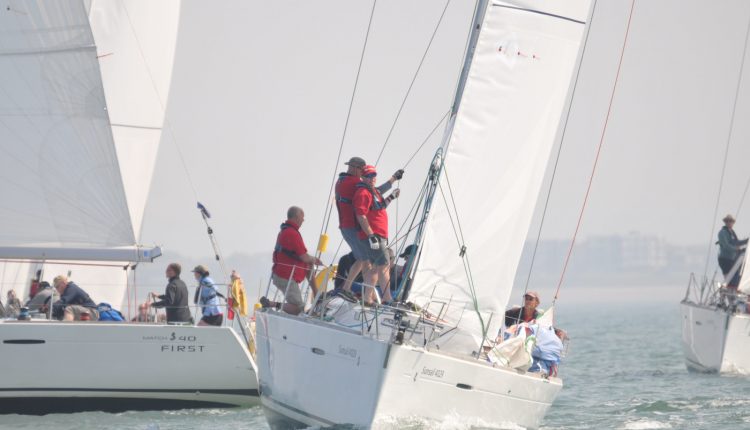 United Kingdom Firefighters Sailing Challenge: here the launch for the UKFSC 2020 -
29 Sept. 2019 – Welcome to the United Kingdom Firefighters Sailing Challenge (UKFSC 2020) event launch. UKFSC 2020 will take place from Monday 11th May to Thursday 14th May.
Racing will be in the Solent on the UKs South Coast, with onshore activities at Gunwharf Quay in Portsmouth and Cowes Yacht Haven on the Isle of Wight.
This will be the 17th time the annual yacht racing challenge has been run and the UKFSC Committee has been busy since the last event in May, making arrangements to ensure it will be the biggest and best ever. UKFSC is a firefighter charitable event which uses the fun and competition of yacht racing to raise
money for charity.
Thanks to the support of sponsors and the efforts of competitors and their friends and families, charitable donations from UKFSC are now at over £115,000. Last year saw a dramatic increase in interest from competitors and sponsors and made for the biggest and most successful event to date. Entries were up, with 32 yachts racing and over 300 competitors with crews competing from the Fire, Police and Ambulance Services, RNLI, and sponsors.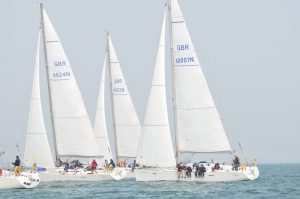 To avoid logistical difficulties in chartering yachts and finding suitable venues for the onshore activities, we have decided to limit the event to 35 yachts for 2020. UKFSC 202 will again make use of two different classes of yachts. Sunsail is in the process of changing their fleet, this will take two seasons to complete and so for 2020 we will have 15 of their brand new Jeanneau 41.0's for our Spinnaker Class and we will have 20 of the Oceanis' 37's from Fairview for the White Sails Class.
The new Sunsaill Jeanneau 41.0's crew a maximum of 10 and sleep 9. The Fairview Oceanis 37's crew 8 and sleep 8. Yacht charter and event entry costs for both types of yacht have been kept below £2500. Due to unprecedented early demand for yachts for this year's event, we are introducing a change to the entry system and UKFSC will take on the whole booking and event entry process from now on. Bookings will be taken on a first come first served basis and spinnaker entries from 2019 will have priority for Sunsail 41.0's for 2020.
Securing a yacht will be on the basis of a non-refundable deposit, and strict deadlines for 50% of the payment by 31st January, with final payment by 31st March 2020. All entries must be made via the online entry system on the UKFSC website. As of 11 am Thursday 19 th September 2019, entries for UKFSC are officially open!
Dates
Monday 11 th May to Thursday 14th May 2020
The yachts may be collected on the Sunday evening for a practice day on the Monday if booked in advance. Many crews take advantage of this opportunity as the racing becomes more competitive each year. Fairview yachts can be returned on the Friday.
Venue
Opening Night – Portsmouth Historic Naval Dockyard – Mooring in Gunwharf Quay
BBQ and Gala Nights – Cowes Yacht Haven – Mooring in West Cowes Marina
Racing – The Solent off the Isle of Wight on the UKs south coast
Yachts
Spinnaker Class – Sunsail Jeanneau 41.0 (x15)
White Sails Class – Fairview Oceanis 37 (x20)
Crew
Sunsail Jeanneau 41.0 crews up to 10, but they can be sailed effectively with 7 or 8 and can sleep 9.
Fairview Oceanis 37 crews up to 8 and sleeps 8 and can be sailed effectively with 6 or 7.
Each crew must have a competent skipper and first mate as a minimum. Skippers are available from
Sunsail, if needed.
Cost
The cost per person is very good value and will vary slightly depending on crew numbers on each
yacht and whether the training day option is taken up. As an indication:
Sunsail Jeanneau 41.0
Monday 11th May 1700hrs to Thursday 14th May 1700hrs = £1342
Practice day Monday = £275
Team Entry for team of 8 including Raffle Tickets = £880
Total = £2497
(Additional crew at £70pp including Raffle tickets)
Fairview Oceanis 37
Sunday 10th May 1900hrs to Friday 15th 1200hrs = £1576
Team Entry for team of 8 including Raffle Tickets = £ 880
Total = £2456.00
Sponsors
The UKSFSC Committee is entirely voluntary and made up of serving or retired emergency
services personnel. Their hard work and commitment is supported by generous sponsors
and supporters helping to make the event possible, increasing the charitable donations and
contributing to its overall success. So far, the following organisations have committed their
sponsorship for UKFSC 2020: