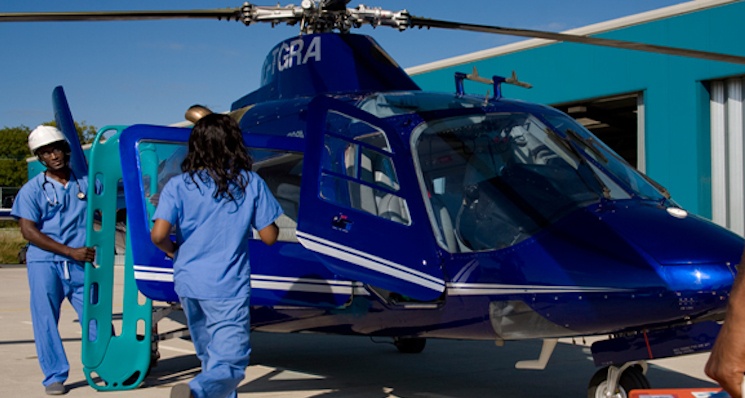 Air Ambulance and MEDEVAC in Nigeria - They come from the sky, they are the Flying Doctors!
As the medical care quality throughout Africa is about to increase its standards, Nigeria is a good example to remind in this field. Emergency care and MEDEVAC in Nigeria, especially air ambulance services, are provided by Flying Doctors Nigeria, in some areas.
Third chapter for our "EMS in Africa" section. Our column on emergency and medical care services in Africa is about to increase. This time we focused on Nigeria, in particular on the Flying Doctors Nigeria. Thanks to Mrs Olayinka Owoyemi, sales and marketing associate, who reported which are the main activities of the organization, we could understand more about air ambulance and emergency care in Nigeria.
What is "Flying Doctors Nigeria" and what is the core of this air ambulance service?
"Basically Flying doctors do the medical evacuation (MEDEVAC) of patients from different locations. We provide both international and local transfer. Our company exists for early 10 years.
Basically we have partners in the land who lend us medical vehicles and who we cooperate with . We are very influential in the medical field here and we are equipped with advanced medical items, so we can face any kind of emergency".
Flying Doctors Nigeria air ambulance and MEDEVAC: which parts of territory do you cover with your service? Do you take care of the remote areas?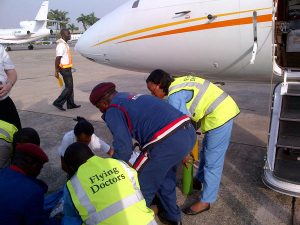 "Regarding remote sites, we do not treat those areas in sense of medical care, but we can basically transport people from isolated areas into urban areas in order to allow the best care in hospitals for them. In this sense, Nigeria is made of many areas in which people suffer precarious conditions and with fewer facilities, especially in the North of the country. This is the case in which patients must be transported into specialized structures and must be carried towards the South, in Abuja. Mainly because they are far away from hospitals and healthcare structures.
There are communities which are 15 or 20-hour drive to facilities. For us, this is what we consider a remote area: a site far away from main structures and urban centers. Anyway, wherever you are and you need to be moved in case of an emergency, we will be there."

Air ambulance service and MEDEVAC: after an emergency call, how is the mission of Flying Doctors organized?
"Once we get the call, our operator must be sure of all the details regarding the patient and which the problem is. So we always are prepared to face the emergency. The second step is the choice of the aircraft and the preparation of the extra equipment, eventually.  Another step is the choice of the medical structure was to carry the patient. The aircraft is to pick up the patient, then, sometimes happens that we also need ground ambulances to carry the patient from the site where the aircraft landed to the hospital. Anyway, mainly we use aircraft, that's why we call us 'Flying Doctors' ".
And the professionals?
"On our vehicles, we have doctors, nurses and aeromedical specialists. Many times the scenarios are very critical, so we require the most qualified members as possible. We usually dispatch qualified doctor permission, so that can face the most critical situation with his skills. Generally, we dispatch 3 or 4 professionals, depending on the situation. In particular, the most specific roles for air ambulance service are:
Critical Care Specialist: advanced airway skills, skilled in air and land transfer of critical patients.
Remote site paramedic: clinical skills, skilled in emergency planning in hostile environments and with major incident training."
Is there some project for the future of Flying Doctors Nigeria?
"Our focus is an improvement of evacuation, at the moment. MEDEVAC (medical evacuation) is a focus point for Flying Doctors because as in other associations happen, the timely and efficient rescue of patients in any case of emergency represents the priority. Indeed, the best way to move to Tanzania, like many other parts of Africa, in by plane.
The reasons are simple: run-down routes, long-distance between villages and facilities, poor resources on the route. Moving by plane is the easiest way as possible. However it is expensive. Indeed we launched an FDN Medevac Enquiry Form to invite many to become flying doctors members, in order to access Air ambulance transport across Africa free."
READ THE COLUMN ARTICLES: