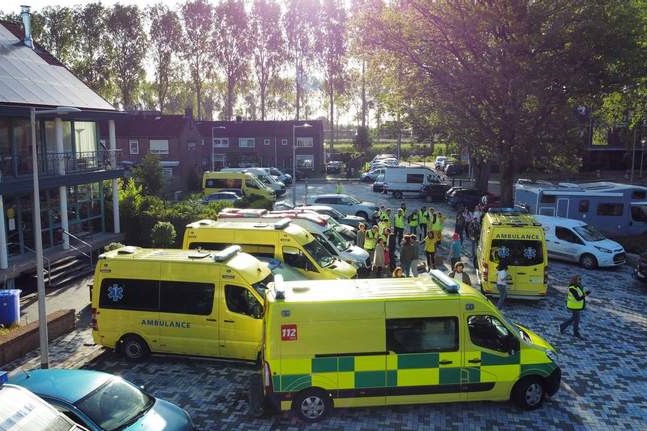 Ukraine, UK foreign minister visits: 24 ambulances will arrive from UK
Ambulances for Ukraine, battered by eight months of war: that is the promise of the UK Foreign Secretary, on a visit to Kyiv
The Foreign Secretary announced that the UK will send 24 ambulances to Ukraine during a visit to the country
James Cleverly travelled to the capital Kyiv on Thursday and is set to hold talks with Ukrainian President Volodymyr Zelensky.
This comes just days after Rishi Sunak's visit, his first since becoming Prime Minister.
Cleverly declared that the UK is 'standing by Ukraine' and that Russia's attack 'will fail'.
In addition to the ambulances, a further 11 emergency vehicles, including six armoured vehicles, will be part of the aid package for Ukraine
The package will include £3m of funding to help rebuild infrastructure, such as schools and shelters, destroyed since the start of the war.
The funds will also be used to support survivors of sexual violence.
The conflict has seen numerous reports, including from UN representatives, of sexual violence by Russian troops against Ukrainian civilians.
Cleverly stated that as winter sets in, Russia aims to 'break Ukraine's resolve through its brutal attacks on civilians, hospitals and energy infrastructure'.
In recent weeks, Russian forces have resumed shelling Kiev and other cities, hitting in particular key sites for the country's power grid.
The attacks have caused intermittent power outages, raising widespread concern about the possible deterioration of the humanitarian situation in the country in the coming months.
In winter, temperatures can drop as low as -20°C in some parts of Ukraine.
The UK is already supplying Ukrainian troops with winter equipment, including sleeping bags and heavy mats, heated accommodation and cold-weather clothing.
Ukraine is struggling to restore power after the attacks.
Ukraine's first lady: We will resist
"Today I announced a package of concrete aid to our Ukrainian friends in their struggle," Cleverly said.

"I have seen first-hand how the UK's efforts are helping brave citizens resist and rebuild. Our support will continue for as long as it takes for this extraordinary country to recover."
During his visit to Kiev, the Prime Minister unveiled a £50 million defence aid package, including 125 anti-aircraft guns and equipment to counter drones supplied by Iran.
This followed the announcement earlier this month that another 1,000 surface-to-air missiles would be sent.
Meeting with President Zelensky, Sunak said it was 'deeply humbling [to meet people] who pay such a high price to defend the principles of sovereignty and democracy'.
Read Also:
Emergency Live Even More…Live: Download The New Free App Of Your Newspaper For IOS And Android
As Winter Approaches And Conflict Intensifies, Project HOPE Expands Mobile Medical Units Into Eastern Ukraine
Russia-Ukraine: ICRC Ready To Visit All Prisoners Of War But Access Must Be Granted
Ukraine Emergency: 100 Ukrainian Patients Received In Italy, Patient Transfers Managed By CROSS Through MedEvac
Ukraine: Russian Red Cross Treats Italian Journalist Mattia Sorbi, Injured By A Landmine Near Kherson
Porto Emergenza And Intersos: 6 Ambulances And A Thermocradle For Ukraine
Ukrainian Crisis: Russian Red Cross Launches Humanitarian Mission For Internally Displaced People From Donbass
Humanitarian Aid For Displaced Persons From Donbass: The RKK Has Opened 42 Collection Points
RKK To Bring 8 Tons Of Humanitarian Aid To Voronezh Region For LDNR Refugees
Firefighting: Portugal To Send Six Kamov Firefighting Helicopters To Ukraine
Russia-Ukraine International Armed Conflict: ICRC Delivers Medical Aid And Essential Assistance To Kherson And Surrounding Villages
Source: