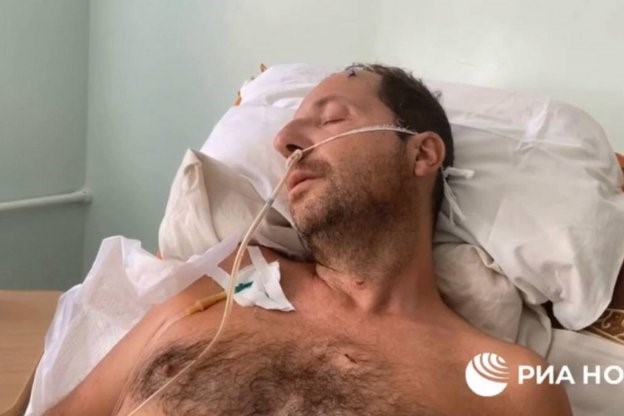 Ukraine: Russian Red Cross treats Italian journalist Mattia Sorbi, injured by a landmine near Kherson
The Russian Red Cross has helped an Italian journalist, injured near Kherson, to recover and return home, at the request of President Francesco Rocca
An Italian journalist who was blown up by a landmine in the Kherson region has been treated and is already on his way home to Italy.
The treatment in Russia, the escort and the transfer of a foreign journalist through Russian territory were organised by the Russian Red Cross (RKK), the oldest humanitarian organisation in Russia
The incident occurred last week.
The car of freelance correspondent Mattia Sorbi, who was working in Ukraine for RAI, as well as the La7 channel and the daily La Repubblica, was blown up by a landmine.
According to media reports, the Italian correspondent was injured and his driver died – it all happened near the contact line in the Kherson region. Mattia Sorbi was rescued and taken to the hospital in Kherson.
President Francesco Rocca's call for help to the Russian Red Cross (RKK)
"The president of the Italian Red Cross Francesco Rocca approached us with a request for help in returning the journalist to Italy.
And we responded quickly to the request.
The National Societies always support each other and we have a strong long-term cooperation with the Italian Red Cross.
We got in touch with Mattia and found out that he was well taken care of and his health is stable.
The hospital in Kherson, where the journalist was, ensured his transportation to Crimea, where the Russian Red Cross took him under guardianship and provided additional logistics,' said Pavel Savchuk , president of the Russian Red Cross .

Russian Red Cross: 'The journey from Kherson to Mineralnye Vody by ambulance took 16 hours'
On the territory of Russia, the RKK had already organised the transport of the injured journalist from Crimea to Mineralnye Vody, where he was given a full medical examination in one of the town's medical facilities.
At various stages, six medical workers participated in the medical evacuation.
"We are pleased that in such a difficult and tragic context, our 'humanitarian network' worked once again .

Thanks to the Russian Red Cross and its President Pavel Savchuk for their support in this delicate operation, which made it possible to bring our compatriot back to Italy," said Francesco Rocca , President of the Italian Red Cross .
After all the necessary procedures, examinations and preparation of documents, RKK specialists accompanied Mattia on a direct flight to Italy, where he arrived.
Read Also:
Emergency Live Even More…Live: Download The New Free App Of Your Newspaper For IOS And Android
Ukrainian Crisis: Russian Red Cross Launches Humanitarian Mission For Internally Displaced People From Donbass
Humanitarian Aid For Displaced Persons From Donbass: The RKK Has Opened 42 Collection Points
RKK To Bring 8 Tons Of Humanitarian Aid To Voronezh Region For LDNR Refugees
Ukraine Crisis, RKK Expresses Willingness To Cooperate With Ukrainian Colleagues
Children Under Bombs: St Petersburg Paediatricians Help Colleagues In Donbass
Russia, A Life For Rescue: The Story Of Sergey Shutov, Ambulance Anaesthetist And Volunteer Firefighter
The Other Side Of The Fighting In Donbass: UNHCR Will Support The RKK For Refugees In Russia
Representatives From The Russian Red Cross, The IFRC And The ICRC Visited The Belgorod Region To Assess The Needs Of Displaced People
Russian Red Cross (RKK) To Train 330,000 Schoolchildren And Students In First Aid
Ukraine Emergency, Russian Red Cross Delivers 60 Tonnes Of Humanitarian Aid To Refugees In Sevastopol, Krasnodar And Simferopol
Donbass: RKK Provided Psychosocial Support To More Than 1,300 Refugees
15 May, The Russian Red Cross Turned 155 Years Old: Here Is Its History
Source: