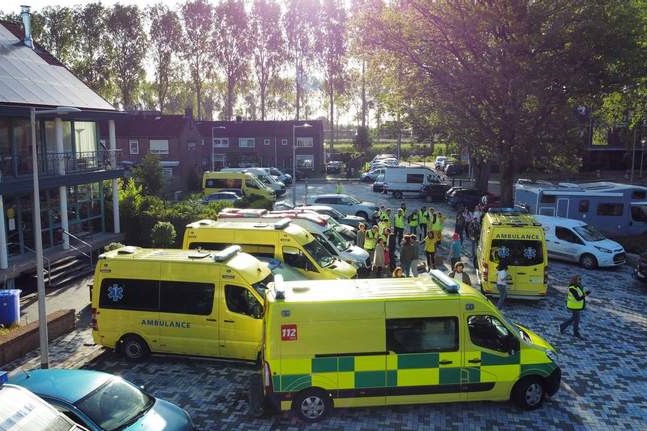 Solidarity for the bombed Ukraine: ASBIS Enterprise has delivered 10 more ambulances, they will go to the cities most in need
War in Ukraine, on Monday 23 May, the international company ASBIS Enterprise transferred 10 ambulances to the cities most in need

Ukraine, where the ambulances donated by ASBIS Enterprise went
In particular, Kramatorsk (2 ambulances), Severodonetsk (2 rescue vehicles), Dnipro (2 ambulances), Mykolaiv (2 ambulances), Kharkiv and Zaporizhia received assistance.
The ambulances were fully equipped with special medical equipment by ASBIS Enterprise
In addition, a significant amount of medication was added to each of the vehicles, which was necessary to provide emergency medical care on the ground.
Victims can now be transferred to hospitals or air raid shelters with minimal threat to their lives.
This project was implemented together with the public organisation Zeilen van Vrijheid (BF 'Sails of Freedom'), led by Veronika Mutsei, and the public organisation 'Svoy', led by Tatiana Yavorska.

Ukrainian cities in eastern Ukraine have been on the frontline since the first days of the war
Today, most cities in the region are on the brink of a humanitarian catastrophe.
From 24 February until today, Kramatorsk, Kharkiv, Severodonetsk, Dnipro, Zaporizhia and Mykolayiv have been constantly bombed.
In many of these cities, critical infrastructure has been completely destroyed, making it impossible to provide qualified medical assistance to the wounded and injured.
Thanks to the transfer of ambulances equipped with special medical equipment and medicines, doctors will be able to save even more lives.

Vitaliy Melnychenko, Director of ASBIS – Ukraine:
"We continue to help Ukraine at this difficult time.
Our next step, which will bring us closer to victory, is to deliver 10 ambulances to the cities that need them most.
Today, our activities are aimed at reducing humanitarian risks.

It is a great honour for us to donate cars with special medical equipment to the cities in the eastern region that will help save even more lives.
We are grateful to all those who defend and stand up for our country.
Together to victory".
Read Also:
Emergency Live Even More…Live: Download The New Free App Of Your Newspaper For IOS And Android
Ukraine, Chernihiv Rescuers Receive Vehicles And Equipment From European Donors
War In Ukraine, Ambulance Fitters On The Front Line: Validus Sends Emergency Vehicles To Kiev, Cherkasy And Dnieper
Ukraine, Rivne Receives Ambulance, Van And Medical Equipment From France And Germany
War In Ukraine, Since 24 February The Red Cross Has Already Trained More Than 45,600 People In First Aid
Ukraine, WHO Delivers 20 Ambulances That Can Operate Even In The Most Inaccessible Areas
War In Ukraine: The Netherlands Handed Over Seven Fire Trucks To Ukrainian Rescuers
Ukraine Emergency: 13 Fire Trucks And Ambulances From France
Ukraine, Health Ministry Disseminates Information On How To Provide First Aid In Case Of Phosphorus Burns
Ambulances In The Crosshairs: Being Rescuers In Nikolaev During The Russian Invasion / VIDEO
Ukraine, An Ambulance From Germany To The Maternity Hospital In Rivne: The Gift Of German Paul Klaus
Ukraine, Vinnytsia Received Two More Ambulances From Dortmund, Germany
Ukraine Emergency, An Ambulance From Verona To Nikolaev: It Will Be Used In The Bashtan Hospital / VIDEO
Source: