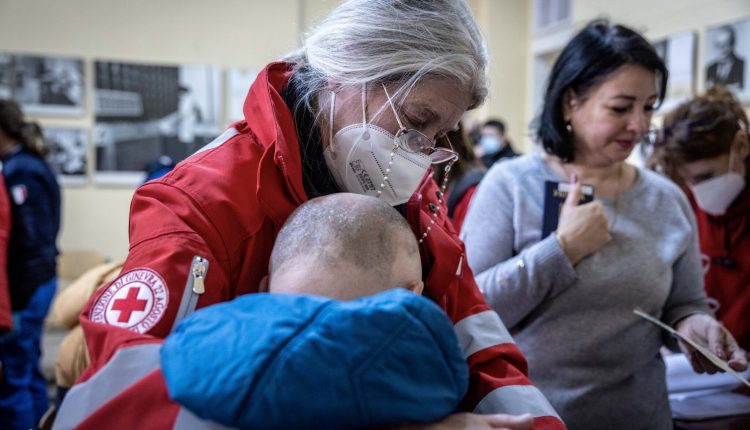 Ukraine, a new Italian Red Cross convoy leaves. Rocca: 'we will also bring fragile children to Italy'
The third Italian Red Cross civilian evacuation mission from Ukraine will leave tonight for Lviv, with the aim of bringing about one hundred vulnerable people to Italy, including several children suffering from various diseases and accompanied by at least one parent or relative
The Italian Red Cross convoy, this time made up of 26 vehicles including ambulances, minibuses, high containment vehicles, cars and vans for various materials, will move to Lviv, in Ukraine
The trip will take place via Poland, with 83 people on board including volunteers, staff, doctors and paediatric specialists, OSS nurses, RFL operators.
The mission will arrive in the Ukrainian city on Monday 25 April at the health facilities where these people are currently staying and, after carrying out a hospital triage and Covid swabs, will accompany the group to Italy, where they will be welcomed with the support of the Civil Protection Department.
At the same time as this convoy, another convoy will leave with humanitarian aid, as usual since the beginning of the crisis, and two new ambulances will be donated to the Ukrainian Red Cross.
The vehicles, which are heading for Suceava (Romania), will carry a total of around 40 tonnes of aid (self-heating food, medical and personal hygiene supplies).
To date, the Italian Red Cross has delivered over 800 tonnes of aid to Ukraine, thanks also to the support of many donors
"We do not want to retreat one step with the evacuation missions in Ukraine – underlines Francesco Rocca, President of the Italian Red Cross – because as long as it is necessary we will not stop giving rapid and concrete answers to the Ukrainian Red Cross and to the most fragile population.
This third mission is particularly delicate, given the presence of minors with various pathologies.
The convoy is therefore even larger and includes the presence of our paediatricians.
As always, the people to be evacuated were reported to us by Ukrainian volunteers in the field.
They are people who, in that difficult context, would not have been able to receive the appropriate care or support.
Children are paying a very high price in this conflict and the Red Cross is taking care of some of the most fragile of the fragile with this mission.

I would like to thank our volunteers, our doctors and all the Red Cross staff who, in just a few hours and by literally throwing their hearts over the obstacle, are able to give concrete hope to those who, at this moment, have none".
Read Also:
Emergency Live Even More…Live: Download The New Free App Of Your Newspaper For IOS And Android
Ukraine Emergency, The Drama Of A Mother And Two Children In The Words Of Porto Emergenza Volunteers
Magirus Renounces Interschutz 2022: 'Planned Investment Will Go To Ukraine's Fire Brigade' / VIDEO
Saving Lives Despite The War: How The Ambulance System Works In Kiev (VIDEO)
War In Ukraine, Humanitarian Aid From Italy, Spain And Germany Arrived In Zaporizhia
Ukraine: The Capital Kiev Received 12 Ambulances And 8 Fire And Rescue Vehicles From Germany
Ukraine: From London's Air Ambulance Charity, StreetDoctors And CitizenAID Training Videos For War Wounded
War In Ukraine, Zhmerynka Rescuers Receive Fire Brigade Vehicle And Equipment From Germany
Emergency In Ukraine, Aosta Local Health Authority Donates Two Ambulances And A Medical Car To The Red Cross For Use In Lviv
Source: