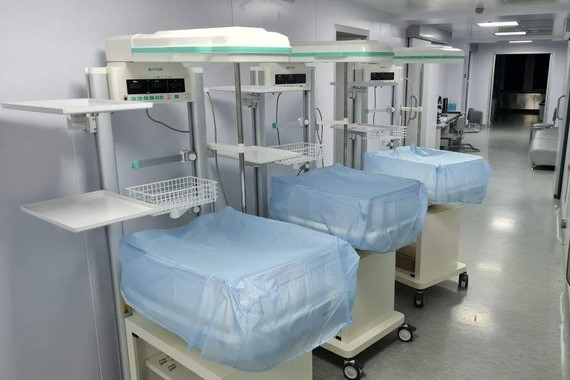 Ukraine, a sharp increase in preterm deliveries with war: incubators for premature babies
War and pregnancy: several varieties of incubators, heat-preserving pouches and portable boxes have been donated to medical facilities in Ukraine
Ukraine donation of incubators, transport incubators, transformer incubators, open resuscitation (surgical) tables and systems, heat-preserving pouches, portable boxes with heating
This is a list of supplies being worked on by the Ministry of Health team and the state enterprise 'Medical Procurement of Ukraine'.
This equipment arrives as humanitarian aid from various donors and benefactors, in particular: the National Committee of the Ukrainian Red Cross, crown agents, the Ukrainian Association of the State of Washington, the Ukrainian Medical Alliance, the government of Catalonia, the spouses of Volodymyr and Olena Zelensky, the spouses of Elena and Viktor Pinchuk, embassies and international agencies.
So far, more than one hundred pieces of equipment have been supplied to perinatal, maternity and intensive care centres with neonatal beds.
The team distributes the incubators among institutions, taking into account the peculiarities of wartime, evacuation routes, resettlement of those forced to leave their homes due to Russia's large-scale invasion, and other factors.
Due to the stress caused by the war, more and more babies in Ukraine are born prematurely or in need of extra care in the first months of life.
Some of them remain in incubators for weeks or even months, until doctors release them and the babies can feel well outside the protected environment
Premature babies, babies with medical conditions, post-operative babies who are in fixed incubators with attached drip trays, ventilators cannot be transferred to the airlock in the incubator.
The fixed incubator weighs approximately 170 kg and is not intended for significant movement, it only functions when connected to other fixed hospital systems and the power grid.
As a result, health workers, mothers and babies are often forced to remain in the intensive care and neonatal units of the perinatal centres during artillery and missile attacks.
"This is precisely where the transport incubators will come in handy. They have an autonomous supply of oxygen mixture and nutrition for a certain period of time, all kinds of necessary devices and, by the way, much less weight," says Tetyana Kharchenko,
For children who do not need any other special measures, except to be in additional stable warmth, heat-retaining bags and portable boxes with heating are suitable.
"However, moving children to the air-raid shelter with the help of the mentioned equipment takes time," Tetyana Kharchenko continues. -.
Therefore, if there is an opportunity, a complete set of incubators and autonomous sources of nutrition and supply of respiratory mixture should be placed in the shelter.
In this way, the most vulnerable children can be protected'.
Incubators are valuable equipment designed for years of continuous operation
"At the same time, it must be fail-safe, have reliable maintenance in Ukraine, in our dangerous conditions.

That's why we need high-quality models, which, in fact, we are negotiating with benefactors,' says Maria Karchevych, Deputy Health Minister for Digital Development.
The Ministry of Health recognises the heroism of doctors who save the lives of Ukrainian babies at gunpoint.
Read Also:
Emergency Live Even More…Live: Download The New Free App Of Your Newspaper For IOS And Android
War In Ukraine, Unicef: Support For Children And Families
Non-Medical Emergency Relief: Unicef's Multidisciplinary Mobile Teams Have Already Helped More Than 80,000 Ukrainians
UNICEF Transfers Ambulances To Eight Regions In Ukraine: 5 Are In Children's Hospitals In Lviv
Ukraine, Spain Delivered 23 Ambulances And SUVs To Ukrainian Border Guards
Ukraine, In Parliament The Law To Create The 112 Emergency Service
Solidarity With Ukraine: Cycling 1,300 Km To Buy A Paediatric Ambulance For Kiev
MSF, "Together We Can Do So Much More": Partnering With Local Organisations In Kharkiv And Throughout Ukraine
UNDP, With Support From Canada, Donated 8 Ambulances To 4 Regional Centres In Ukraine
International Council Of Nurses (ICN) And Romanian Order Of Nurses Support Ukrainian Refugees
Ukraine, UNICEF Today Donated Four Tonnes Of Essential Supplies For Refugees With Children
Ukraine, Emergency Doctors Will Receive GoodSAM, An App Developed In The UK
Ukraine, Austria Delivered Ten Ambulances Thanks To The Red Cross
Source: