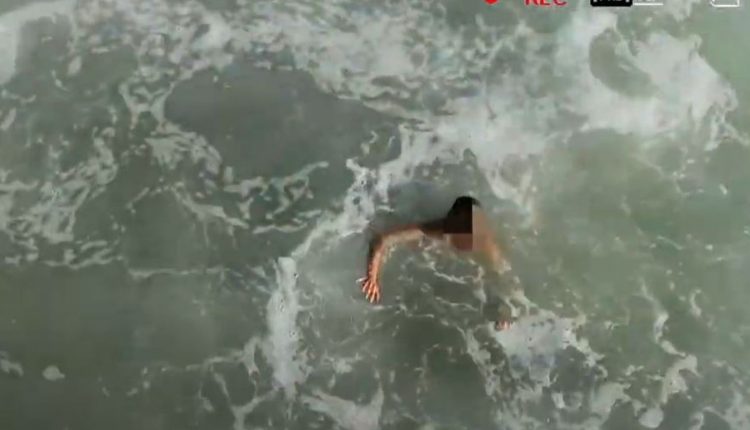 Water rescue: drone saves 14-year-old boy from drowning in Valencia, Spain
Valencia (Spain): the drone released a life jacket that kept the boy afloat until a lifeguard team arrived
A drone saved a 14-year-old boy from drowning at sea in Valencia, Spain
The drone rescue service, which has been introduced at all Spanish beaches, launched a life jacket into the sea this month that was able to keep the teenager afloat just as he was starting to sink, its operators said.
The jacket kept the boy afloat until a lifeguard team arrived moments later.

Drone essential in water rescue in Valencia (Spain): here's how it happened
TECHNOLOGICAL INNOVATION AT THE SERVICE OF FIRE BRIGADES AND CIVIL PROTECTION OPERATORS: DISCOVER THE IMPORTANCE OF DRONES AT THE FOTOKITE BOOTH
"When we arrived, we saw a boy in bad shape, almost without energy to keep floating, so I sent the lifejacket," said Miguel Angel Pedrero, a drone pilot for General Drones, the company providing the technology.
"Because of the heavy waves it was a complicated manoeuvre, but in the end we managed to give him the jacket and he was able to float until the lifeguards reached him with the jet ski."
After being rescued, the 14-year-old, who has not been identified, was sent to the local hospital after ambulance staff provided him with oxygen.
He was sent home 24 hours later.
Valencia-based General Drones began supporting Spanish lifeguards in 2017 in the town of Sagunto, north of Valencia
Now, it has more than 30 pilots and drones working with lifeguards at 22 beaches across Spain, providing rapid reaction support at critical moments of a potential drowning, before lifeguards can physically reach the scene.
"These extra seconds are vital in some cases and allow rescue teams to approach the person more calmly and cautiously," Pedrero added.
In the first six months of 2022, 140 people died from accidental drowning in Spain, 55 per cent more than in the same period in 2021, according to the Royal Spanish Federation of Rescue and Life-Saving.

Read Also:
Emergency Live Even More…Live: Download The New Free App Of Your Newspaper For IOS And Android
Spain, Police Seize Unmanned 'Submarine Drones' Used To Move Drugs
Fotokite Flies At Interschutz: Here Is What You Will Find In Hall 26, Stand E42
Drones And Firefighters: Fotokite Partners With ITURRI Group To Bring Easy Aerial Situational Awareness To Firefighters In Spain And Portugal
Robotic Technologies In Forest Firefighting: Study On Drone Swarms For Fire Brigade Efficiency And Safety
Firefighting Drones, Fire Drill In A High-Rise Building Of The Laixi Fire Department (Qingdao, China)
India, ICMR Publishes Medical Drone Guidelines
Study In European Heart Journal: Drones Faster Than Ambulances At Delivering Defibrillators
SICUR 2022, What The Madrid Security Fair Will Be About
Fotokite At The Service Of Firefighters And Security: The Drone System Is In Emergency Expo
Drones And Firefighters: Fotokite Partners With ITURRI Group To Bring Easy Aerial Situational Awareness To Firefighters In Spain And Portugal
Fire Brigades Of Spain And France Under Pressure: Heat Wave Leads To Raging Fires
Source: