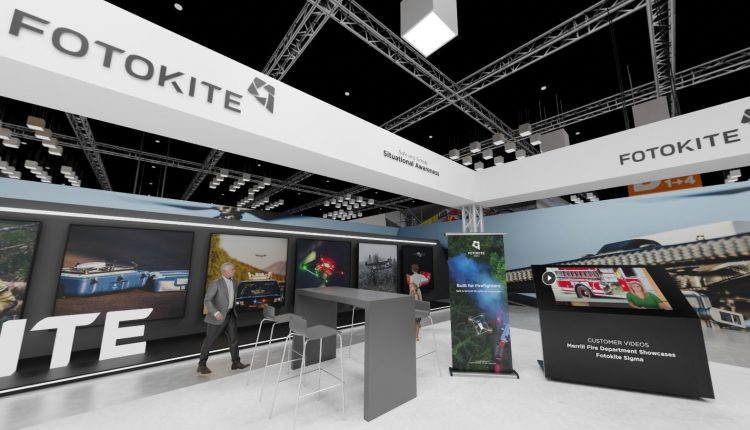 Fotokite at the service of firefighters and security: the drone system is in Emergency Expo
We welcome Fotokite, the company that makes drones for rescue teams, fire brigades and public safety, to Emergency Expo
Fotokite Sigma, the Fotokite branded robot system, lands, with our pleasure, on Emergency Expo, the 3D virtual trade fair by Roberts, dedicated to Emergency
Founded in 2014, Fotokite, a Swiss company with offices in Zurich, Syracuse and Boulder, designs and manufactures drones designed to help first aid teams in managing critical and complex situations.
With the Fotokite drone system, it is possible to display full thermal images in real time, even in low light conditions, without the need for any experience in piloting robots.
This allows fire and rescue teams to make critical decisions quickly and effectively.
When the emergency response vehicle arrives at the scene, the Fotokite drone is immediately deployed up to a height of 45 metres (150 feet) and within a minute an overview of the emergency situation can be obtained via thermal images.
In this way, depending on the severity of the situation, critical decisions can be made immediately.
Furthermore, as the Fotokite drone continues to fly, the live video can be streamed remotely to the control centre or anywhere else in the world via the optional remote video streaming.
TECHNOLOGICAL INNOVATION AT THE SERVICE OF FIRE BRIGADES AND CIVIL PROTECTION OPERATORS: DISCOVER THE IMPORTANCE OF DRONES AT THE FOTOKITE BOOTH
Fire brigades equipped with an active drone system use Fotokite Sigma as a complementary tool
Unlike traditional drones, it can be flown even in adverse weather conditions (rain, snow, wind), providing an immediate overview of the situation.
In firefighting teams, on the other hand, without drones, the Sigma system helps team resources by flying, launching and landing at the push of a button.
By virtue of the UAS – unmanned aerial system – the Fotokite Sigma system is able to fly autonomously for 24 hours without any active piloting, allowing rescuers to focus entirely on their mission.
Ease of use, coupled with reliability and fast set-up times, allow access to safe aerial views in seconds.
Offered in three different configurations, Rooftop Box, Transport Case and Vehicle-Integrated, Fotokite Sigma is an industrial grade system with IP55 protection consisting of the ground station and kite.

The Rooftop Box configuration, allowing high situational awareness immediately and completely hands-free, is Fotokite's flagship configuration.
Designed for integration into SUV and heavy vehicle classes, it deploys at the push of a button.
Fotokite Sigma is authorised and recognised by aviation authorities as a safer alternative to traditional tethered drones and free-flying public safety drone systems.
Read Also:
Emergency Live Even More…Live: Download The New Free App Of Your Newspaper For IOS And Android
Fotokite Flies At Interschutz: Here Is What You Will Find In Hall 26, Stand E42
Drones And Firefighters: Fotokite Partners With ITURRI Group To Bring Easy Aerial Situational Awareness To Firefighters In Spain And Portugal
Robotic Technologies In Forest Firefighting: Study On Drone Swarms For Fire Brigade Efficiency And Safety
Firefighting Drones, Fire Drill In A High-Rise Building Of The Laixi Fire Department (Qingdao, China)
India, ICMR Publishes Medical Drone Guidelines
Study In European Heart Journal: Drones Faster Than Ambulances At Delivering Defibrillators
SICUR 2022, What The Madrid Security Fair Will Be About
Source: