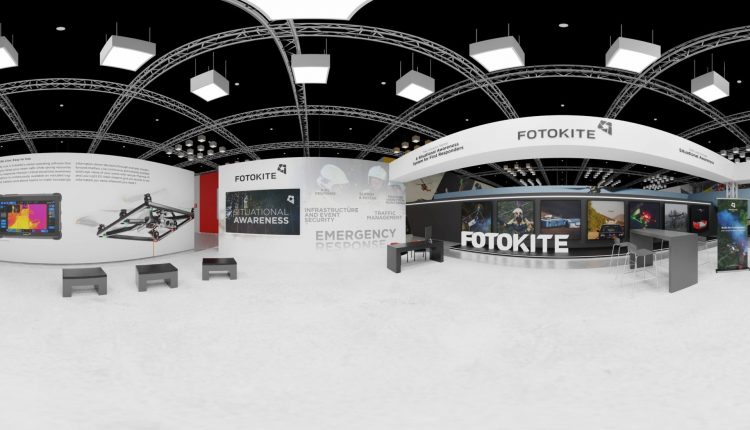 Fotokite flies at Interschutz: here is what you will find in Hall 26, Stand E42
Fotokite is present for the first time at Interschutz: on display the Fotokite Sigma drone system for first responders
The Fotokite team is pleased to announce its first participation in the international trade fair Interschutz 2022, which will take place from 20 to 25 June
More than 1500 exhibitors and more than 160000 industry experts will take part in the worldwide exhibition, focusing on innovations in firefighting, safety and digitisation.
Located in Hall 16 at Stand E42, Fotokite will showcase the Fotokite Sigma system flights in Transport Case and Vehicle-mounted configurations, as well as the latest Video Live-Streaming software solutions throughout the show.
A leading Swiss company, Fotokite deals with the construction of robots and in-house software dedicated to first responders
The Fotokite Sigma is an industrial-grade, IP55-rated tethered drone system consisting of the ground station and kite.
A ruggedised tablet runs the Fotokite Live application and simultaneously displays thermal and RGB video streams, providing first response teams with useful information during their mission.
Fotokite Sigma systems facilitate the safety of rescuers by launching, flying and landing at the push of a button.
Capable of true autonomous flight with unlimited flight time, the Fotokite Sigma does not require active piloting and therefore allows teams to be easily trained and, once in the field, concentrate on their mission while providing real-time, low-light thermal imagery from a height of up to 45 metres (150 feet).
The drone's ease of use and quick set-up times allow first responders to access safe and reliable aerial views in seconds to help them understand incident scenes.
Fotokite Sigma's systems will also be presented at stands of partners and customers such as MSA The Safety Company (H14/15 Stand H20), Alpha Robotics (H27), Brandschutztechnik Schlichtiger GmbH (VG D88/D89), @Fire International Disaster Response Germany (H27 Stand A18) and many others.

A total of 10 Sigma Fotokites will be presented at the exhibition, a unique opportunity to discover or rediscover the technology developed by the Swiss company during a flight demonstration.
You can also contact the Fotokite experts directly at sales@fotokite.com and book an appointment or a demonstration during the Interschutz exhibition.
Read Also:
Drones And Firefighters: Fotokite Partners With ITURRI Group To Bring Easy Aerial Situational Awareness To Firefighters In Spain And Portugal
Robotic Technologies In Forest Firefighting: Study On Drone Swarms For Fire Brigade Efficiency And Safety
Firefighting Drones, Fire Drill In A High-Rise Building Of The Laixi Fire Department (Qingdao, China)
India, ICMR Publishes Medical Drone Guidelines
Study In European Heart Journal: Drones Faster Than Ambulances At Delivering Defibrillators
SICUR 2022, What The Madrid Security Fair Will Be About
Source: