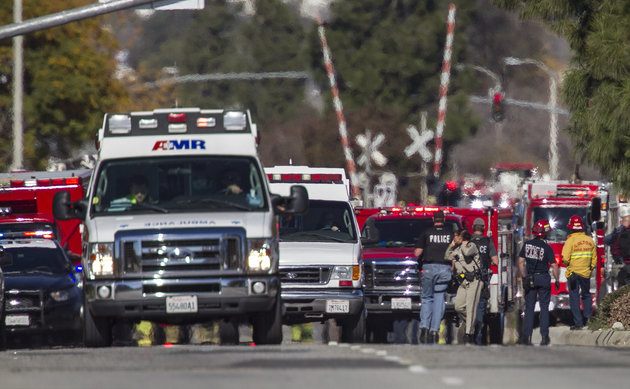 The San Bernardino, California, Terror Attack: Two Emergency Departments' Response
The San Bernardino tragedy is a shooting occourred on December 2, 2015
At the Inland Regional Center in San Bernardino (CA) 14 people were killed and 22 were seriously injured in an unconventional terrorist attack. The attack consisted in a mass shooting and an attempted bombing. A man and a woman, Syed Rizwan Farook and Tashfeen Malik, a married couple living in the city of Redlands, are the persecutors. The target were the San Bernardino County Department of Public Health training event and holiday party, of about 80 employees, in a rented banquet room. Farook was an American-born U.S. citizen of Pakistani descent, who worked as a health department employee. Malik was a Pakistani-born lawful permanent resident of the United States. After the shooting, the couple fled in a rented sport utility vehicle (SUV). Four hours later, police pursued their vehicle and killed them in a shootout. On December 3, 2015, the Federal Bureau of Investigation (FBI) opened a counter-terrorism investigation. On December 6, 2015, in a prime-time address delivered from the Oval Office, President Barack Obama defined the shooting as an act of terrorism.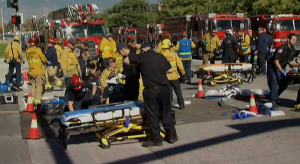 Authors list: Carol Lee, MD,† Elizabeth Walters, MD,* Rodney Borger, MD,† Kathleen Clem, MD,* Gregory Fenati, DO,† Michael Kiemeney, MD,* Sakona Seng, DO,† Ho-Wang Yuen, MD,† Michael Neeki, DO,† and Dustin Smith, MD*
Source PMC – On December 2, 2015, a terror attack in the city of San Bernardino, California killed 14 Americans and injured 22 in the deadliest attack on U.S. soil since September 11, 2001. Although emergency personnel and law enforcement officials frequently deal with multi-casualty incidents (MCIs), what occurred that day required an unprecedented response. Most of the severely injured victims were transported to either Loma Linda University Medical Center (LLUMC) or Arrowhead Regional Medical Center (ARMC). These two hospitals operate two designated trauma centers in the region and played crucial roles during the massive response that followed this attack. In an effort to shed a light on our response to others, we provide an account of how these two teaching hospitals prepared for and coordinated the medical care of these victims.
In general, both centers were able to quickly mobilize large number of staff and resources. Prior disaster drills proved to be invaluable. Both centers witnessed excellent teamwork and coordination involving first responders, law enforcement, administration, and medical personnel from multiple specialty services. Those of us working that day felt safe and protected. Although we did identify areas we could have improved upon, including patchy communication and crowd-control, they were minor in nature and did not affect patient care.
MCIs pose major challenges to emergency departments and trauma centers across the country. Responding to such incidents requires an ever-evolving approach as no two incidents will present exactly alike. It is our hope that this article will foster discussion and lead to improvements in management of future MCIs.
[document url="https://www.emergency-live.com/wp-content/uploads/2016/04/wjem-17-1.pdf" width="600″ height="720″]