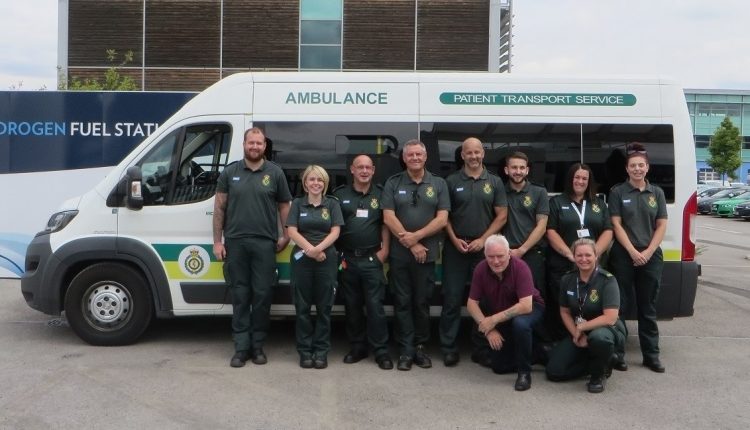 Pioneering Patient Transport Vehicle Joins Yorkshire Ambulance Service
Yorkshire Ambulance Service is the first ambulance service to introduce a dual-fuel non-emergency patient transport vehicle. It took on the challenge of driving down emissions in its 1,200-strong fleet over the next few years.
Yorkshire Ambulance Service NHS Trust (YAS) is continuing to lead the way with eco-friendly vehicles.
Hydrogen and diesel engine for patient transport? Here is the dual-fuel non-emergency ambulance
YAS start a new challenge with the Peugeot Boxer converted in a dual-fuel vehicle, for non-emergency patient transport service. The Peugeot Boxer has been converted to run on hydrogen and diesel, using unique technology from specialist conversion company ULEMCo. The pioneering project enables around 35 to 45% of the vehicle's energy. It comes from hydrogen rather than diesel and its carbon dioxide emissions can be reduced by the same amount.
Alexis Percival, Environmental and Sustainability Manager at YAS, said: "We are so excited to have another world first for an ambulance service to have a hydrogen dual-fuel vehicle in our fleet.
"As a public sector organization, we have a responsibility to reduce our exhaust emissions to improve the health of the people we serve. This vehicle takes us further down the road to zero emissions. We are looking to expand our zero-emission fleet, as Clean Air Zones are launched across the region."
Dual-fuel non-emergency ambulance: looking forward to a new kind of patient transport
Chris Dexter, Managing Director of the Patient Transport Service at YAS, added: "We are looking forward to testing this technology in our fleet. We will see how we can work towards becoming a zero-emission fleet for the future. This heralds the start of a new era in patient transport."
The vehicle conversion has been part-funded by the Government's Office for Low Emission Vehicles (OLEV) and Innovate UK, alongside six other partners, to demonstrate the potential of hydrogen dual-fuel vehicle fleets to reduce emissions. These vehicles include refuse trucks, delivery vans and fire service support vehicles. The trial of the vehicles will run for a year and details of air quality savings will be published early in 2019.
Dual technology for patient transport
Amanda Lyne, Chief Executive of ULEMCo, said: "The conversion of the Peugeot Boxer is our first example of this make of vehicle, and shows how flexible our dual-fuel technology is to deliver practical solutions to emission reduction.
"We are focused on offering technology to operators that can be on the road now and this is a great example of an essential vehicle than can be improved without impacting on service or requiring a significant change to its operation."
Meanwhile, YAS is working with ULEMCo to build a prototype hydrogen-electric emergency ambulance which will have zero emissions.
YAS has already introduced several other initiatives to reduce its carbon footprint, which include installing solar panels on more than 100 ambulances to keep their batteries charged, aerodynamic light bars, greener tyres and hydrogen-electric support vehicles. It has also won several national awards for its environmental initiatives.
READ MORE