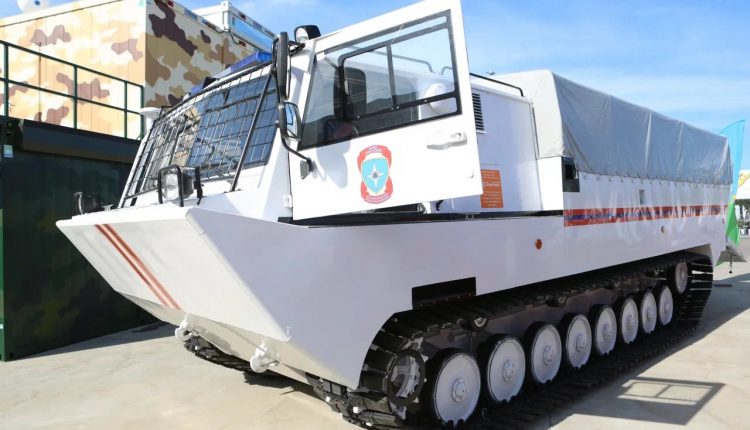 Russia, EMERCOM tests floating crawler for firefighters and rescuers
On the occasion of Russia's Science Day, celebrated on 8 February, EMERCOM, Russia's Ministry of Emergency Situations, presented the most innovative or currently being tested equipment for firefighters and rescuers
SPECIAL VEHICLES FOR FIREFIGHTERS: VISIT THE ALLISON BOOTH AT EMERGENCY EXPO
Last year, the Russian Ministry of Emergency EMERCOM organised and held the all-Russian robotics festival "RoboEmercom"
A pilot operation of a series of developments by the Russian Research Institute for Civil Protection and Emergencies of the Russian Ministry of Emergencies was conducted in 2021.
Rescuers in Tver tested a floating tracked fire and rescue vehicle.
The machine is designed to operate in operational scenarios with destroyed infrastructure and in flood-prone areas.
But that's not all: the rescue centres in Siberia and Amur have already carried out a test operation of a multifunctional unmanned aerial vehicle system based on a vehicle on an all-terrain chassis.
DEVICES IN LOW VISIBILITY SCENARIOS? VISIT STREAMLIGHT'S BOOTH AT EMERGENCY EXPO
EMERCOM, among the department's priority areas of activity, a significant part is occupied by the development of modern models of fire and rescue equipment
These include high and very high productivity multifunctional pump-tube complexes designed to extinguish fires and perform more complex emergency rescue operations.

It is planned to create universal mobile complexes for the prevention and extinction of natural fires in the protection of settlements and adjacent territories, ultra-modern firefighting and rescue vehicles based on advanced technologies.
FITTING OUT SPECIAL VEHICLES FOR FIRE BRIGADES: DISCOVER THE PROSPEED BOOTH AT EMERGENCY EXPO
Read Also:
Emergency Live Even More…Live: Download The New Free App Of Your Newspaper For IOS And Android
Russia, The International Red Cross And Red Crescent And The Ministry Of Emergencies Discussed Cooperation
Russia, 6,000 People Involved In The Largest Rescue And Emergency Exercise Carried Out In The Arctic
HEMS In Russia, National Air Ambulance Service Adopts Ansat
EMERCOM Of Russia Calls To Equip Houses With Fire Detectors
Source: