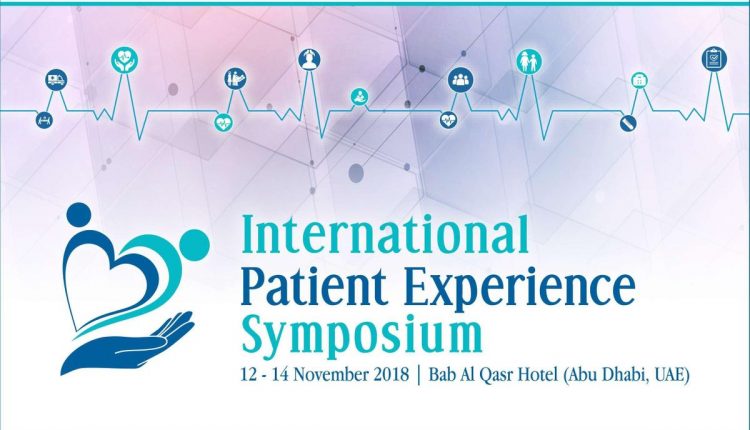 Abu Dhabi calls for increased push to promote quality patient experience
International Patient Experience Symposium will align UAE'S patient experience practices with global standards
UAE has made improving healthcare delivery a key plank of its Vision 2030. The state envisions to enhance the health of individuals and societies in the region through the provision of comprehensive and excellent health services, in a healthy and sustainable environment, through implementing policies, legislations, programs and effective partnerships locally and internationally
Digital transformation and transition to value-based care are pushing care providers to change their patient experience approach. As patient experience moves center stage at many of the nation's health systems, leaders responsible for this function are tackling issues related to a maturing discipline.
Embracing the paradigm shift from organization-centric to person-centric care plan and concurrent process-cycle revamp; Department of Health- Abu Dhabi in line with the national healthcare vision has developed strategic healthcare reforms to enhance the delivery of exceptional patient experience by facilitating proactive access to high quality, affordable and seamless care in a timely fashion.
Under the patronage of Ministry of Health & Prevention – UAE and supported by Department of Health – Abu Dhabi, the International Patient Experience Symposium will take place from 12-14 November in Bab Al Qasr Hotel, Abu Dhabi.
Bringing together more than 40 national and international experts, the symposium aims to offer access to unique learning opportunity that sets the tone for establishing excellence benchmark, effective communication and leadership strategies in customized care delivery.
Dr. Asma Al Mannaei, Director, Healthcare Quality, Department of Health Abu Dhabi & Member of DOH Executive Committee, mentioned that, in line with Abu Dhabi's Vision 2030, and Department of Health – Abu Dhabi's commitment to providing first-class quality of healthcare services for patients in Abu Dhabi, some of the initiatives such as the Abu Dhabi Healthcare Index (JAWDAH) helps position Abu Dhabi as a leading hub for medical tourism and ensures continuous improvement of patient-focused care.
Mark McGourty, Chief Executive Officer at Amana Healthcare, a specialized provider of long-term acute care, post-acute rehabilitation, transitional care and home care services, and Exclusive Rehabilitation & Long-Term Care Partner at the International Patient Experience Symposium said "Life is a journey for us all. At Amana we live by a simple ethos: that everyone, no matter their path, deserves a chance to live the best life possible. Our philosophy of providing each patient with the highest standard of care, at the right place and time, creates an experience that fosters courage and trust, empowering them to be more engaged – in treatment, and in life. The outcome is a better world for everyone."
Majd Abu Zant, Chief Operating Officer at United Eastern Medical Services (UEMedical) and one of the speakers at the conference said, "We are thrilled to partner and support the International Patient Experience Symposium in Abu Dhabi. This comes in line with one of our key priorities of enhancing the overall patient experience across our health system including Danat Al Emarat Hospital, HealthPlus Centers or Moorfields Eye Hospital Abu Dhabi whether they are expecting a baby, or going through IVF, getting screened for breast cancer, having a cornea transplant or any other reason. The majority of patients seeking healthcare would not be feeling well or worried and a pleasant and positive patient experience can shape and positively impact this opportunity to make the best of a situation that may not be positive from the minute they make the first contact with the healthcare facility until any follow up care needed and beyond. I am confident all speakers and attendees will gather in this unique symposium with the same aim to learn from each other, exchange knowledge and find new ways to continue improving our patients experience."
The event will act as a platform for the exchange of expertise and shared-knowledge among the healthcare professionals dealing with patient-experience, discuss best international practices, network and build relationships and disseminate knowledge and information among the global and regional healthcare fraternity.
Our confirmed supporters are UAE Ministry of Health & Prevention, Department of Health- Abu Dhabi, Planetree, UAE Genetic Diseases Association, Emirates Nursing Association, and our confirmed sponsors are Amana Healthcare, United Eastern Medical Services (UEMedical), Get Well Network, FASSCO and AI Directions.
For more information about the event, or to sponsor or delegate, please visit: www.ipxsymposium.com
About Business Innovation Institute
Business Innovation Institute works with thought leaders, renowned academics, research centres and leading players in strategic industries from across the globe to design and deliver management trainings, consulting solutions as well as conceive and execute large-scale business exhibitions and conferences.