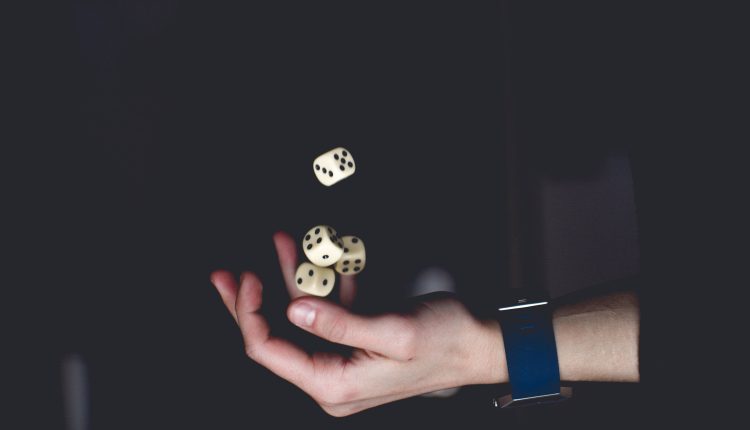 Impulse control disorders: ludopathy, or gambling disorder
Let's talk about ludopathy: Impulse Control Disorders are a diagnostic category that has only recently been recognised. Disorders such as pathological gambling, pyromania (which I have already discussed in a previous article), kleptomania and intermittent explosive disorder were only diagnosed in the DSM III (American Psychiatric Association, 1980)
Only seven years later, in the DSM III-R (American Psychiatric Association, 1987), trichotillomania was also given diagnostic value.
Compared with the previous DSM-IV, one change that we might consider fundamental is the shift of pathological gambling to the chapter on addictions (Substance-Related and Addictive Disorders).
The shift of Gambling Disorder (GAP), as it is now called in the new Manual, is the expression of an epistemological change that affects both GAP and addictions as a whole.
Gambling addiction: the onset of symptoms can occur as early as adolescence but can also occur during late adulthood
The development of the disorder is exponential, as it progressively increases over time in terms of both frequency and quantity of bets placed.
The behaviour is usually triggered when negative emotions such as anxiety, sadness, guilt, etc. are experienced.
Problematic relationships with family members are frequently encountered due to the numerous lies and/or requests for financial help directed at them.
SOME DATA ON LUDOPATHY
The size of the phenomenon of "Gambling" in Italy is difficult to estimate because to date there are no accredited studies, comprehensive and validly representative of the phenomenon.
The studies carried out so far have been promoted by different research institutes, using different survey instruments (so the results are not comparable) and also different terminology.
The total Italian population is estimated at around 60 million people, 54% of whom answered in the affirmative during a survey to the following question: "Have you gambled at least once in the last 12 months?".
According to data provided by the Ministry of Health (2012), the estimate of problem gamblers ranges from 1.3% to 3.8% of the general population, while the estimate of pathological gamblers ranges from 0.5% to 2.2%.
Since 2011, the Ministry of Health has been funding a national pilot project on behavioural addictions for surveillance, coordination and monitoring of interventions.
In 2011, a survey was launched by the DPA, involving the Italian Regions and Autonomous Provinces, which allowed for the partial detection of a quota of subjects treated at the Departments of Addiction/Ser.D..
Emilia-Romagna, Tuscany, Basilicata, Sardinia, Umbria, Valle d'Aosta and Marche did not participate in this research, and therefore did not provide any data.
The sample, although partial, is nevertheless interesting and consists of 4,544 subjects, 82% of whom are male and 18% female.
The age groups most represented in the male sample were those between 35 and 54, while in the female sample were those between 45 and 64.
Most of the incoming shares of games of chance concern slot machines (56.3%); secondly, lotteries (12.7%), and then remote games (10.5%).
REFERENCE LEGISLATION IN RELATION TO LUDOPATHY
The Balduzzi decree on Gambling of September 2012, converted into law in November 2012, established rules to combat gambling pathology, but does not concern the regulation of gambling itself.
The Department of Anti-Drug Policies has developed a proposal for possible Essential Levels of Care (ELCs) for problem and pathological gambling, which we report below:
Early diagnosis of risk behaviour and vulnerability factors of gamblers;
Initial multidisciplinary assessment (medical, psychological, social, educational, legal) of patients with GAP and subsequent specialist diagnosis (using standard tools and validated techniques);
Diagnosis of possibly related pathologies (psychological, psychiatric, internal medicine);
General support through motivational counselling interviews;
Individual and/or group cognitive-behavioural therapies in combination with self-help interventions;
Specialised pharmacological treatments for associated comorbidities;
Family counselling support;
Diagnosis and treatment of drug and alcohol addiction,
Specific interventions for the prevention and management of relapse;
Specific interventions for the assessment and prevention of suicide risk.
PATHOLOGICAL GAMBLING
When does gambling become pathological? When, that is, does it become an illness? Gambling, in itself, as we have already seen, is not a pathological behaviour, but it can evolve into a pathology when it becomes a repeated behaviour in a vulnerable person. We can distinguish three forms of gambling, which may also be three stages in the process of evolution of the pathology:
INFORMAL AND RECREATIONAL GAMBLING: this is a physiological behaviour in the human being in which gambling is occasional, is motivated by socialisation and competition, and leads to limited expenditure;
PROBLEMATIC GAMBLING: is a behaviour that puts the individual's psychophysical and social health at risk and that may have a possible negative prognostic evolution towards a form of disease. In problem gambling behaviour, gambling is periodic and leads to an increase in both the time spent gambling and the expenditure devoted to gambling;
PATOLOGICAL GAMBLING: this is a neuro-psychobiological disease, in which gambling behaviour is daily or intensive, there is craving (uncontrollable desire to gamble) and the onset of feelings of anxiety when one is unable to gamble, the expenditure devoted to gambling becomes high, resulting in debt.
LUDOPATHY: THE SENTINEL SYMPTOMS OF PATHOLOGICAL GAMBLING

The main signs of the transition from recreational gambling to problem gambling conditions are
increased access to gambling
increased spending
appearance of recurrent thoughts of gambling
appearance of cognitive distortions and fantasies of super winnings
search for increasingly specialised gaming environments
Gambling behaviour becomes the exclusive focus of interest.
Signs of the transition from problem gambling to pathological gambling are instead
appearance of lies
depletion of financial resources
change in eating habits and punctuality
petty domestic theft
changes in mood
changes in friendships and places to visit
increased aggression
increased time spent playing with reorganisation of activities and relationships over time
indebtedness.
TREATMENT OF PATHOLOGICAL GAMBLING DISORDER
Gambling is a psychiatric illness that can and must be treated. Intervening from the earliest signs of problem gambling increases the chances of resolving the problem quickly, avoiding complicating the personal and family situation with relational conflicts triggered by addiction and consequent financial losses, worsening of overall psychophysical wellbeing, work difficulties and, sometimes, problems with the law.
Unfortunately, the pathological gambler often refuses to admit the evidence of his condition and ignores the invitation of family and friends to seek therapy, at least until the financial losses and the deterioration of interpersonal relationships put him in a blind alley from which he can only get out by relying on specialists experienced in the treatment of this type of addiction.
A first effective approach to tackle gambling addiction is based on psychotherapeutic interventions, such as cognitive-behavioural therapy, which focuses on analysing the mechanisms underlying the addiction and identifying practical strategies to manage it in daily life, including through controlled exposure to the stimulus of gambling.
The aim is to remove false beliefs and negative thoughts that support the addiction and replace them with more realistic and positive ones that allow to fight it.
Generally, this type of intervention takes a few months to bring about tangible improvements and, on its own, can resolve mild or moderate forms of 'problem' gambling.
For more severe and consolidated cases of gambling (especially if associated with states of anxiety-depression or other psychiatric pathologies), pharmacological therapy is often indispensable alongside psychotherapy.
In addition, the willingness of a family member or friend to support the person suffering from pathological gambling during the course of treatment, reinforcing the motivation to abstinence and offering understanding, affection and alternative opportunities for interaction and recreation can be extremely valuable in facilitating recovery.
This is clearly not an easy task, but it is worth at least giving it a try.
Article written by Dr Letizia Ciabattoni
READ ALSO:
Impulse Control Disorders: Kleptomania
The Florence Syndrome, Better Known As Stendhal Syndrome
Stockholm Syndrome: When The Victim Sides With The Perpetrator
Placebo And Nocebo Effects: When The Mind Influences The Effects Of Drugs
Jerusalem Syndrome: Who It Affects And What It Consists Of
Notre-Dame De Paris Syndrome Spreading Especially Among Japanese Tourists
SOURCES:
https://www.info.asl2abruzzo.it/files/mmg_giocopatologico_materialeessenziale.pdf
https://www.difesa.it/SMD_/approfondimenti/benessere-e-salute/il-disagio-psichico/Pagine/Ludopatia.aspx
https://www.iss.it/documents/20126/0/Rapporti-ISTISAN.pdf/050a2c37-6383-3bcf-4b18 6f549e975359?t=1576340842570
https://www.istitutobeck.com/disturbo-controllo-impulsi
https://www.raffaellocortina.it/scheda-libro/american-psychiatric-association/dsm-5-manuale-diagnostico-e-statistico-dei-disturbi-mentali-edizione-in-brossura-9788860306616-1535.html
https://www.rivistadipsichiatria.it/archivio/2040/articoli/22162/
https://www.dipendenze.com/di-cosa-ci-occupiamo/gioco-azzardo-patologico
http://www.gambling.it/bulletin-2013-3/79-il-gambling-patologico-nel-nuovo-dsm-5-di-graziano-bellio