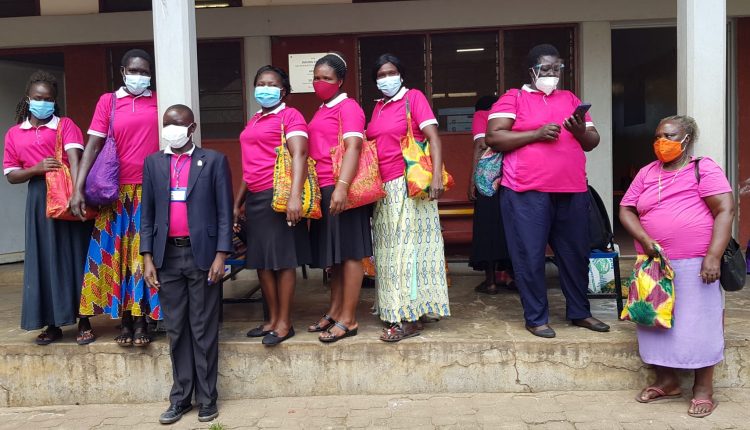 Uganda, Okongo (Lacor Hospital): "Go ahead with Afron, stop Covid".
The Afron 'Stop cancer and stop Covid-19' project, financed by the Waldensian Church, has brought the association into the field at a time when Uganda is experiencing lockdown
Anti-Covid kits were distributed, made by women who have survived HIV and are active in Good Samaritan, of which the Italian Giuseppina D'Amico is supervisor for the Wawoto Kacel cooperative.
Speaking is Francis Okongo, a doctor at Lacor specialising in palliative care and involved in the Afron association's project dedicated to fighting and preventing Covid19 for cancer patients– Why is this initiative to distribute the 150 kits to cancer patients significant? Who are the beneficiaries?
"Cancer patients are more vulnerable to Covid-19.
That is why, thanks to Afron, we have been able to give concrete answers with two targeted initiatives.
The first one 'I'll survive, we'll survive' is a platform that allows us to accompany patients who have to travel to Kampala for services that we cannot offer here in Lacor.
A team of 10 survivors already trained by Afron offers counselling and orientation services.
In the second 'No lockdown for cancer patients' we were able to give concrete support by distributing 150 kits to the most vulnerable patients who can at least feed themselves and protect themselves from the pandemic during this period of total lockdown.
These are women over 12 and children who have received posho (maize flour to make polenta or porridge), sugar, masks, hand sanitizer and soap".
– In the midst of the Covid-19 emergency, what services does Lacor offer in the battle against cancer?
"Every day Lacor Hospital guarantees free screening to all mothers attending the hospital even in the middle of the Covid-19 emergency.
Today, unfortunately, we cannot offer other important services such as awareness campaigns in the surrounding communities and in other districts in Northern Uganda.
For example, with Afron Oncology for Africa we have been to the West Nile (2019) and Lango (2020) regions.
The restrictions of the current six-week lockdown do not allow us to reach people in their own homes to do prevention work which is crucial."
– What are the big challenges in cancer prevention and treatment in northern Uganda today? What are the solutions?
"Lacor Hospital does not have a Ct Scan machine, which is very expensive.

We are looking for funds to get one, which costs about 3.5 billion Ugandan shillings (about 825,000 euro).
We have raised very little.
We lack the specialised personnel that the oncology department really needs: radiologists, oncologists, for example the pathologist comes from Kampala.
We need a resident.
For certain diagnoses we are forced to send our patients to the Cancer Institute in Mulago-Kampala which many patients cannot afford to get to.
So many patients come for diagnosis and treatment when it is already too late.
We need to continue the awareness and screening programmes in the communities already carried out in cooperation with Afron.
Finally, the socio-economic conditions of many poor patients are very precarious," explains the doctor involved in the Afron mission.
The vast majority of them cannot even pay for the costs that are already discounted and contained.
Those who receive treatment, which can last from three months to two years, are often unable to eat well and to return regularly for check-ups".
Read Also:
COVID-19 In Uganda: Exponential Increase In Cases. Hospitals Are Close To Collapse
Covid In Uganda: Goodbye To 'Brother Elio', 40 Years In Defense Of The Last For The Combonian
Opening The Eyes Of The World, CUAMM's "ForeSeeing Inclusion" Project To Combat Blindness In Uganda
Source: