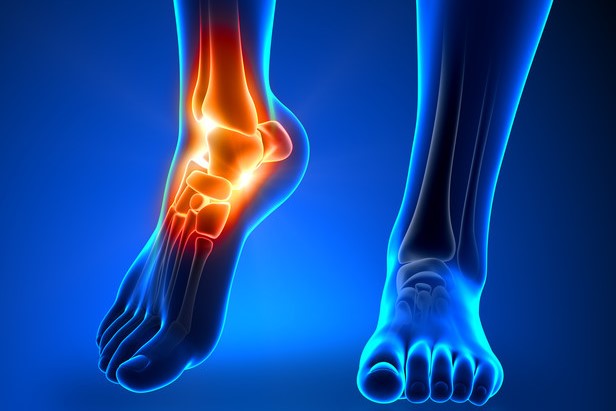 What is ankle arthrosis? Causes, risk factors, diagnosis and treatment
Ankle arthrosis is a condition that affects older people in particular: the cartilage degenerates with advancing age
However, ankle arthrosis can also occur as a result of an injury to the ankle, such as a fracture.
What are the causes of ankle arthrosis?
Ankle arthrosis is a degenerative process in the articular cartilage of the ankle.
Ankle arthrosis can occur as a result of natural ageing of the cartilage or as a consequence of trauma (a fracture of the ankle) or other diseases, such as rheumatic diseases.
Risk factors that can facilitate the onset of the condition include:
Being overweight, which forces the ankle joint to take on extra strain.
Poor alignment of the joint, which causes excessive cartilage wear.
The repetition of trauma or micro-trauma due to – for example – sports or work, resulting in wear and tear of the cartilage.
What are the symptoms of ankle arthrosis?
Arthrosis is characterised by pain, stiffness and swelling in the joint.
The pain, which is initially present during movement, can then also affect the ankle at rest.
In some cases, a feeling of joint instability may be experienced, as if the ankle is no longer able to support body weight.
How to prevent ankle arthrosis?
To limit the risk of developing arthrosis, it is advisable to
Avoid traumas, such as fractures, which predispose the ankle to an arthritic process.
Avoid conditions such as being overweight and obesity, so as not to force the ankle joint into additional strain.

Read Also:
Emergency Live Even More…Live: Download The New Free App Of Your Newspaper For IOS And Android
Arthrosis: What It Is And How To Treat It
Rheumatoid Arthritis: Staging, Course And Treatment
Juvenile Idiopathic Arthritis: Study Of Oral Therapy With Tofacitinib By Gaslini Of Genoa
Rheumatic Diseases: Arthritis And Arthrosis, What Are The Differences?
Rheumatoid Arthritis: Symptoms, Diagnosis And Treatment
Low-Fat Vegan Diet May Bring Relief From Rheumatoid Arthritis
Bone Callus And Pseudoarthrosis, When The Fracture Does Not Heal: Causes, Diagnosis And Treatment
Septic Arthritis: What Is It, What Causes It And What Are The Treatments
Rheumatoid Arthritis: Initial Symptoms, Causes, Treatment And Mortality
Multiple Congenital Arthrogryposis: Causes, Symptoms, Diagnosis, Treatment
Source: