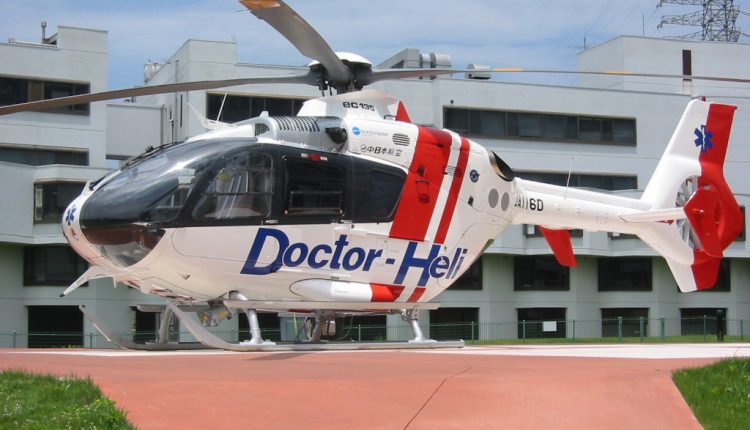 Japan integrated physician-staffed medical helicopters into EMS system
Before 2001, medical helicopters used by Japanese Prefectures to the emergency response had not an adequate level of care. Then Doctor-Heli physician-staffed medical helicopter system arrived and grew tremendously. Let's see what it can do!
The prefecture of Miyazaki, located at the southern portion of the island Kyushu, began operating a Doctor-Heli programme out of the University of Miyazaki Hospital in 2012. Miyazaki is a relatively rural area of Japan. Its total population is about one million people, 420,000 of which live in the capital city. This new programme requires a new physician-staffed medical helicopter system to make a high-quality HEMS.
Physician-staffed HEMS in Japanese Prefectures: description of this new crew on medical helicopters
Agriculture is a large portion of the economy. Its geography is broad, ranging from river delta to mountainous terrain. Prior to the arrival of the physician-staffed helicopter, Miyazaki had a municipal rescue helicopter that served a broad mission profile that included hoist operations, basic medical care, and fire suppression. Miyazaki uses a fire-based ground EMS system, much like many of the prefectures of Japan. The University of Miyazaki Hospital is a large tertiary care hospital with a recent expansion of its Acute Care and Traumatology Department.
The introduction of the aircraft into the local system required several different components and the involvement of many stakeholders. The hospital built an on-site heliport and both firefighters and civil servants throughout the prefecture were trained on the designated landing zones within their locale. More than 200 prefecture-wide designated landing zones were identified. A few of the hospital physicians underwent extensive training, flying with already established Doctor-Heli programs. These then introduced a local training program with graduated responsibility to the other physicians.
Where the choice of physician-staffed HEMS in Japanese Prefectures came from?
The University of Miyazaki also reached out to its American sister institution, the University of California, Irvine in order to collaborate in the areas of EMS system integration and maturation. This collaboration appeared in a regional utilization manual for the aircraft. The manual is intended for ambulance paramedics and physicians who serve the hospitals. It aimed to establish appropriate standards for the utilization of this new resource. It included several general indications for the request of the aircraft as well as those that are symptom-based.
These guidelines were developed to reflect the current scope of practice of paramedics in Japan and the absence of designated speciality centres within the Miyazaki's EMS system. The manual has three major goals. The first is providing clear indications to paramedics in the field when this new resource should be requested. Second, is to facilitate the collection of better utilization data, allowing system maturation to be an ongoing process. Third, is to lay the groundwork for the establishment of a prehospital care data collection system for the entire prefecture, involving ground, aviation, and receiving centres.
In the first ten months of operation, the aircraft flew over 300 missions and its mission volume has increased since. Doctor-Heli in Miyazaki prefecture provides a successful model for how a region can safely and successfully integrate a new air ambulance into their EMS system.
The Nakanihon Air Service was one of the first HEMS companies which managed the Doctor-Heli programme and it holds 25% of medical helicopters of Japan.
When emergencies occur, flight nurses and doctors get on board and they fly reaching patients on sites. They start to provide medical service when they are still alive. The area where a specific doctor helicopter operates goes from 70 km to 150 km far from the hospital. Of course, the call of the emergency will reach the nearest hospital and it's it that will dispatch the helicopter. In case the accident is too far for the regulation distance but no medical helicopters are available, also a far hospital can send its aircraft as well in part.
Physician-staffed HEMS: who are the emergency providers on medical helicopters?
In addition to flight nurse and flight doctors, also maintenance mechanic staff are very important on board. They carry out navigation and assistance support, communication lead with the communication centre, they take care of radio-communication systems and also help flight nurses in case. They also provide maintenance before and after the flight. That's why their presence is very essential onboard anytime.
The crew onboard is generally composed of 1 flight nurse and 1 doctor because of the weight capacity of the aircraft. Anyway, it is possible that a helicopter hosts trainees, but the number of people cannot exceed 5 per aircraft. Helicopter EC135 have, for example, limited places to 4, patient included. However, Helicopter operators do not care about crew training. It is a hospital's matter.
Another important member is the pilot, of course. From this year, the Japanese government changed the law for EMS helicopter pilots. From this year on, to be hired as HEMS pilots, contestants will need a fly experience of minimum 1000 flight hours as captain. As for Nakanihon Air Service, pilots must have experienced at least 1500 flight hours, and 1000 flight hours for captain pilots of which 50 hours on the same aircraft.
Physician-staffed HEMS: what there is still to work on?
There are not enough pilot training areas in Japan. This makes pilot training difficult. Nakanihon Air Service yet need to provide the training under such adverse conditions. "We need a small landing/take-off zone, that creates the same landing/take-off challenge at the scene for ab-initio pilots. However, most of the candidate areas (public school playground, city park, stadium, national park, riverbank, etc.) are owned/administered by local authorities. They set their own rules for their use."

Helicopter landing/take-off is not listed for use rules, so it takes so much time to get permission. This is a challenge for us."
READ ALSO
INTERESTING FOR YOU
Sources: