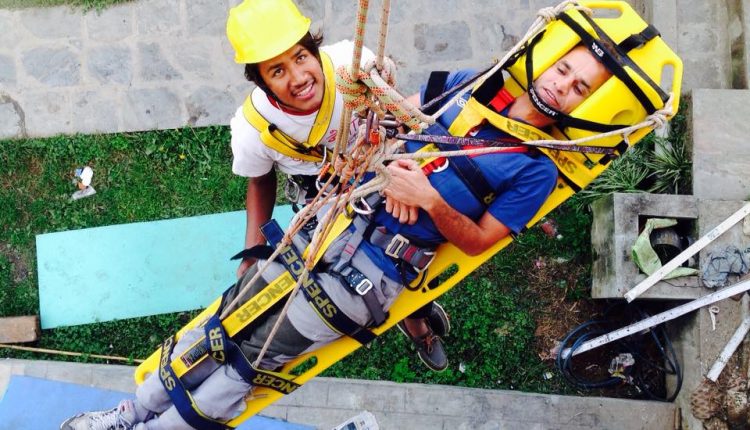 Spinal column injuries, the value of the Rock Pin / Rock Pin Max spine board
The spine board has represented a turning point in emergency rescue protocols: its great versatility has led to its widespread use and growing popularity
The spine board, now a fundamental tool for emergency rescue
In fact, the spine board has taken on a leading role in helicopter rescue, mountain rescue and water rescue operations.
Although it is, of course, still essential onboard an ambulance: in the event of spinal injuries, for example, in road accidents, it remains the best equipment for immobilising the patient.
Rock Pin rigid spinal stretcher / Rock Pin Max, the Spencer spine board to make the difference
The rigid spinal stretcher Rock Pin / Rock Pin Max constitutes a system for the collection transport and patient immobilization with suspected spinal injury.
The lifting of the patient is quick and safe thanks to the nylon/strap Rock Straps system: their performance capacity allows a safe lifting of the patient, even during extraction or transport in dangerous conditions.
Spencer Rock is perfectly compatible with Spencer collars, with which it integrates to form the most advanced spinal immobilization system available today.
Furthermore, Spencer Rock can be contained in basket stretchers.
Lifting the board is facilitated thanks to the specially designed handles which maximise the distance from the ground.
It can be used for rescue in water, in the mountains and on the road.
DO YOU WANT TO KNOW MORE ABOUT SPENCER PRODUCTS? VISIT OUR STAND IN EMERGENCY EXPO

Rock Pin / Rock Pin Max spine board by Spencer: characteristics and peculiarities
A special Rock, appreciated by the rescue teams, combines the technical characteristics for which it has become famous with an integrated system for the attachment of the belts to the board.
In the lateral handles, there are incorporated elements that allow for easy hooking and unhooking operations for the rapid and safe anchorage of the victim's immobilization belts with a carabiner terminal.
The Spencer Rock spine board is moulded in one single piece in high-density polyethene, injected with expanded polyurethane.
It is characterised by its tapered shape, its resistance to impact and corrosion, its load capacity, the material it is made of (which makes it buoyant and also suitable for rescue in water), its durability and ease of hygiene.
VISIT SPENCER'S VIRTUAL BOOTH BY CLICKING HERE
ST02010_it

Read Also:
Patient And Rescuer Safety, With 10G Sharp Sensor Lock From Spencer No Risks In The Ambulance
Evacuation Chairs: When The Intervention Does Not Foresee Any Margin Of Error, You Can Count On The Skid By Spencer
Pulmonary Ventilation In Ambulances: Increasing Patient Stay Times, Essential Excellence Responses
Source: