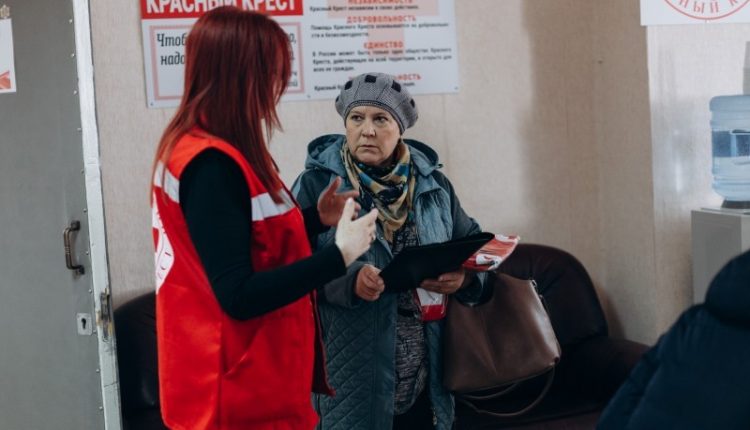 Donbass: Russian Red Cross (RKK) provided psychosocial support to more than 1,300 refugees
The Russian Red Cross (RKK), as part of the work of the #MYVMESTE office, provided psychosocial support to over 1,300 displaced persons and refugees from the Donbass territory who ended up in Russia
Since 18 February 2022, the Russian Red Cross RKK, as part of the work of the #MYVMESTE office, has been providing assistance and support to migrants who arrived in Russia
In addition to humanitarian and legal advice, people sought psychosocial support.
In the Rostov region, Russian Red Cross specialists and volunteers made 22 trips to 57 temporary reception centres.
They conducted individual and group psychological consultations for the refugees.
A total of 620 people took part.
"In addition to the initial individual and group consultations, RKK volunteers and specialists monitored the needs of IDPs in temporary reception centres.
This applies not only to requests for products, belongings, equipment and essentials, but also to psychological support.
All requests were forwarded to the Rostov regional branch of the RKK.
This will enable us to provide people with the assistance they need in an effective and timely manner," said Victoria Makarchuk , First Vice President of the Russian Red Cross.
6 Russian Red Cross (RKK) specialists are working in the Voronezh region
They have already made 15 trips to temporary reception centres and, just as in the Rostov region, have carried out individual and group work with refugees. So far, about 300 people have received it.
In addition, 40 volunteers have been trained in the region to assist RKK specialists in psychosocial support.
Psychological assistance is also provided in the temporary reception centres located in Kazan.
They employ 6 Russian Red Cross specialists for psychosocial support.
RKK provides psychosocial assistance both in temporary reception centres and through a single hotline
Throughout the time of its work, 485 people have requested such support.
In addition, as part of the work at the #MYVMESTE site, a special chatbot was created to provide psychological support.
It received 6,210 applications.
In order to provide comprehensive support to citizens arriving in the territory of the Russian Federation, a #MYVMESTE volunteer office was established.

Volunteers of the #MYVMESTE office, volunteer resource centres, All-Russian Student Relief Corps, All-Russian Popular Front (ONF), Youth ONF, Association of Volunteer Centres (AVC), representatives of the Russian Red Cross, RSO , VOD "Medical Volunteers" provide assistance to IDPs and other voluntary associations.
The #MYVMESTE volunteer corps works around the clock and coordinates the collection and distribution of humanitarian aid, meeting refugees and IDPs from Donbass and Ukraine, organising living conditions and psychological support.
In most regions, monitoring of migrants' needs is carried out on an ongoing basis in coordination with regional authorities and #WETOGETHER headquarters.
Humanitarian aid is provided in coordination with regional administrations, the International Federation of Red Cross and Red Crescent Societies (IFRC) and the International Committee of the Red Cross (ICRC).
Read Also:
Emergency Live Even More…Live: Download The New Free App Of Your Newspaper For IOS And Android
Donbass, Five Convoys Of Russia's EMERCOM Delivered Humanitarian Aid To The Territories Of Ukraine
Crisis In Ukraine: Civil Defence Of 43 Russian Regions Ready To Receive Migrants From Donbass
Ukrainian Crisis: Russian Red Cross Launches Humanitarian Mission For Internally Displaced People From Donbass
Humanitarian Aid For Displaced Persons From Donbass: The Russian Red Cross (RKK) Has Opened 42 Collection Points
Russia, Federal Agency For Health Personnel Assisting Evacuees In Rostov
Russian Red Cross To Bring 8 Tons Of Humanitarian Aid To Voronezh Region For LDNR Refugees
Ukraine Crisis, Russian Red Cross (RKK) Expresses Willingness To Cooperate With Ukrainian Colleagues
Children Under Bombs: St Petersburg Paediatricians Help Colleagues In Donbass
Russia, A Life For Rescue: The Story Of Sergey Shutov, Ambulance Anaesthetist And Volunteer Firefighter
The Other Side Of The Fighting In Donbass: UNHCR Will Support The Russian Red Cross For Refugees In Russia
Representatives From The Russian Red Cross, The IFRC And The ICRC Visited The Belgorod Region To Assess The Needs Of Displaced People
Russian Red Cross (RKK) To Train 330,000 Schoolchildren And Students In First Aid
Ukraine Emergency, Russian Red Cross Delivers 60 Tonnes Of Humanitarian Aid To Refugees In Sevastopol, Krasnodar And Simferopol
Source: