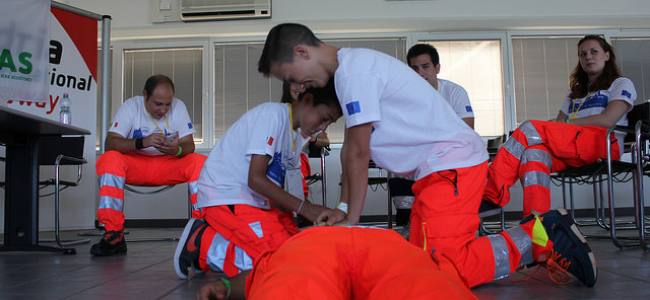 SAMIcontest: Young heroes without superpowers in Venice
The 5th SAMARITAN Contest will take place from August 7 to August 10, 2014 in Adria and Venice, Italy, with ANPAS. This year's contest coincides with the run-up to the International Day of Youth! 84 young people in 16 teams from 10 Samaritan organisations have registered to compete.
A total of 350 people are expected to be in Adria and Venice. International First Aid Youth Competition. The Contest is more than just a competition. There will be a theoretical test on first aid, a city game (the practical part of the contest which will take place in Venice), a creative part and a final evening event. The international first aid youth competition "SAMARITAN Contest" is carried out every two years, hosted by one of SAM.I.'s member organizations in cooperation with the SAM.I. general secretariat. This year the Samaritan Contest will be hosted by ANPAS.
SCHEDULE
Thursday 7 August 2014 — Adria Autodrome
21:00 – SAMI Contest 2014: Creative part
Friday 8 August 2014 — Adria Autodrome
9:30 – 12:00 SAMI Contest 2014: Test questions
18:15 – Representatives of SAMI: meeting with Adria Municipality
18:30 – Transfer to ADRIA City Centre (by bus)
19:30 – DINNER on the River Boat in Adria
21:00 – 22.00 PARADE OF THE VOLUNTEERS through the streets of Adria in the framework of the Event "Adria Summer Fridays" and arrival to Piazza Bocchi
Saturday 9 August 2014
10:00 – Arrival in Venice at Arsenale (meeting point)
10:30 – 17:00 SAMI Contest 2014: First Aid tasks (look at the map and timetable)
17:30 – 19:00 Transfer to Adria Autodrome
21.30 – SAMI Contest 2014: Volunteers Award Ceremony Celebrations of 20th Anniversary of SAM.I.
Sunday 10 August 2014
Transfer to the Airports and Departure of participants