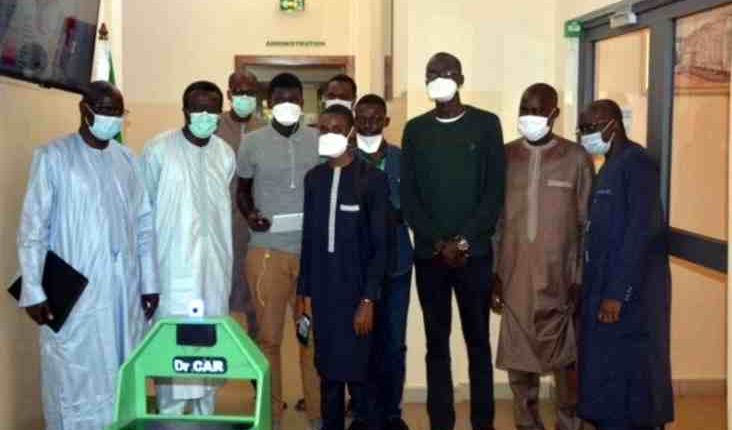 Senegal: Docteur Car fights COVID-19, Polytechnic Institut of Dakar presents the robot with anti-COVID innovations
Docteur Car is not a common doctor. He speaks four languages ​​and above all, he is a robot. Operated remotely, it has been presented by the Polytechnic Institut of Dakar. This robot has been equipped with anti-COVID innovations and it will give much support to coronavirus patients and medical personnel, too.
The Polytechnic of Dakar is proud to present Docteur Car, a medical robot equipped with anti-COVID innovations. He speaks fluently English, French, pulaar and wolof and he moves around the isolation rooms delivering drugs, food and thermometers.
Here is Docteur Car: COVID-19 fight in Senegal will be carried out with an anti-COVID innovations robot
Remote input, because at the time of the new contact coronavirus means the risk of contagion. Mohamed Gueye, a mechanical engineering student in Dakar, at the Ecole Superiore Polytechnique of the Cheikh Anta Diop University explains, "The idea was to reduce the interactions of doctors with patients with mild symptoms" explains one of the inventors. Through an app, from the control room, 'Docteur Car' can be driven remotely and address patients in multiple languages."
On the magazine 'Oltremare', we can read more about this special robot. It has been developed thanks to the electronic engineer's contribution, Ismaila Deme and SE telecommunications Mouhamadou Lamine Kebe. This project "was presented in late April at the Center Sanitaire des Operations managed by the Ministry of Health of Senegal".
COVID-19 in Senegal, how the project of Docteur Car began
The presentation to the Ministry of Health of Senegal got much success. It was then immediately put to the test at the Hôpital National de Fann, the university reference center for infectious diseases where today patients with Covid-19 are hospitalized. In the structure, with a catchment area of ​​about a million and a half people, working with more than 600 professionals, including 114 doctors and 361 nurses, Docteur Car moves from room to room without issues.
This project ended up also on COVID-Free Participatory Toolkit, an Italian-born portal that tells and supports African solutions in the fight against coronavirus. Federico Monica, an urban planner of the architecture and sustainability studio Taxibrousse, one of the creators of the site, explains on 'Oltremare': "The robot is one of those innovations that remain in a rather feasible area of ​​feasibility. Without expensive technological components, thanks to a collaboration between various departments of the University of Dakar, very active on the Covid-19 front, it was possible to build an elementary but very functional system".
According to Mr Monica, the exchange between universities is interesting. However, the prerequisite would be to get rid of an obsolete approach, which presupposes a donor-beneficiary relationship or in any case levels of development not comparable to each other.
Mr Monica recalls that, as soon as COVID-19 emergency started, several universities in the North of the world began to give their guidelines on how to produce hydroalcoholic gels. Actually, in the universities of Senegal or Togo it was already doing the same.
The project of this anti-COVID innovations medical robot goes on to defeat COVID-19 in Senegal
Today the exchange of ideas would be desirable and above all possible. Experts from Taxibrousse state, "in general, the activities of fab-lab and innovators have developed simultaneously and with similar results to those in Europe. Covid-Free are preparing a project for networking and acceleration of some of these startups, and there are ideas related to research centers that look promising and could inspire similar research in Italy".
The Ecole Superiore Polytechnique started the production of hydroalcoholic gel before the robot was equipped with cameras and trained in four languages. Originally "Docteur Car" was designed to automate the distribution of bottles. The project, with the remote control app, is a fallout from a national program funded by the "De'le'gation to 'Entrepreneuriat Rapide": the Senegalese inventors had spent five weeks of study stay in Draper, in a University of Silicon Valley, attending entrepreneurship courses.
READ ALSO

SOURCE