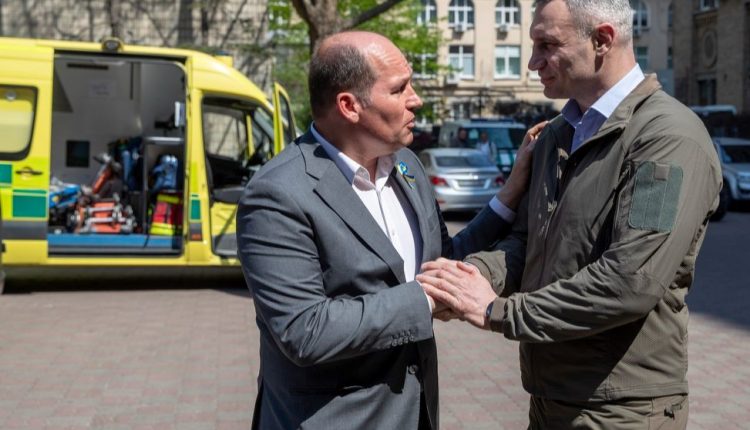 The Mayor of Brussels brought ambulances and essential medicines to Kiev / VIDEO
The Mayor of Kiev Vitaliy Klyko has announced a meeting with the Mayor of Brussels Philippe Klose. The Belgian politician came to Ukraine at the invitation of the mayor of Kiev and brought very important aid
Ambulances for Ukraine, the announcement of the mayor of Kiev
"Philippe Closs brought to the capital two ambulances, equipped with everything necessary, purchased by the mayor's office of the Belgian capital.
And also – three tons of medicines and critical instruments.
In total, 57 trucks with humanitarian aid arrived in Ukraine from Brussels during the barbaric war unleashed by Russia".
Vitaliy Klitschko said that in the most difficult days and weeks of Kiev's defence, food and medicine arrived from Belgium, as well as basic necessities, military equipment, hygiene products, clothing and footwear.
Mayor of Brussels to visit 4 hospitals in Kiev
In addition, Philippe Clos will visit 4 hospitals in Kiev, which Brussels is ready to supply with critical equipment.
In particular for prostheses for victims of the hostilities.
Klitschko told Kyivites that the mayor of Brussels stressed that as long as Ukrainians fight heroically for their statehood and freedom, the Belgians will support and help them.
The deputy mayor of Riga brought 11 buses and humanitarian aid to Kiev.
He personally conveyed all this to the mayor of Kiev with words of support from the residents of the Latvian capital.
Watch the video about the mayor of Kiev and the ambulances that arrived from Brussels

Read Also:
Emergency Live Even More…Live: Download The New Free App Of Your Newspaper For IOS And Android
War In Ukraine, The World Of Emergency In Support Of Healers: MSD Launches Ukrainian Language Site
Invasion Of Ukraine: Four More Ambulances Have Arrived In The Lviv Region From Great Britain
Venari Group Commences Building Ambulances For Ukraine
Ukraine Receives Second Batch Of Equipment For Firefighters And Rescuers From France
War In Ukraine: Armoured Ambulances From Venari Group Arrive In Lviv
Ukraine Emergency: Vinnytsia Children's Hospital Receives Ambulance And Medicines From Its Polish Colleagues
Ukraine, Red Cross Humanitarian Convoy Returns From Lviv With 73 People, Including 13 Unaccompanied Minors
Invasion Of Ukraine, From Today The Italian Red Cross Humanitarian Aid Hub In Romania Is Operative
War In Ukraine, Ambulance Fitters On The Front Line: Validus Sends Emergency Vehicles To Kiev, Cherkasy And Dnieper
Ukraine, Rivne Receives Ambulance, Van And Medical Equipment From France And Germany
War In Ukraine, Since 24 February The Red Cross Has Already Trained More Than 45,600 People In First Aid
Source: