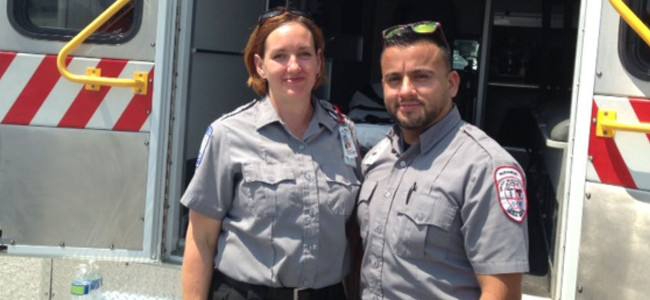 First Paramedic experience with Ebola patient in United States
Transporting the first Ebola patient of America as a common emergency case. This was the experience of an American paramedic.
John Arevalo, a 33-year-old Atlanta paramedic, speaks of transporting the first Ebola patient ever treated on American soil with a shrug more befitting a 911 call for a broken elbow. Millions of people watching on television witnessed Arevalo ease Kent Brantly, the Texas doctor infected with Ebola in Liberia, out of an ambulance, clutch Brantly's right arm and lead him into Atlanta's Emory University Hospital. Three days later, he and colleague Gail Stallings repeated the delicate procedure by carrying second Ebola patient Nancy Writebol into Emory on a stretcher. They picked her up in a specially equipped ambulance at a Marietta, Georgia, airfield.
The experience of an Ebola patient management by a paramedic in emergency
Many people probably would shiver at the thought of touching someone with one of the world's most feared diseases, and Brantly's and Writebol's arrivals in Atlanta touched off a national debate about the propriety of bringing Ebola patients to the U.S. for treatment.
A day after the end of his Ebola transport duties, Arevalo said he never feared for his safety, nor did his wife, a registered nurse. "She was fine with holding my hand, giving me a kiss," Arevalo said.
Colombia Native
A native of Bogota, who grew up in Miami, Arevalo and his four-member bio-safety transport team had been training for just such an event. Their employer, Atlanta-based Grady Health System, agreed to provide medical transportation for U.S. Centers for Disease Control and Prevention personnel if and when a CDC official came down with an infectious disease.
The destination would be a special isolation unit at Emory, where Brantly and Writebol now are being treated.
The Grady team, though, had rarely been tested in practice, said Wade Miles, a team leader. The Emory isolation unit may have been used five times during the past dozen years, Emory physician Bruce Ribner said last week.
Arevalo said the message he got from a supervisor last week about his Ebola duty was intentionally vague to prevent the news from spreading.
"I got a text that we had a 'mission,'" Arevalo said.
Giving him confidence once he learned more was the fact that he had spent years training on the elaborate procedures used for handling infectious patients.
After each transport, Arevalo and Stallings stood inside a biohazard bag to allow any liquids to drip off them, according to Arevalo. They also scrubbed their white Tyvek protective suits with hospital-grade Clorox wipes, he said.
Ambulance Scrubbed
Even the ambulance that transported the patients from north of Atlanta to Emory was scrubbed after for four to five hours, Arevalo said.
As millions of eyeballs stared at him during his work moving the patients, those head-to-toe protective suits gave him some anonymity, which Arevalo said was fine by him. He has gone relatively unnoticed by the Atlanta public, aside from a few friends and relatives who were in the know.
"I got a couple of texts from people saying, 'Look you're famous!'" Arevalo said.
Article by Micheal Sasso, Bloomberg