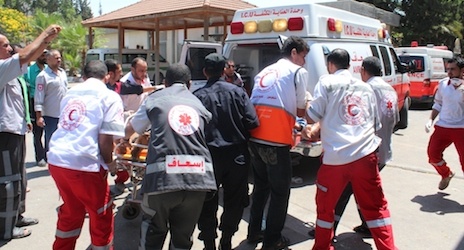 How Palestine Red Crescent faced and treated a suicide bomber? A video from Ramallah
An alleged suicide bomber stabbed a Border Police officer, then he has been wounded to the chest. The Palestine Red Crescent crew ended up to treat both the Policeman and the suicide bomber.
This happened in 2017 during a violent Palestinian protest in the West Bank city of Ramallah. A Palestinian suicide bomber was hit to the chest after stabbing a Border Police officer. He was trying to stab as many before detonating himself.
The terrorist waited until the Israeli Border Police (Magav) turned their back and then ran at them with a sharp knife, attacking 1 of the Israeli policemen in his upper body and then, apparently, tried to blow himself up. Apparently, during his run, he dropped, what looks like, the remote of the vest bomb and couldn't detonate it. The Israeli policemen quickly responded and shot the terrorist in the legs, but the terrorist didn't stay down and when the Israelis saw that he also carried a suicide bomb on his body, they shot him again and kept a distance from him. Immediately they activate an ambulance on the border to operate on the man, to save his life and put him on jail.
Fortunately, the detonator didn't work. After this attempted terroristic action, an ambulance arrived on-site directly on the wounded. There is an interesting video realized by reporters on-site that show how the border police work, and how paramedics made their job on a patient with high risks of being injured.
The attacker, still wearing the apparent suicide bomb belt, was taken away from the scene for medical treatment by the Palestine Red Crescent. Later, they discovered that the suicide belt did not contain actual explosives.
The supposed Palestinian suicide bomber disguised himself as a reporter and positioned himself between other reporters and photographers in riots at the Judea and Samaria Junction near Ramallah.
OTHER RELATED ARTICLES ON PALESTINE RED CRESCENT: