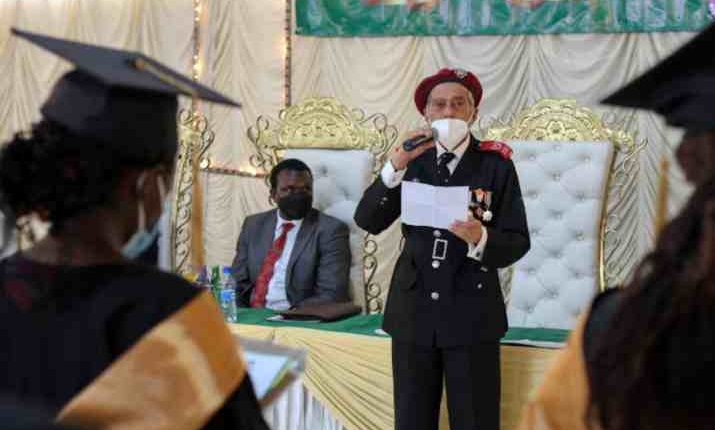 Kenya: St John Ambulance urges Kenyans to enrol for medical emergency courses
Kenya: the St John Ambulance calls upon Kenyans to enrol for Emergency Medical Technician courses due to the increasing demand for emergency medical care services across the country
Speaking during a graduation ceremony of 30 Emergency Medical Technicians at South C, Nairobi, St John Ambulance CEO Harun Gikera said that the graduation is a result of the partnership between the Ministry of Health, St John Ambulance and Kenya Medical Training College to train qualified persons to save lives and to serve humanity.
According to St John Ambulance Kenya Act Cap 259 law of Kenya 1975, it is mandated to provide emergency medical support to communities, to promote charitable works aimed at reducing human suffering and to provide technical services to the medical sector.
DO YOU WANT TO KNOW RADIOEMS? VISIT THE RADIO RESCUE BOOTH AT EMERGENCY EXPO
Kenya: tThe first batch of EMT students was enrolled in July 2012 in Nairobi and Mombasa County and by 2018 they had trained 700 students
Friday marked the first graduation after a partnership with KMTC and the Ministry of education.
In a speech read by the Head of Health Standards and Quality Assurance Directorate Simon Kibias, health Cabinet Secretary said that the Ministry of Health is committed to providing the highest attainable standards of health as a constitutional right.
"This treatment package includes pre-hospital care, stabilization the health sector of affected individuals and arranging for referral in case of lack of facilities to stabilize the health status of the victim," CS Kagwe said.
Kagwe noted the strides in the development of requisite frameworks to strengthen emergency medical care services by MOH.
TRAINING: VISIT THE BOOTH OF DMC DINAS MEDICAL CONSULTANTS IN EMERGENCY EXPO
"The Ministry of Health of Kenya has appointed a national emergency medical care steering committee for a period of 3 years," Kagwe said
The committee will operationalize and provide oversight, establish legislation, standards and regulations, develop national guidelines for emergency medical care, harmonize training curriculum and develop a framework for the utilization of medical treatment funds.
He recognized the intrinsic support and role played by paramedics and EMTs in operating ambulances during the ongoing Covid-19 pandemic.
"As a unit, we feel very happy when we save one life." The National Disaster Management Unit Director General, Duncan Ochieng' said during the graduation.

He also pointed out that Emergency Medical Technicians are very important since they are responsible for offering the most basic treatment required before a patient is taken to hospital and these services determine how well a patient recovers in hospital.
As a National body, the NDMU is mandated to ensure collaboration and coordination of all emergency service providers.
Ochieng' assured Kenyans that his unit shall continue to handle all disaster, mitigation, preparedness and recovery issues to ensure that all citizens are safe.
"Everybody needs to know how to save a life."
Ochieng' said that the Emergency Medical Technicians demand in the country is very high and he recommended every household have at least one EMT.
"The unit is moving forward in terms of capacity building and is looking forward to ensuring that training and capacity development is carried out to all Kenyans," he added.
The Director of Occupational Safety and Health Services Andrew Muruka said that First Aid audits will become a requirement in every workplace in Kenya and that the graduates can be recognized as audits if they register a company
Muruka said that his office is responsible for compensating all those that have been injured in workplaces and industries in the country.
Linet Chepkirui a graduate of Emergency Medical Technician said that she is happy to graduate and looks forward to volunteering, saving lives and serving humanity.
Read Also:
Emergency Live Even More…Live: Download The New Free App Of Your Newspaper For IOS And Android
South Africa Replicates Moderna Vaccine: Clinical Trials From November
St John Ambulance Kenya In Collaboration With A Taxi Firm Launch An App For Emergency Response
Source: