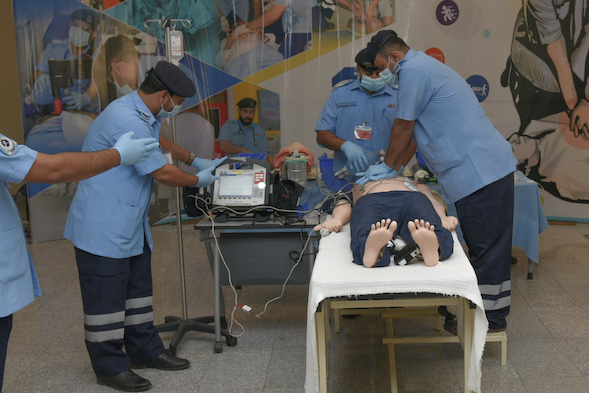 Oman, first emergency ambulance service established
Oman: in order to provide help to people in critical condition and transfer them to the nearest hospital, the Oman Civil Service and Ambulance Authority (CDAA) has launched a home ambulance service
YOUR AMBULANCE AT NO COST? TO VISIT THE EDM BOOTH AT EMERGENCY EXPO CLICK HERE
As part of the first phase of implementation, the ambulance service will be deployed in governorates with a lower population density before being extended to other areas according to an already agreed schedule.
People in need of emergency medical assistance can now call the Royal Oman Police's emergency number (9999) or the CDAA's operations centre (2434-6666), after which a team of paramedics will be dispatched to provide urgent medical assistance.
Some of the most common conditions that the home ambulance service would have to deal with are critical respiratory diseases, heart disease, serious injuries, fractures, sudden loss of consciousness, sudden general and partial paralysis, severe bleeding and pain, nervous system disorders, severe electric shock, poisoning, mental disorders, drowning, childbirth (including those involving complications) and severe burns.
NUMBER ONE IN AMBULANCE FITTING IN ITALY: VISIT THE ORION BOOTH AT EMERGENCY EXPO
The establishment of the home ambulance service comes in the wake of Royal Decree No. 39/2021, said Colonel Dr. Hamad bin Abdullah Al Hamadi, director general of ambulance services in Oman
"This is among the new services provided by the authority," he said.
"We believe it is an important addition and an effective, supportive and complementary contribution to the health sector in Oman in terms of providing emergency medical care to patients before they are transferred to health centres.

"This service provides severely injured patients and others with the necessary emergency care before transferring them to a health centre following the necessary protocols," he added.
"These practices are approved by the medical governance system. We also have the medicines that are needed during emergencies."
THE HISTORY AND TRADITION OF AMBULANCE FITTING? VISIT THE MARIANI FRATELLI BOOTH AT EMERGENCY EXPO
Ambulance services will initially be made available in six governorates: Musandam, Al Buraimi, Al Dhahirah, Al Wusta, South Al Sharqiyah and North Al Sharqiyah through existing medical centres. This service will be expanded according to an approved plan.
Read Also:
Emergency Live Even More…Live: Download The New Free App Of Your Newspaper For IOS And Android
Greece, First 5G Ambulance Set Up: From Today, Patients Can Also Be Examined From The Operations Centre
Arab Health 2022: Dubai Corporation For Ambulance Services (DCAS) Unveils World's Fastest And Most Expensive Ambulance Responder At Expo 2020 Dubai
Source: