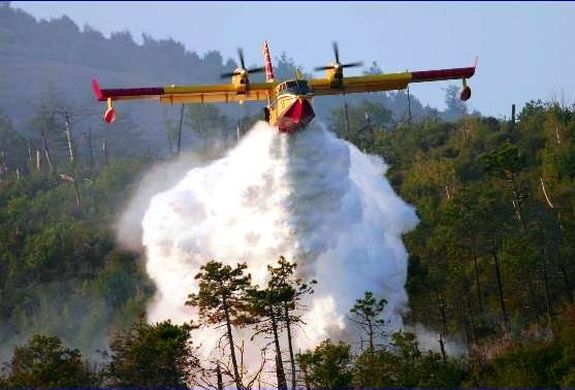 Fire brigade, two Canadairs depart from Italy to fight forest fires in Germany
Forest fires in Germany: in response to the request for support received by the Emergency Response Coordination Centre in Brussels from the German authorities, the Civil Protection Department yesterday ordered the dispatch of two Canadair CL 415 firefighters
The two Canadairs will be useful in tackling the vast fires that have been affecting parts of Germany for days
The aircraft took off from Ciampino Airport shortly after 2 p.m. and landed yesterday at Braunschweig-Wolfsburg Airport.
THERMAL IMAGING AND THERMAL CAMERAS: VISIT THE FLIR BOOTH AT EMERGENCY EXPO
The two Canadairs, which have been operational on German territory since this morning, were sent as part of the European 'RescEU-IT' project, which envisages that two fire-fighting aircraft stationed on Italian territory, if not deployed for national needs, can be activated at the request of Brussels in one of the other European Union countries that should find itself in a critical situation.
Read Also:
Emergency Live Even More…Live: Download The New Free App Of Your Newspaper For IOS And Android
Exoskeletons (SSM) Aim To Relieve Rescuers' Spines: The Choice Of Fire Brigades In Germany
Fotokite At The Service Of Firefighters And Security: The Drone System Is In Emergency Expo

Italy, Fires In The Thermal Imaging Cameras Of Fire Brigade Drones / VIDEO
Thermal Imaging In Emergency And Rescue: Everything You Need To Know At The Flir Stand At Emergency Expo
Teledyne Flir And Emergency Expo: The Journey Goes On!
Thermal Imaging: Understanding High & Low Sensitivity
Fires: 'Firehound Zero', Italy's First Solar Drone For Hunting Fires, Arrives
Robotic Technologies In Forest Firefighting: Study On Drone Swarms For Fire Brigade Efficiency And Safety
Firefighting Drones, Fire Drill In A High-Rise Building Of The Laixi Fire Department (Qingdao, China)
Source: