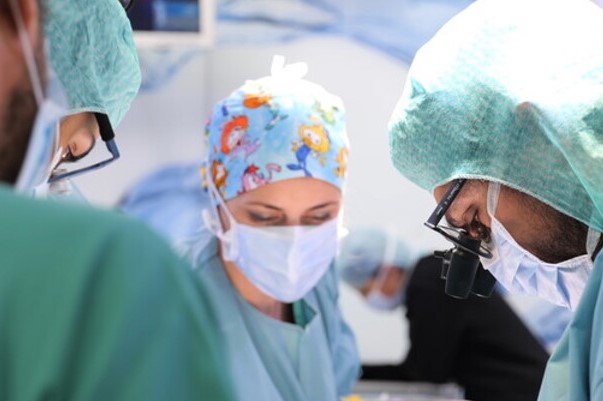 Paediatrics, at the Bambino Gesù the first heart transplant with Covid+ donor and negative recipient
Heart transplant and Covid+ emergency: at the Bambino Gesù the first paediatric case, one of the first two cases ever authorised by the National Transplant Centre. The 15-year-old boy, who received a new heart, was treated with monoclonal antibodies. Six heart transplants performed in the Holy See Hospital in two weeks
Paediatrics, an exceptional heart operation: for the first time in the world in paediatrics at the Bambino Gesù an organ transplant from a SARS-CoV-2 positive donor to a negative patient was performed
The 15-year-old boy, who received a new heart, was treated with monoclonal antibodies to eliminate the risk that he might develop Covid-19.
The procedure required special approvals from both the National Transplant Centre (NTC) and the Italian Drug Agency (AIFA).
In two weeks, from 4 to 19 May, professionals from the hospital's Department of Cardiac Surgery, Cardiology and Heart-Lung Transplantation performed a total of six heart transplants.
Professor Antonio Amodeo, head of the hospital's complex structure of decompensation, transplantation and mechanical cardio-respiratory assistance, explains: "In the paediatric field, finding a compatible heart for transplantation is more difficult than in adults.
In the last year, due to the pandemic and the restrictions adopted to fight it, these difficulties have further increased. Finding a compatible heart for a transplant is often a rare opportunity.
That's why we did everything we could to ensure that the boy on the waiting list could get the organ he was waiting for. A choice that can make the difference between life and death.
HEART TRANSPLANT AT BAMBINO GESU': THE OPERATION
The 15-year-old boy who underwent a SARS-CoV-2 positive donor heart transplant suffered from dilated cardiomyopathy, a condition that impairs the heart's ability to efficiently pump blood to the body.
The frequency in the general adult population is about 1 in 2,500 cases, but in children it is considered a rare disease and its annual frequency in childhood is 0.57 cases per 100,000 people.
The teenager had been on the waiting list for a transplant since September last year.
In June 2020, his clinical condition worsened with cardiac arrest requiring ECMO support, an extracorporeal circulation technique used temporarily when severe cardiac or respiratory failure occurs.
Shortly afterwards, he underwent surgery to implant an artificial heart, a life-saving bridge solution while waiting for a compatible heart for transplant. The same patient also required temporary right-hand assistance for 6 days.
After about a year, in May 2021, a compatible heart was found.
But it was a donor who was positive for SARS-CoV-2 and the law only allows transplantation on patients who are also positive or cured of Covid-19.

At this point, doctors and researchers from the complex structures of Microbiology and Immunology Diagnostics and those of Clinical Immunology and Vaccinology of the Bambino Gesù hospital set to work to calculate the actual risk of contagion.
The numerous tests carried out revealed an extremely low viral load and, consequently, a very low possibility of infection of the recipient.
As a result, the National Transplant Centre was asked to grant an exemption from the current regulations in order to be able to carry out a heart transplant.
This waiver was granted for the first time in a paediatric setting by the NTC, and the second ever in a short space of time (the other was for an adult transplanted at Sant'Orsola in Bologna).
The first two cases in the world of organs taken from positive donors to negative recipients with no antibodies.

HEART TRANSPLANT, THE SIXTH AT INFANT JESUS IN TWO WEEKS
Between 4 and 19 May, five more heart transplants were performed.
All of them were special or complex operations.
3 of these 6 transplants were on patients with congenital heart disease, 2 of whom had already been treated at the Bambino Gesù several years ago.
The other heart transplants were performed on patients who had been implanted with artificial hearts as a bridge solution while waiting for a compatible organ for transplantation.
Read Also:
Bambino Gesù Children's Hospital: "Discovery Of A Drug That Traps The Sars CoV-2 Coronavirus, Called "I3C"".
Paediatrics, New Ablation Technique For Tachycardia At The Bambino Gesù In Rome
Source: