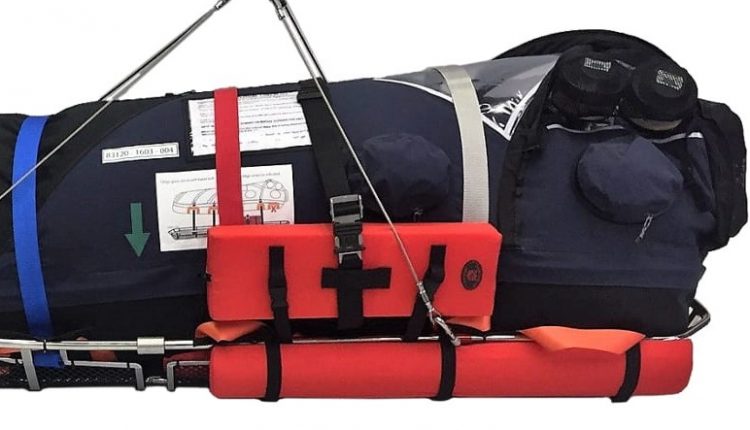 Patient transport in case of chemical and particle cross-contamination: the ORCA™ Operational Rescue Containment Apparatus
Chemical and particle cross-contamination: the ORCA™ Operational Rescue Containment Apparatus
Patient containment in case of cross-contamination: ISOVAC's solution is ORCA™
The clinical unit model ORCA-2016CN is a portable patient isolation unit (PIU) designed to prevent chemical and particle (biological and radiological) cross-contamination between an enclosed patient and the external environment during evacuation and transport activities.
It has been optimised for use in marine environments and for lifting operations using Stokes bedding.
The use of the ORCA-2016CN allows for the safe transport of contaminated patients who have been medically stabilised, while protecting boat and cutter crews, passengers, ancillary care providers and transport assets.
The ORCATM Clinical Unit is intended for:
Isolated transport of medically stabilised patients on aircraft, ambulances, ships or any vehicle capable of safely transporting a patient on Stokes or NATO standard litter.
Use with Stokes litter to lift and evacuate patients from ships or other marine platforms with rotary wing aircraft.
Temporary isolation with or without transport of patients within hospitals or other medical facilities.
Cross-contamination: ORCA™ is a Class II regulatory medical device
It has been cleared by the FDA for marketing in the United States and is patent pending in the United States.
Available under GSA contract GS-07F-037GA.

WOULD YOU LIKE TO VISIT THE ISOVAC BOOTH AT EMERGENCY EXPO? CLICK ON THIS LINK
ORCA system testing
Requirements for the passage of pathogens
Permeation of chemical agents
Aerosol leakage
Penetration of liquids
Comfort level (temperature/humidity variations during vital signs recording)
Lifting operations
TTP completed by the US Coast GuardMaterial certified to NFPA 1994-2012 Standard on Protective Assemblies for First Responders to CBRN Terrorism Incidents, Class 3.
Meets requirements for resistance of materials used in protective clothing against penetration of blood-borne pathogens per ASTM F1671M-13.
Has been tested and proven to meet and exceed US Military Target Performance Value (TPV) requirements for resistance to chemical warfare agent (CWA) permeation according to US Army Operations Test Procedure (TOP) 8-2-501.
Read Also:
Emergency Live Even More…Live: Download The New Free App Of Your Newspaper For IOS And Android
Chemical Injury: The Hidden Risks In Emergency Response
Chemical/Biological/Radioactive Insulation, The Excellence Of ISOVAC Products On The Emergency Expo Stand
Source:
Emergency Expo – sito ufficiale