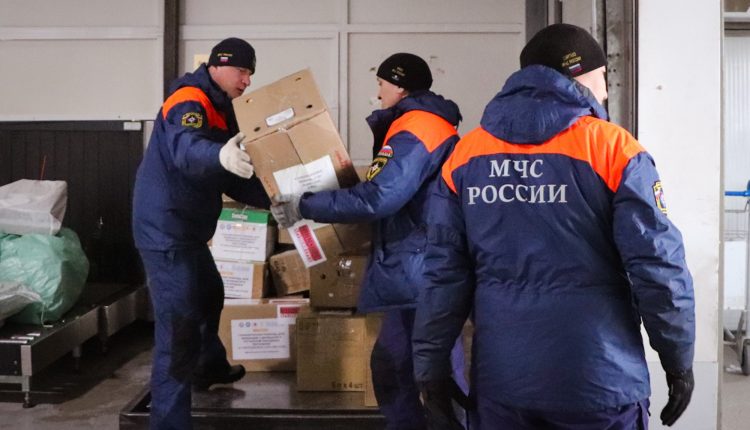 Rescuers of the Ministry of Emergency Situations of Russia help residents of Donbass within a humanitarian mission
Rescuers for Donbass: the Russian Emergencies Ministry continues to carry out emergency and restoration work on infrastructure facilities in Donbass
The airmobile group of the Ministry of Emergency Situations of Russia, together with the Ministry of Emergency Situations of the DPR, cleared debris over an area of ​​more than 12 thousand square meters.
Meters, exported more than 5 thousand cubic meters.
Meters of debris and debris.

Rescuers in Donbass: a group of 430 people and 136 units of equipment was involved from the Russian Emergencies Ministry
At work sites, rescuers provide assistance to residents. They help to move things, charge mobile phones, and if necessary, provide medical assistance.
Every day, tank trucks of the Ministry of Emergency Situations deliver technical water to the population, in addition to the boiler houses of cities, where appropriate water distribution devices are installed.
Thus, residents at any time have the opportunity to collect technical water for household needs. In total, over 5,000 tons of water have been delivered.
Joint pyrotechnic units of the Ministry of Emergency Situations of Russia are carrying out demining work in the DPR and LPR, since the beginning of the humanitarian mission, an area of ​​​​about 100 hectares has been surveyed, more than 800 explosive facilities have been discovered and defused.
In addition, since May 1, 2022, a batch of humanitarian aid with a total weight of almost 600 tons has been delivered by motorcades of the Russian Emergencies Ministry to the DPR, LPR and Ukraine.
The cargo includes bottled water, food, medicines and essentials.
Read Also:
Emergency Live Even More…Live: Download The New Free App Of Your Newspaper For IOS And Android
Donbass, Five Convoys Of Russia's EMERCOM Delivered Humanitarian Aid To The Territories Of Ukraine

Crisis In Ukraine: Civil Defence Of 43 Russian Regions Ready To Receive Migrants From Donbass
Ukrainian Crisis: Russian Red Cross Launches Humanitarian Mission For Internally Displaced People From Donbass
Humanitarian Aid For Displaced Persons From Donbass: The Russian Red Cross (RKK) Has Opened 42 Collection Points
Russia, Federal Agency For Health Personnel Assisting Evacuees In Rostov
Russian Red Cross To Bring 8 Tons Of Humanitarian Aid To Voronezh Region For LDNR Refugees
Ukraine Crisis, Russian Red Cross (RKK) Expresses Willingness To Cooperate With Ukrainian Colleagues
Children Under Bombs: St Petersburg Paediatricians Help Colleagues In Donbass
Russia, A Life For Rescue: The Story Of Sergey Shutov, Ambulance Anaesthetist And Volunteer Firefighter
The Other Side Of The Fighting In Donbass: UNHCR Will Support The Russian Red Cross For Refugees In Russia
Representatives From The Russian Red Cross, The IFRC And The ICRC Visited The Belgorod Region To Assess The Needs Of Displaced People
Russian Red Cross (RKK) To Train 330,000 Schoolchildren And Students In First Aid
Ukraine Emergency, Russian Red Cross Delivers 60 Tonnes Of Humanitarian Aid To Refugees In Sevastopol, Krasnodar And Simferopol
Donbass: Russian Red Cross (RKK) Provided Psychosocial Support To More Than 1,300 Refugees
Source: