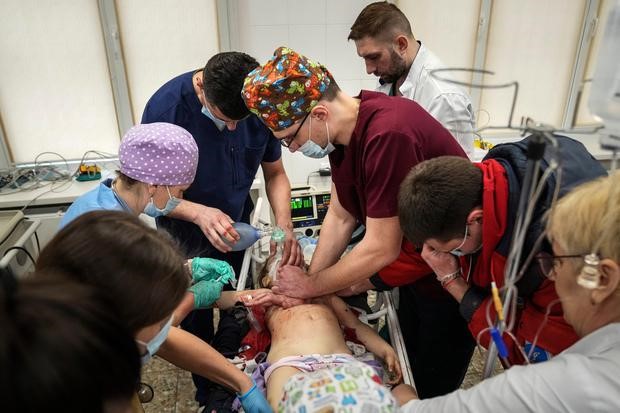 Ukraine, emergency specialists from 11 hospitals will be trained in war damage according to European protocols
Ukraine, Emergency Department doctors and nurses from 11 Ukrainian hospitals will receive training in the provision of emergency war care based on the latest European protocols
This will enable them to improve their professional knowledge and practical skills in the provision of emergency care for non-life-threatening conditions and traumatic injuries.
Ukraine, the trainings include training modules for doctors and nurses:
ALS/ILS – negative resuscitation activities in adults;
TDTR – traumatic injury care for adults and children;
EPILS – professional resuscitation care for children;
EMCC – examination and treatment of critically ill patients (e.g. acute cardiovascular disease, acute myocardial infarction, stroke);
Non-technical skills and communication during emergency medical rescue, including high-risk emergencies.
War in Ukraine, training courses for doctors and nurses are part of a project of the Ukrainian Ministry of Health in cooperation with the World Bank
Already 100 specialists from nine hospitals in the city and Kiev region have started to provide this training.
40 doctors and 60 nurses are trained to operate as safely and quickly as possible, taking care of patients in critical and emergency situations with a high number of casualties.
The certification training is conducted by trainers from the civil society organisation All-Ukrainian Association for Rehabilitation and Emergency Medical Care.
The first part of the training takes place online.
At the end, a simulation exercise will be carried out at each medical facility trained in this process.
The training of doctors and nurses is particularly important in the current context, as it increases the level of emergency medical care, especially for war victims in Ukraine
In 2021, medical staff from 10 referral hospitals across the country successfully completed training in the provision of emergency medical care and traumatic injuries as part of the joint World Bank-Ukrainian Ministry of Health project 'Improving Health Care for People'.

Read Also:
Emergency Live Even More…Live: Download The New Free App Of Your Newspaper For IOS And Android
What Should Be In A Paediatric First Aid Kit
Ukraine Under Attack, Ministry Of Health Advises Citizens About First Aid For Thermal Burn
What To Expect In The Emergency Room (ER)
Burns, First Aid: How To Intervene, What To Do
War In Ukraine, Doctors In Kiev Receive WHO Training On Chemical Weapons Damage
Ukraine, Health Ministry Disseminates Information On How To Provide First Aid In Case Of Phosphorus Burns
Ambulances In The Crosshairs: Being Rescuers In Nikolaev During The Russian Invasion / VIDEO
Ukraine, An Ambulance From Germany To The Maternity Hospital In Rivne: The Gift Of German Paul Klaus
Ukraine, Vinnytsia Received Two More Ambulances From Dortmund, Germany
Ukraine Emergency, An Ambulance From Verona To Nikolaev: It Will Be Used In The Bashtan Hospital / VIDEO
Solidarity For The Bombed Ukraine: ASBIS Enterprise Has Delivered 10 More Ambulances, They Will Go To The Cities Most In Need
Ukraine, 3 More Defibrillators Will Be Installed In Public Places In Lviv Thanks To Smart Medical Aid
Source: