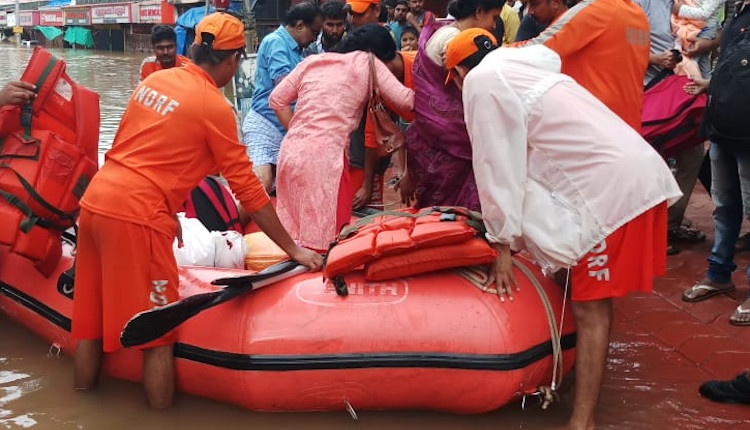 Cyclone Nisarga, 45 National Disaster Response Teams have been dispatched throughout India
Cyclone Nisarga has hit the Western Coast of India and its power pushed the country in requiring the dispatch of 45 teams of NDRF (National Disaster Response Force).
MUMBAI – The regions od Maharashtra and Gujarat have been harshly hit. by Cyclone Nisarga. The teams of National Disaster Response Force India are now working for putting in safety roads, buildings and help people facing this natural threat.
Cyclone Nisarga, the deployment of the National Disaster Response Force Teams in India

On 3 June, the Indian Meteorological Department issued a high alert in coastal regions of Western India in order to warn people of the area.
The Deccan Herald reported all the steps of this emergency response. Tonight, 20 NDRF teams have been dispatched around Mumbai and the deployment of the teams was the following:
1. Mumbai 7 teams
2. Raigad 7 teams
3. Palghar 2 teams
4. Thane 1 team
5. Ratnagiri 2 teams
6. Sindhudurg 1 team
According to the official press release of the National Disaster Response Force, other 16 NDRF teams have been deployed at coastal areas of Gujarat. 1 team each has been deployed at Gandhi Nagar, Bharuch, Amreli, Gir Somnath, Anand, Bhav Nagar & Kheda, 2 teams at Navsari, 3 teams at Surat whereas 4 teams at Valsad. Besides, 2 additional teams are kept as a reserve at NDRF Base Vadodara, Gujarat.
2 teams each have been deployed in Daman (Daman & Diu) and Silvassa (Dadar & Nagar Haveli) amid of cyclonic storm Nisarga. All teams are on the alert mode in their respective locations.
National Disaster Response Force Sh. Satya Narayan Pradhan, Director-General, is closely monitoring the situation round the clock and is in close touch with various authorities/stakeholders.
National Disaster Response Force Teams India, now Cyclone Nisarga is pointing to Madhya Pradesh
Indore and Ujjain authorities, in the western part of Madhya Pradesh, are preparing to deal with the impact of Cyclone Nisarga, which, according to IMD is hitting the region today.
For the next two days, the cyclone will hit this area and the National Disaster Response Force will be ready to face any condition and support population. On social media, the authorities of Indore and Ujjain divisions are preparing the alert communications for citizens in order to spread the correct behaviors during this weather alert.
A control room has also been set up by the Indore Municipal Corporation to deal with effects of the cyclonic storm, it was stated.
READ ALSO
REFERENCES