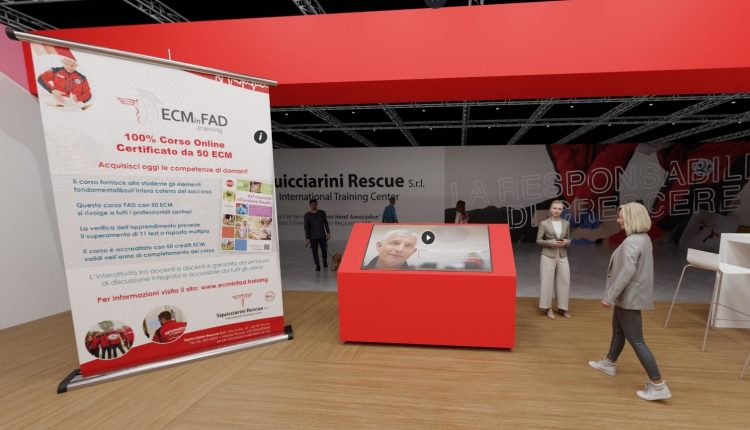 Squicciarini Rescue chooses Emergency Expo: American Heart Association BLSD and PBLSD training courses
We welcome Squicciarini Rescue to Emergency Expo: First Aid courses and BLSD, PBLSD, AHA certifications recognised in Italy and abroad will be on show at the stand of the trade fair by Roberts
The stand at Emergency Expo of Squicciarini Rescue S.r.l., International Training Centre of the American Heart Association: here's what you'll find
Squicciarini Rescue S.r.l., International Training Centre of the American Heart Association, provides courses aimed at training rescue workers and spreading resuscitation manoeuvres in children and adults.
And we are proud to welcome this interesting reality that has decided to exhibit its range of products – in this case training courses – at a stand at Emercency Expo, the 3D virtual trade fair dedicated to the emergency sector, by Roberts.
Aimed at both healthcare professionals and members of the public, the training courses on offer are supported by American Heart Association-certified instructors and accredited by the regional 118 emergency services in 12 regions.
Directed by Dr Marco Squicciarini, born in Rome, who for over 18 years has been disseminating first aid manoeuvres within everyone's reach, Squicciarini Rescue has been accredited by ARES-AREU 118 in 9 different Italian regions since 2016.
The centre's offer (which you can find at Emergency Expo) includes First Aid courses (with blsd included), BLSD – Basic Life Support & Defibrillation – PBLSD – Pediatric Basic Life Support & Defibrillation – AHA – American Heart Association – certifications in Italy and abroad.
In addition to these just mentioned, the association also provides First Aid, Paediatric Disobstruction Manoeuvres, BLSD and PBLSD courses with qualification and certification for the use of the defibrillator accredited to 118 in every Italian region.
THE IMPORTANCE OF TRAINING IN RESCUE: VISIT THE SQUICCIARINI RESCUE BOOTH AND DISCOVER HOW TO BE PREPARED FOR AN EMERGENCY

Here is where you can find the training of Squicciarini Rescue S.r.l., International Training Centre of the American Heart Association
There are now 12 AHA training sites in 12 regions, including Lazio, Campania, Puglia, Lombardy, Veneto, Abruzzo, Calabria, Sicily, Tuscany, Piedmont and Emilia-Romagna.
Moreover, for six years now – when Squicciarini Rescue started with AHA training – the association has experienced years of great growth.
As of 2019, in fact, the centre has invested in the training of rescuers with the adoption of modern and innovative equipment.
During rescue courses, training is carried out exclusively with new-generation Laerdal adult and paediatric QCPR digital dummies.
Squicciarini Rescue is among the first in Europe to have started paediatric BLSD courses with QCPR child manikins  
Currently, their network has a large number of American Heart Association qualified instructors and also boasts 25 AHA faculty and instructor trainers.
This is a rather avant-garde reality that cares about human life and is therefore very attentive to the training of healthcare and non-healthcare personnel.
Read Also:
Emergency Live Even More…Live: Download The New Free App Of Your Newspaper For IOS And Android
Spinal Immobilization: Treatment Or Injury?

10 Steps To Perform A Correct Spinal Immobilization Of A Trauma Patient
Spinal Column Injuries, The Value Of The Rock Pin / Rock Pin Max Spine Board
Spinal Immobilisation, One Of The Techniques The Rescuer Must Master
Electrical Injuries: How To Assess Them, What To Do
RICE Treatment For Soft Tissue Injuries
How To Carry Out Primary Survey Using The DRABC In First Aid
Heimlich Maneuver: Find Out What It Is And How To Do It
What Should Be In A Paediatric First Aid Kit
Poison Mushroom Poisoning: What To Do? How Does Poisoning Manifest Itself?
Hydrocarbon Poisoning: Symptoms, Diagnosis And Treatment
First Aid: What To Do After Swallowing Or Spilling Bleach On Your Skin
Signs And Symptoms Of Shock: How And When To Intervene
Wasp Sting And Anaphylactic Shock: What To Do Before The Ambulance Arrives?
UK / Emergency Room, Paediatric Intubation: The Procedure With A Child In Serious Condition
Spinal Column Immobilisation Using A Spine Board: Objectives, Indications And Limitations Of Use
First Aid In The Event Of An Overdose: Calling An Ambulance, What To Do While Waiting For The Rescuers?
Source: