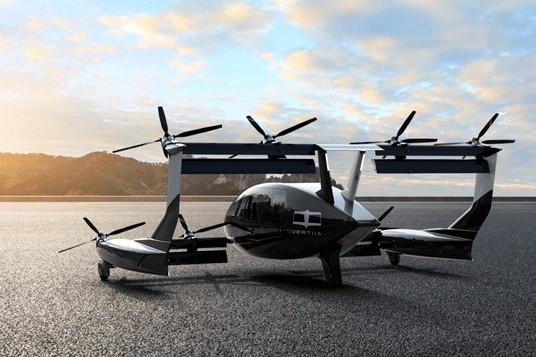 Vertiia: AMSL Aero partners with CareFlight for medical air transport of critical patients
Australian aerospace company AMSL Aero and critical care air medical retrieval service CareFlight have used their partnership to fit out Vertiia with a medical cabin
This permits Vertiia to function in the air ambulance sector by enabling CareFlight to transport patients from remote locations directly to the hospital
Vertiia will fly from CareFlight bases and land directly next to a remote medical clinic without the need to transfer patients between planes and road ambulances.
"It is absolutely critical to provide the best level of care to a patient while in flight.
The fitted-out Vertiia will serve as a flying hospital with all of the best emergency equipment at the clinician's fingertips," explained AMSL Aero CEO and Vertiia inventor Andrew Moore.
"Aircraft are typically designed first, then an air medical fit-out is shoehorned inside.
We are doing the opposite: we're starting with the optimum aeromedical fit-out and designing the aircraft around it, with the needs of our key partners such as CareFlight front of mind," he added.
About Vertiia, AMSL Co-Founder Siobhan Lyndon added
"Vertiia is not only safe and quiet, but it was also developed for the harsh long-distance conditions in Australia. If it can work in Australia, it can work anywhere. We expect to commence deliveries in 2026."
CareFlight CEO Mick Frewen, said
"Our mission is to save lives, speed recovery and serve the community.
The Vertiia can supplement our road, helicopter and turboprop fleet.
We love the huge doors on the Vertiia.
The doorway is two metres wide, which is wider than on any aircraft we operate."
AMSL Aero recently completed the maiden test flight of Vertiia, a novel design in the category of electric vertical take-off and landing aircraft (eVTOL).
Vertiia will be able to fly up to 1,000 km, three times the range of any other current eVTOL, making it the most efficient aircraft of its kind in the world.
It can carry four passengers and a pilot at a cruising speed of 300km/h.
Read Also
Emergency Live Even More…Live: Download The New Free App Of Your Newspaper For IOS And Android
HEMS / Helicopter Operations Training Today Is A Combination Of Real And Virtual
When Rescue Comes From Above: What Is The Difference Between HEMS And MEDEVAC?
MEDEVAC With Italian Army Helicopters
Helicopter Rescue, Europe's Proposal For New Requirements: HEMS Operations According To EASA
HEMS In Russia, National Air Ambulance Service Adopts Ansat
Helicopter Rescue And Emergency: The EASA Vade Mecum For Safely Managing A Helicopter Mission
HEMS And MEDEVAC: Anatomic Effects Of Flight
UK, Transport Of Essential Medical Supplies: Drone Trial Launched In Northumbria
Drones For Emergency And Civil Protection: Venari And Heliguy Develop A Support Vehicle
Scotland, Drones In Medical Rescue: CAELUS Project Wins Innovation Award
Ivory Coast, Medical Supplies To Over 1,000 Health Facilities Thanks To Zipline Drones
Drones In Emergencies, 2nd National Conference At Reas 2022: Focus On Search And Rescue Missions
Nigeria: Delivery Of Drugs And Medical Supplies To Be Carried Out Using Zipline Drones
Drones That Save Lives: Uganda Breaks Down Geographical Barriers Thanks To New Technology
AiRMOUR Helps European Cities With Healthcare Drones (EMS Drones)
Botswana, Drones To Deliver Essential And Emergency Medical Supplies
Virtual Reality In The Treatment Of Anxiety: A Pilot Study
US EMS Rescuers To Be Assisted By Paediatricians Through Virtual Reality (VR)
Source