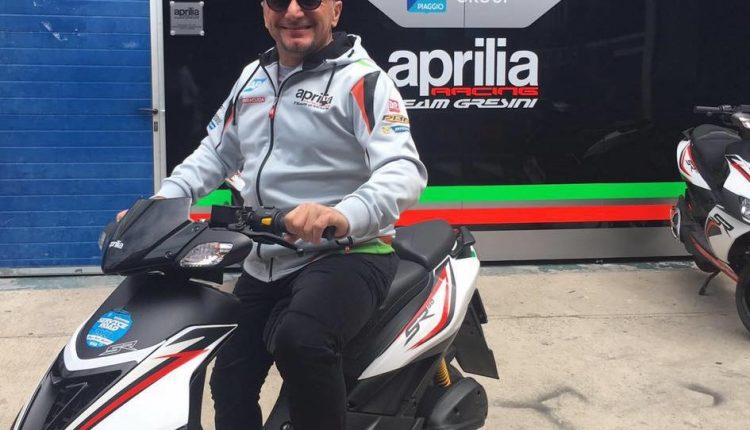 A life for motorbikes: farewell to Fausto Gresini, death of Covid-19
Fausto Gresini had just turned 60. A two-time world champion, the Imola-based rider was the owner of a team that bore his name
Fausto Gresini, 60 years old on 23 January, died today
A motorbike racer and two-time world champion in the 125cc class, he was the head of a team of the same name that competed in MotoGP with Aprilia.
Gresini did not overcome the complications linked to Covid after being infected before Christmas.
He was first admitted to hospital at Imola on 27 December, and then transferred to the Maggiore hospital in Bologna.
A few weeks before he contracted Covid-19, Fausto Gresini was pleased to announce the renewal of his team's agreement to remain in MotoGP ("we will continue as an independent team, we will no longer be an official Aprilia") for another five years, starting in 2022.
Gresini will thus live out his (great) experience in the premier class, as well as in the other two classes.
"We are happy to announce this agreement with IRTA that will see us in MotoGP for five years starting in 2022," his words to make the deal official.
He had worked so hard on it himself, but will not be able to enjoy it to the full.
Because the virus took him away, at just 60 years of age, after fighting this terrible plague for about two months.
The successes of Fausto Gresini
Born in Imola on 23 January 1961, he was twice world champion in the 125 class (1985 and 1987).
During his career he has always raced in the 125 class, where he made his debut in 1982.
His first world championship triumph, three years later: three victories (in Austria, Belgium and San Marino), five pole positions and 109 points, for a first place finish.
He only missed out on a second place 12 months later, when four GP wins in Spain, Europe, Sweden and Germany were not enough, as he came second, just 12 points behind Luca Cadalora.
The extraordinary feat in 1987 was a real revenge with flakes.
In fact, the 26-year-old Fausto won 10 of the 11 races on the calendar, only going wrong in Portugal where he was stopped by a puncture while he was clearly in the lead, and became 125cc champion again after collecting 150 points.
In the following years there were changes of teams, injuries and exciting sporting battles with another gritty champion of the two wheels, Loris Capirossi.
In 1995 he announced his retirement. But motorbikes have always been his life and so in 1997 he founded the Gresini Racing team of the same name, with which he won the 250cc World Championship with Daijiro Katoh and in 2010 he won it in Moto2 with Toni Elias.
His presence in MotoGP was important, where he competed from 2002 to 2020, until 2014 with Honda, then with Aprilia.
Among the many great MotoGP champions who have raced for Gresini, another unfortunate name in the sport certainly stands out, Marco Simoncelli.
In 2010 'Sic' made his MotoGP debut with Gresini Racing, riding the Honda RC212V alongside Marco Melandri.
Fausto Gresini's son: "You leave an unbridgeable gap"
Fausto Gresini's son also revealed the cause of the death of his father, who had been hospitalised for months after contracting Covid-19: "Our champion left us forever today at 10.02am, he fought until the end, he was born to win and was winning again, he was getting better, when a cerebral haemorrhage tore him away from us – Lorenzo wrote -. Ciao Bà! That's what I called you and I will call you forever, you leave an unbridgeable void and you will live forever inside all the people who love you.
We love you immensely, we carry you and will carry you in our hearts every day".
Condolences from the mayor of Imola for the passing of Fausto Gresini: "Dedicate the Imola circuit bend to him".
"Bye Fausto". The MotoGP world is unanimous in its condolences at the news of Fausto Gresini's passing.
First of all, the condolences of the mayor of Imola, Marco Panieri, the city where he was born on 23 January 1961.
The City of Imola and the entire motorsport world mourn Fausto Gresini, former rider, two-time 125cc world champion and head of the team of the same name," Panieri wrote on social media.
A great champion, but above all a great man.
Our community rallies around his family, a point of reference for our entire territory, to whom we send a hug in this moment of immense pain.
Many ordinary people recalled Gresini with emotion, even making a proposal: "Name a bend of the Imola circuit after him", because "he deserves to be remembered at the Autodromo as the great champion he was and the man who grew up amidst a thousand difficulties, a great fighter and builder for himself and his family".
Among the voices of the protagonists who wanted to remember Gresini, that of the Spaniard Marc Marquez: "Today is a sad day for the whole motorbike family – wrote the Spaniard, 8 world titles in all three classes -.
All my encouragement to the family, friends and the Gresini Racing team".
Former Australian rider Casey Stoner, world champion with Ducati and Honda, said he was "saddened by the news of Fausto Gresini.
The MotoGP community has lost a great man, all our thoughts are with his family, friends and colleagues.
May you rest in peace".
One rider who raced for the Gresini Racing team was Andrea Iannone, who wrote: "I couldn't have received worse news, we worked and dreamed together, I will always carry you in my heart, Fausto".
The Mugello Circuit's twitter profile also expressed its sympathy: "Our thoughts are with your family and loved ones. Rest in peace, Fausto".
The International Motorcycling Federation, FIM, "mourns the loss of one of the nicest men in the MotoGP family, our friend Fausto Gresini, two-time FIM World Champion in the 125cc class (1985, 1987) and a key figure in the paddock as founder of Team Gresini."
An emotional remembrance also came from the world of four wheels, from the official F1 profile: "Rest in peace, Fausto Gresini.
The world of motorsport has lost one of its most beloved and special characters.
Our thoughts are with his family and loved ones".
Read Also:
UK, Covid Vaccination Programme 'Reduces The Risk Of Hospitalisation By Up To 94%', Researchers Say
Source: