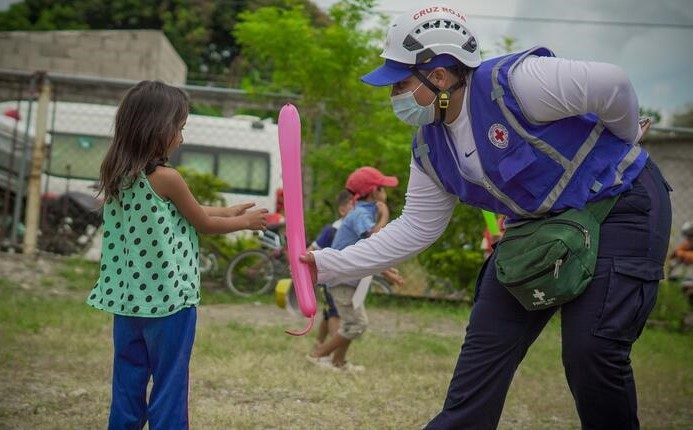 International Volunteer Day 2022, IFRC: "Believe in the power of kindness"
5 December is International Volunteer Day—an opportunity to celebrate and thank those who dedicate their precious time and effort to voluntary service
For the IFRC, it's about celebrating our nearly 15 million volunteers engaging in local humanitarian action for global good.
DO YOU WANT TO KNOW MORE ABOUT THE MANY ACTIVITIES OF THE ITALIAN RED CROSS? VISIT THE BOOTH AT EMERGENCY EXPO
International Volunteer Day, the Red Cross 'thank you'
"Red Cross and Red Crescent volunteers are everywhere.
You'll find them in your street, in your local community, in every corner of the world.
You may even be one of them.
Every day, our millions of volunteers bring kindness to those who need it—no matter who or where they are.
Whether it's by offering a hot drink or food, listening to someone and supporting their mental wellbeing, delivering essential supplies or cash to remote communities, giving or teaching lifesaving first aid, offering people on the move a safe space to rest, or helping communities adapt to climate change.
Acts of kindness like these, even if they sometimes feel small, make a huge difference to the lives of people in crisis.
Because kindness is powerful.
And kindness is contagious—one small act can lead to another, and another, and another".
International Volunteer Day, IFRC: "we believe in our volunteers. We believe in the power of kindness"
"Humanity, our first Principle, starts with kindness.
And we believe we can all #BeHumanKind.
On International Volunteer Day, as with every other day of the year, we deeply thank our incredible, unstoppable volunteers.
You are appreciated. You are supported. You are valued".
Read Also:

Emergency Live Even More…Live: Download The New Free App Of Your Newspaper For IOS And Android
December 5, World Volunteer Day: The 2022 Theme Is 'Solidarity Through Volunteering'
The United Nations Volunteers Program
G7 Summit In Elmau, Germany: THW Rescuers In The Field With Around 1,000 Volunteers
Solferino 2022, The Torches Of The Red Cross Shone Again: 4,000 Volunteers In The Traditional Torchlight Procession
Ukraine Emergency, The Drama Of A Mother And Two Children In The Words Of Porto Emergenza Volunteers
UNICEF Transfers Ambulances To Eight Regions In Ukraine: 5 Are In Children's Hospitals In Lviv
December 5th: Become The Protagonist Of The International Volunteer Day
International Day For The Elimination Of Violence Against Women: The Activities Of The British Red Cross
Gender-Based Violence In Emergencies: UNICEF Actions
Sexual Harassment In Medical Profession: Legal And Ethical Responsibilities
Bullying And Harassment At Work – One-Third Of Doctors Feel Threaten
#ORANGETHEWORLD – International Day For The Elimination Of Violence Against Women And Girls
Effective Tools For Coordination, Planning And Monitoring Actions For Preventing Gender-Based Violence (GBV)
Shaken Baby Syndrome: The Very Serious Damage Of Violence On The Newborn Child
Violence Against EMS Providers – Paramedics Assaulted On A Stabbing Scenario
November 25, Violence Against Women Day: The 5 Signs Not To Underestimate In A Relationship
Source: